Back to selection
Five Questions with Sean Pecknold on Kickstarter Project, "The Internet"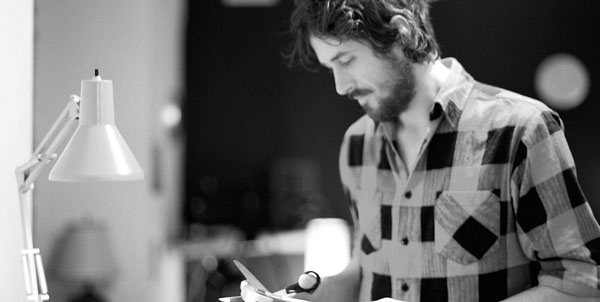 Sean Pecknold originally came to prominence a few years back on the strength of the beautiful stop-motion music videos he created for the retro folk outfit Fleet Foxes, a group fronted by Sean's brother, Robin Pecknold. He subsequently went on to make promos for other buzz bands such as Beach House and Grizzly Bear, whose music also has a transcendent quality that meshes with his dazzlingly inventive hand-crafted visions.
More recently, Pecknold has complemented his animated work with live-action music videos, like Here We Go Magic's "How Do I Know?", and is currently in postproduction on a live-action narrative feature entitled The Internet, which he wrote, co-directed with Matt Daniels, and also starred in. (Robin Pecknold provides the soundtrack.) The teaser for the film (embedded below) appeared on Vimeo a couple of months ago, and it's probably the most exciting trailer I've seen all year. Based on those two minutes of footage, it looks like Pecknold has done something utterly unique and magical, and I can't wait to see more from the film.
Pecknold is currently in the final days of his Kickstarter campaign to raise the $15,000 needed to complete The Internet — and he needs your help. Below he talks about the literal and figurative journey he's taken while making the film.
Filmmaker: What's the plot of The Internet, and why exactly does it have that title?
Pecknold: It's about a man who quits his job as an accomplished LOLcat writer and moves to Berlin to discover the deeper meanings of existence. He starts a video blog in hopes that he can apply his viral skills to something more profound. He's haunted by the idea that the universe has no end, and makes it his mission to try and find out what if anything is outside of it. He interviews people he finds on Craigslist, falls in love with a nihilist bartender and the city itself.  When things don't go the way he hopes with the videos, he descends into a surreal world with more meaning than he could ever have wished for. The story follows his descent into this world and his attempt to escape back to a meaningless existence. The full title is The Internet – A Blog Cats WTF Universe. The Internet is a character in the movie like the others, it's always there, it follows him around, it's how we were able to make the movie with no budget and basically no pre-production before the trip. We found our cast and crew [through it], and we plan to release it on it. The INTERNET is expanding out into nothingness rapidly every second. Where will it end? How will it end? What will it be in 5,000 years? 5 million? It is the universe!
It's really an experiment in filmmaking, though, to see if we could make a story on the road while traveling. We spent two weeks scouting locations, deciding on the cities, writing the story, and then two weeks shooting.
Filmmaker: Your background is in animation, but it seems like this a mostly live action feature with some minor animated segments. Is that right?
Pecknold: It's mostly live action, with some hand drawn and computer animated elements that we're trying to finish up now.  There is a scene with a large animated cat god that we're trying to finish up by using Kickstarter. It's all quite meta though, because as the Kickstarter page has not been performing as well as we had hoped I'm starting to lose my own grip of reality. I have dreams where we reach our goal and finish the movie properly, then I wake up in a cold sweat and check the page and it still just slugging along.
I've been using a temp cat from the internet animation site Xtranormal that actually works pretty well, and fits the title of the film, but I think we're still pushing to do it from scratch. I love animation — I spent most of last year working on two animated films, and decided to spend a lot of this year working with people in real environments, outside of the studio. It's been quite refreshing.
Filmmaker: Tell me about your relationship with your co-director Matt Daniels. Is this the first thing you two have worked on together?
Pecknold: We've collaborated on various projects over the last six years or so.  We made a short called Manquer back in 2006. Matt is a great collaborator, and friend, and we work really well together. Sometimes he is my d.p., and sometimes we co-direct, it all depends on the project. We really wanted to get out of the States and try and make a project overseas. We weren't exactly sure where we wanted to go, or even what the project would be, but it became clear once we got on the plane to Iceland.
Filmmaker: From the teaser trailer, The Internet seems it was filmed in some very geographically diverse locations. Where exactly did you shoot?
Pecknold: We shot for 12 days total. Seven in Berlin, Germany and five on the southern coast of Iceland. We scouted the Iceland location over a couple days at the beginning of the trip, and were kind of blown away by the beauty of the place. We were in Spain, and then Sweden, and then decided that we needed to go to Berlin. So once we got there, we decided on the context for the story, and we wrote it in a bar over a four-day period. We really wanted the place to inspire the story. And I've been hearing for so long about Berlin, and how great it is, and how everyone is moving there because you can just be and make things, and explore yourself. So it was a fitting backdrop for the story, and was a big inspiration for the character's naive quest for meaning.
Filmmaker: Based on the credits, it seems like you are the lead in the film. Have you done much acting before? What was it like both acting and directing?
Pecknold: I have absolutely no acting experience whatsoever. I kept the character close to something that I would and/or have experienced, so as to keep things somewhat believable.  Acting and directing I think can be a challenge, but the crew was so small, in most cases it was just me and Matt and Chris, the sound guy/assistant, so we could try something, then watch it back, and adjust as needed. We watched all the footage every night in our Airbnb apartments; they all seemed to have really large flatscreen TVs. So that was helpful to see what was working and what wasn't. I plan on working with real actors in the future, so it was a good way to experience being on the other side, and exploring a character by just diving in and trying it. But I hope it's not too obvious that I had absolutely zero acting experience. I mean I've moved puppets around, I've puppeteered. So in a sense I was just moving myself around like a puppet, a large fleshy weird puppet. It was fun.
I encourage ANYONE reading this to try the same thing. I mean, it was one of the best months of the last 10 years for me. Learned a ton, experienced an amazing city, meet a lot of great people. Even if people hate the movie, it was worth it for the experience. Stop reading books about filmmaking and go make a film somewhere — you'll learn way more! Do it! GO! Get off the INTERNET! (Shoot maybe I should have read a book about screenwriting before writing this one. Hmmm… Ah well, three-act structures are overrated? Heh, er… (So he tells himself reassuringly then slowly looks in mirror and gulps))
CUT TO BLACK
Oh and please donate…
Thanks!