Back to selection
JAMES BENNETT, 1950 – 2012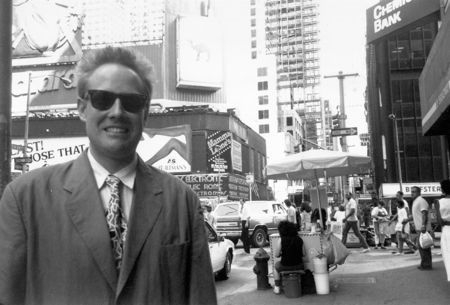 Composer James Bennett, who brought musical wit and a lyrical touch to his work in film and theater, died in New York this week of a heart attack.
He was classically trained on piano and later was a member of the BMI Lehman Engel Musical Theater Workshop, an innovative New York City program known for training composers, lyricists and librettists. His work in theater includes collaborations with Charles Horne on the scores for the Off-Broadway shows Eva Braun and Dogs.
Though Jim composed music for only two feature films — Todd Haynes' Poison and my film Swoon — he brought a remarkable musical sophistication and depth of emotion to his work. He worked as both composer and conductor and somehow managed to record lush, heartbreaking scores with a handful of musicians and the very few dollars we gave him. His music for my short Geoffrey Beene 30 and for Haynes' Dottie Gets Spanked revealed new depth and musical range and hint at future potential that sadly went unfulfilled.
In those pre-computer days, I'd watch Jim unravel the Swoon and Beene scores at his piano, metronome clacking time. His shock of pale blond hair stood on end, bobbing when he emphatically stabbed the air. He was one of the best talkers I ever knew: intimate and funny and wicked — but not unkind. Jim knew where the bodies were buried and if I close my eyes, I can still see him holding court in the now long-gone East Village watering hole, The Bar.
James Bennett will be greatly missed by family and friends.