Back to selection
EIFF 2012: IN DEVELOPMENT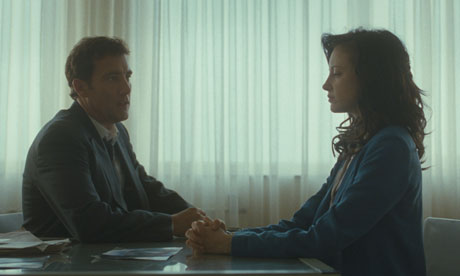 We're over half way through now and I'm starting to panic. I keep hearing about great films that I've missed (The Mirror Never Lies is spoken of only in superlatives, and The Unspeakable Act is another one I'm late to the table for, Tabu, Kid-Thing and more) and rocking events that slipped by while I was elsewhere. Chris Fujiwara told me about an event where he and some of the Filipino filmmakers who are in town did a live musical accompaniment to a film, and I don't know where I was for Thelma Schoonmaker's Q&A after a screening of a restored print of Lawrence of Arabia. But, as we all know, everyone has a different festival experience — you just can't do it all. But I've been trying as hard as my overloaded, waddling hips will let me.
British films have long been an important part for the EIFF programme and two of the most anticipated new movies premiere in the next few days. James Marsh's Shadow Dancer (above), starring Andrea Riseborough, Clive Owen and the English version of Gillian Anderson (channeling Fiona Shaw) is a slightly murky thriller. As fastidious as Marsh's storytelling is in his documentaries, his fiction work seems to be more attentive to mood, and I'm not sure he was as interested in the plot of the IRA thriller as I was. Berberian Sound Studio, the nightmarish vision from Peter Strickland (Katalin Varga) is a beautiful, funny, and exquisitely made film about a sound engineer working on an Italian horror movie. As compelling as it is on a moment-to-moment basis, and as ambitious as it is in terms of its many and various themes, both human and cinematic, it never came together for me, descending in its final moments into outright strangeness that I'm not sure it had earned.
Another world premiere, of another British film, Mark Cousins' What Is This Thing Called Love?, was shot on a Flip video camera over three days. Although Cousins is very open about how much he enjoys taking his clothes off, one film critic told me he didn't think Cousins had ever been so naked as after the screening. Like Maja Borg in Future My Love, Cousins exposes himself, physically and emotionally, in his film, and this is one of the things that makes it so exciting.
Having seen several unpromising British fiction features I won't mention here, I can't help but wondering what it is it that is making the documentary films so much more successful? Someone suggested that British screenwriting just isn't good enough, but I don't buy that. The producer of Future My Love, Sonja Henrici, told me that in documentary you shoot, then develop, then shoot, and develop, until you've got the film. This sounds great, except impossible for most fiction films. They have to be developed before they are shot. Is the development working?
We are immensely lucky in this country to have national funding support for making films, as are filmmakers in many European countries. Although paid development has become a much rarer thing than it used to be, support is provided in other ways, mostly in the form of schemes. Several of these schemes have been taking place at EIFF, but others happen year round. When these schemes are done well, filmmakers are given the freedom and support to develop an idiosyncratic project that reflects their personal vision. The danger is that you can be encouraged to develop a story in a certain way that is more formulaic, and as these schemes are run by the same people who have the ability to finance your films, you listen. It's a scary business, and one that can see you putting aside your voice in order to try and get your film made.
I've been lucky enough to participate in a screenwriting programme this year that was the exact opposite experience. Binger in Amsterdam and Creative Scotland put together a residency programme run by Playwrights' Studio Scotland to develop new Scottish feature scripts. We've been working together for the last nine months, and last night we had a performed reading of extracts of all the projects. The theatre was packed, sold out early, and there was lots of excitement about what was brewing. I think it went well (who can tell, really?), but people were certainly excited to see such different projects coming out of one scheme. My story is a political thriller, set in a future, fictional independent Scotland, about the rise of a female dictator and an assassination attempt on her life masterminded by her brother. I worked with the brilliant Molly Marlene Stensgaard, best known for her work as editor or Lars von Trier's films. Rigorous about structure, as you would expect from an editor, Molly was supportive and provocative in a way that made me more and more excited by my story, and want to push the storytelling on every level. It's not done yet, but if it does ever graduate from script to screen, I know that will because I feel ownership of this project like no other. I may not actually be taking my clothes off and climbing into the frame like Cousins and Borg, but I can tell you that's what it will feel like, as I'm so present in every moment of the film. I wish everyone a development process as good as this one.