Back to selection
Five Questions with Ai Weiwei: Never Sorry Director Alison Klayman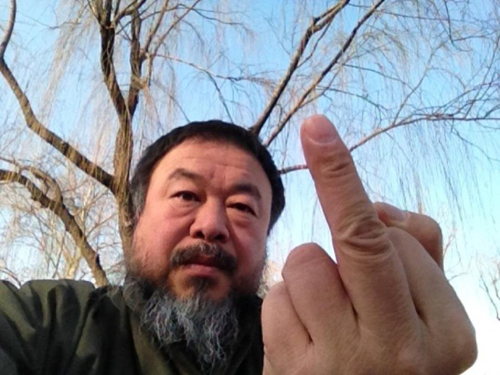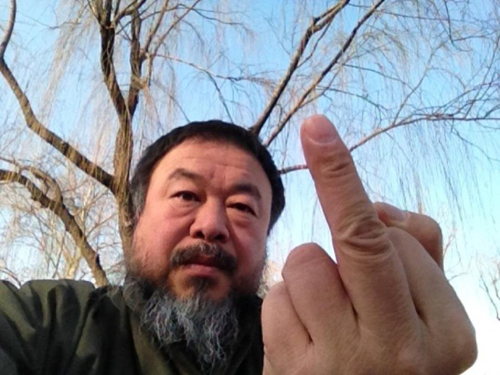 Ai Weiwei has been a presence on the international art scene for three decades, but within the past few years the Chinese artist has become a superstar. His profile has grown for a couple reasons. First, he's made large-scale works that have been seen by millions in London, Berlin and, recently, in New York City, where in 2011 Mayor Michael Bloomberg heralded the installation of Ai's sculptures at the southeastern edge of Central Park. Second, Ai has used just about every means available—documentary films, photography, crowd-sourced art projects, newspaper op-eds and his Twitter feed, which had more than 155,000 followers as of this week—to challenge the Chinese government. Ai has openly criticized Beijing for everything from its management of the 2008 Summer Olympics—the Communist Party used the event to advance "an alternative, distorted reality" of the country, he wrote in The Guardian—to its response to an earthquake that killed tens of thousands.
Chinese authorities have responded by demolishing Ai's studio, imprisoning him on what were described as tax charges and, on at least one occasion, roughing him up. After suffering serious head injuries as a result of the beating, Ai Tweeted photos from his hospital bed.
Alison Klayman's Ai Weiwei: Never Sorry, which opens Friday, July 27, follows Ai from the studio to the gallery to the halls of state power, as he explores the limits of art and outspokenness. In an interview at her publicist's Manhattan office, Klayman, who in 2011 was named one of Filmmaker's 25 New Faces of Independent Film, talked about making a documentary in a country where free speech is often curbed.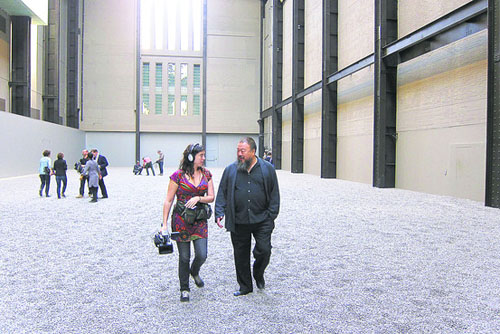 Filmmaker: You were living in China when you discovered Ai Weiwei's work. How did that happen, and at what point did you decide to make a film about him?
Klayman: I was already in China for a few years when I first heard about him, so I can't say I went to China because I knew Ai Weiwei was out there and was going to be a good story. I really came to it in an idiosyncratic way. My roommate was working on an exhibition of his photographs. They were his New York photographs, black-and-white images from the decade he lived here in the 1980s. For months these images were in big, black contact sheet binders around the house. So I'd be lazing around and look through the images, and she'd tell me stories about them and about him. I would check out his blog. I was told he was a very good writer, but my reading skills weren't good enough to assess that in Mandarin. But he also would have so many photos—selfies of him in a hotel room somewhere. So I kind of had this little bit of knowledge. My roommate asked me if I would make a video for the exhibition to give more background about his time in New York, but also part of the mission was to show how photography fits into his art practice. It was December 2008, and one morning my roommate and her boss and I we were waiting for Weiwei at 7 or 8 a.m. at the studio. He walked into the room, and I was already filming things, already rolling. Although it gradually became a bigger project, from day one we had this relationship that was like: Alison has a camera.
I think it was also in those first few weeks where it really was clear to me that there was so much more that I wanted to know about him—he talked about his earthquake campaign, he talked about censorship on his blog. But also I just thought people could watch him for 90 minutes. I really enjoyed being around him. He said surprising things and controversial things.
Filmmaker: The film makes clear that he doesn't censor himself, that he's genuinely comfortable in the front of the camera. Is he made for the movies?
Klayman: I felt like I was meeting someone who was already inoculated to the camera.  I'm not sure if he was born that way, but the truth is for several years already he had been engaged in a lot of projects where he was documenting himself, and he had other people documenting him. But you always have to ask yourself: how is the camera affecting the situation? I know personally that if suddenly there's a camera out, I'm self-conscious. Maybe he was like that in the past and he came beyond it, or maybe he was always like this. But you didn't feel the awareness if a camera was on versus a camera was off. Not to say that sometimes he doesn't perform, but I just didn't think it was in relation to whether there was a camera or not. Every [filmmaker] must have a different grab bag of challenges, but that was one that I didn't really feel like I had.
Filmmaker: What were your challenges? For instance, did the Chinese authorities give you a hard time?
Klayman: The context of the political system in China was definitely something that was a challenge. It was something that you always had to be aware of, be smart about. There were filming challenges when we were going to Chengdu on those trips to go to the police stations and the seats of authorities [where Ai filed a complaint about his beating], and we were creating those circumstances. The other times I really did not have difficulties with the authorities on a routine basis at all, doing work in Beijing. One of the reasons is that I knew enough about working and living in China to know what not to do. I didn't have a Facebook page, a website—I wasn't public about the fact that I was doing this project.
Traveling within China, or even coming into and leaving the country with my equipment, or having lots of tapes after a shooting trip—there was always a part of you that was like: is my stuff going to get searched? I also had a journalist's visa, and that can bring more scrutiny. But truthfully my equipment was never searched. Maybe I was just lucky.
Filmmaker: Ai's works are often huge. He and his staff built a massive installation out of children's backpacks to memorialize the thousands of students who were killed in an earthquake in Sichuan in 2008. Two years later he covered the floor of the Tate Modern in London with millions of handmade porcelain sunflower seeds. How did you contend with the scale of his work?
Klayman: It was something I definitely had to think about. This film does not have a single tracking shot in it. I never brought in an additional crew to do something more fancy, or to film a show or an installation. It was all done with my one HDV camera that I had, and a tripod. You find creative ways or creative angles, and I feel like I definitely would gear up for those shoots. You have to bring some respect to it. There were moments where I was like: if only he was a musician and I was filming a concert. That would be really engaging, because it's difficult to film stationary fine art, to figure out how to make that sing and pop.
Filmmaker: As a filmmaker, an artist, what did you learn from spending so much time with such a creative, provocative personality?
Klayman: I don't want to prop him up too much, but I don't think it's incorrect to use the word "genius" when it comes to him. His genius really lies in communication, which I think is what his work is all about. Sometimes quickly and impulsively, but also sometimes through a lot of thinking and revising an idea, he's able to distill something to the essential point. You never feel like something he makes has extra frills, whether it's from his architecture to his artwork to the way he uses language. I think he's really able to in a gesture convey exactly what he wants to convey. And it very often feels like: God, that's the exact thing you should've done.