Back to selection
ROGER ROSS WILLIAMS AT THE SUNDANCE DOCUMENTARY LABS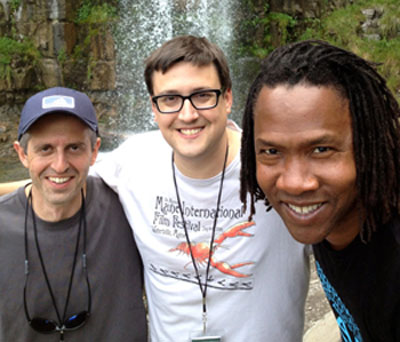 The Sundance Documentary Edit and Story Labs took place earlier this month, and director Roger Ross Williams — attending with his film, God Loves Uganda, described as "a journey into the heart of East Africa, where Ugandan pastors and their American counterparts spread God's word and evangelical values to millions desperate for a better life" — wrote the following blog post about his experiences there.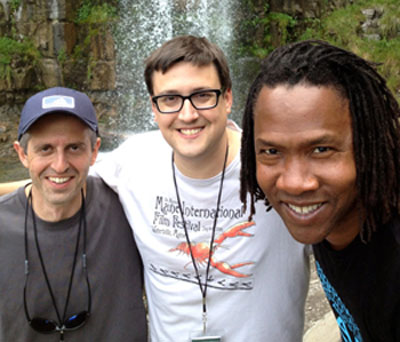 Alfred Hitchcock said, "In feature films the director is God; in documentary films God is the director." Yes — and it doesn't help when God is also the subject. Setting out to make a doc on any subject is a journey into an abyss of your own making. And you'd better keep an open mind or you could get lost forever.
A couple of years ago, I had an idea to explore religion in Africa and I was lucky enough to get a development grant from the Sundance / Cinereach Documentary Fund. A month later I found myself inside a 30,000 member mega-church in Kampala, and two years after that, I found myself drowning in a sea of footage with my editors Richard Hankin and Benjamin Grey. We realized that we could take the film in any number of directions when I got "the call." Of course I'd heard stories about the infamous Sundance Documentary Story and Edit Lab. In my mind, the lab was a serious and mysterious place where only real directors went. You know, the directors who know exactly what they want and never doubt themselves. I was warned that I would cry on the third day — which turned out to be an exaggeration; I didn't cry till day 4.
Not that Days 1-3 were easy.
Day 1:  The other filmmakers and I check into a stunning mansion with breathtaking views of a 150-foot waterfall amidst the Wasatch Mountains. It's like heaven. I meet my advisors, who are surprisingly approachable given their intimidating resumes. After the first of many sharing circles, a couple of drinks in the fresh mountain air, and some late night bonding with my fellow filmmakers, I'm off to bed. I think I am going to survive day one.
Day 2: I wake up with a hollow feeling in the pit of my stomach. Our assembly is the first to be screened today. After the screening we sit down for the dreaded sharing circle. The reaction of the advisors leaves me god-smacked. They are confused and ask me to make the decision I was avoiding — which of my story lines do I want to make the main focus? The comments continue for a torturous hour. I try to take it all in. My head is spinning. The advisors have comments and questions that open up a whole new realm of possibilities that both excite and terrify me. It's so easy to resist new ideas because it's a lot of work but I'm humbled and respectful of the group I'm sitting with. I know that if I am to take full advantage of their input, I have to be open minded about what they have to say. It is intense.
Day 3:  I'm completely freaked out.
Day 4: I'm summoned for a series of quiet walks with various advisors in the majesty of the Utah Mountains and it slowly dawns on me that the walks are not random but are part of a well-planned intervention to help me find my creative voice. I start to realize that I've been artistically starved for the space to immerse myself completely and solely in the creative process. I need to get back in touch with my initial instincts of why I had felt such passion about this film in the first place. This is one of the gifts of the lab — to help find your voice and give you the space to think. I am moved and the tears finally flow.
Day 5: This is my transformation. The advisors make me dig deep and express very simply the story that I really want to tell. Suddenly I have the one thing that has been eluding me — clarity!
Day 5 & 6:  The editors and I gain new momentum – now we are on a roll – we cut a new opening.
Day 7: We screen the new opening for our advisors and a packed theater. I feel strangely like a contestant on American Idol. One advisor jumps to her feet applauding. They love the new opening. I get to move on to the next round — six more months of editing with my newly found clarity.
From the point of view of the documentary filmmaker, Alfred Hitchcock is only partially right. He said, "In feature films the director is God; in documentary films God is the director." While my film has changed in ways I never expected, by embracing the process, this documentary filmmaker is leaving the lab feeling a lot more focused, and a lot more God-like.