Back to selection
DRUNK PODCASTING AT CREATIVE CAPITAL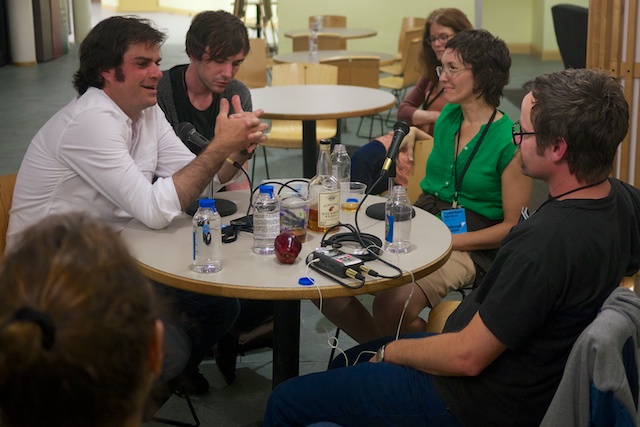 The above scene at the Creative Capital retreat this weekend brought back a lot of memories. The arts funding organization's semi-annual retreat was held at Williams College in Williamstown Massachusetts, and on the final evening the outdoor barbecue got drizzled out. So, it was moved indoors, and afterwards the cafeteria space became a party space, where artist grantees and consultants danced to Soft Cell's "Tainted Love." A level up, Cinemad's Mike Plante set up his microphones and recorded a podcast. The '80s music, the party, and radio — it was like one of my own evenings in college, where I'd wander from Wollman Auditorium upstairs to WKCR to do my radio show at Columbia. And yeah, there may have been a whiskey bottle involved as well.
In this accidental ode to Drunk History, Cinemad sits down at the Creative Capital retreat with filmmakers Cam Archer (sober), Braden King (drunk) and Deborah Stratman (drunk) to talk about film, audiences, erasing art, and parking lot power. We were in between a party and a bathroom, and the mics themselves sound drunk by the end, so, yeah…. sorry about that.
In the picture above, Stacey Steers looks on, and Janet Pierson has her back to the camera. Listen to the podcast below, or subscribe via iTunes.