Back to selection
The POV Hackathon: Advancing Web Documentary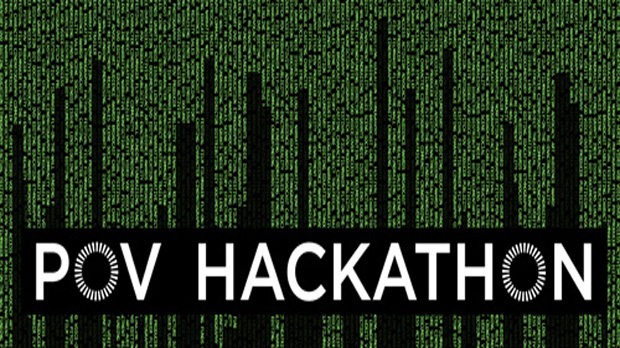 A few months ago, I got to participate in StoryCode's hackathon for narrative media (you can read about it here), and one of the thoughts I walked away with was that, while creating transmedia properties around fictional narratives is very rewarding, something I really wanted to do was delve deeper into the world of nonfiction transmedia. So I was excited to learn about a documentary transmedia hack sponsored by POV and held this past weekend at their office in DUMBO. If anyone in America understands social documentary, it's the makers of this PBS series, which has won nearly 100 major awards–Oscars, Emmys, Peabodys, etc.–and is now in its 25th year.
When I spoke with hack organizer Adnaan Wasey, the Director of POV Digital, he said that PBS hadn't given any kind of specific mandate for the event. Rather, hosting a hackathon just seemed like the natural next step for a program that's always emphasized interactivity. Since it first went on the air in 1988, POV has pushed for viewer involvement, including videotaped introductions by and interviews with filmmakers, the Talking Back program that aired viewers' mailed-in VHS tapes with their responses to films, and early chat rooms on AOL years before anyone knew what a chat room was. In recent years, every POV film has had a dedicated website, but Wasey wants to enhance that and make the websites expand the films' narrative world. Part of the purpose of the hack is to figure out ways to do that organically–rather than having the interactive websites just piggyback on self-sufficient films.
That said, none of the hack's projects have any extended relationship, including a distribution agreement, with POV. There was no PBS mandate for the event at all–it was conceived entirely within POV–and no broadcasting, sponsorship, or co-branding took place. Instead of finding new films, the event's agenda was "for filmmakers with a digital vision to work with developers and designers to create a finished prototype–be it a web app, mobile tool, game, or something we've never seen before–for the web." Wasey said his own goal was "to advance the field of web documentary." In that regard, the hackathon seems to have succeeded marvelously.
There were five teams included. Although some participants had worked together before, no team came fully formed; one of Wasey's most satisfying tasks was to match up the teams, particularly filmmakers and developers. There were many applicants, from both the film and computer sides, and many, including some Emmy winners, got turned away not because they lacked skill or good concepts but simply because Wasey couldn't find the right partners to pair them with.
The projects that were included resulted in some really diverse work, not just thematically but technologically as well (an app, a website, an interactive film, etc.). Interestingly, what they all shared in common was an avoidance of social media. For all the attention Twitter and Facebook receive in the media industry, this hackathon showed you don't need them to create a great transmedia product.
Here's a brief rundown of the teams in the order they presented Sunday night. The first links are to profiles from the POV blog by Rahul Chadha.
Feed Me a Story – This project began about a year ago as a collaboration between filmmaker Theresa Loong (Every Day Is a Holiday) and artist Laura Nova. Seeking to use video to combine food with social history, the two have recorded people's food-related memories all around New York City. Live events have included food samplings and cooking demonstrations, and their next goal was to use their video footage to create a "video cookbook" where viewers could watch videos about a food's significance to somebody then learn how to make it themselves.
They were teamed with iOS developer Lauren Hasson of the Dallas-based Bottle Rocket Apps, Concentric Studio co-founder Sumin Chou, and designer Sonna Kim. During the hack, the team created an iPad app that, interestingly, shifted away from user-generated content to their own professionally shot material. As they told me in this conversation (with the hum of hacking going on in the background), user-generated content will have to come a way down the road:
Here's Feed Me a Story's prototype.
The Aatsinki Season – Filmmaker readers will know Jessica Oreck, one of 2009's "25 New Faces," for her last film, Beetle Queen Conquers Tokyo. To follow that up, she spent a year in Finnish Lapland filming a family of reindeer herders, and the resulting film, Aatsinki: The Story of Arctic Cowboys, is now complete. To develop its digital component, she was paired with Mike Knowlton, cofounder of StoryCode and the transmedia companies BASIK and Murmur (and current nominee for a SXSW panel), and Hal Siegel, a creative director at BASIK. Here's how they discussed the project with me:
Here's The Aatsinki Season's prototype.
Data Docs (originally Op-Video) – This team consisted of filmmaker/designer Joe Posner, whose work has appeared in many outlets, including the original Op-Videos for Newsweek and The Daily Beast; Lam Thuy Po, a journalist and designer who's worked for The Wall Street Journal and Planet Money; and developer Susan E. McGregor, who did online graphics for the WSJ and now works at Columbia's Tow Center for Digital Journalism.
Posner's Op-Videos are like a web video version of an editorial column: short animated pieces put out quickly to advance an opinion about the day's hot topics. He came to the hack wanting to combine that speed and aesthetic with traditional documentary, creating a truly interactive experience; specifically, the goal was to make a continually fluctuating statistic–for the beta, the team used the monthly unemployment report–come to life through explanation and illustration in a video that automatically updates itself as the statistic changes. What we saw in the prototype was amazing for 24 hours' work: though certain features like a bar graph remained incomplete, the team created a fun video that used August's unemployment report (released the day before hacking began) to explain what the unemployment rate is, what it isn't, and what it really means. And come the first Friday in September, that video will teach the same principles with more up-to-date information.
Here's Data Docs' prototype.
Living Los Sures – Documentarian Christopher Allen is the founder and creative director of Brooklyn-based UnionDocs, which produces and exhibits films, hosts public events, and publishes criticism and discussions of documentary film. For this project he was joined by his UnionDocs associate Andre Almeida, who's also writing a PhD dissertation on interactive documentary, developers Danny Bowman and Kyle Warren, and graphic designer Lucas Carlisle, who together have experience between Google, The Huffington Post, gaming companies, and other projects.
Today UnionDocs' home base of Williamsburg may be a hotbed of Brooklyn's art scene, but 30 years ago it was the poorest neighborhood in all five boroughs. In 1984, filmmaker Diego Echeverria made a doc, Los Sures, about it, which not long ago made its way into Allen's hands. The UnionDocs team wanted to not only publicize the original film but update and reinvent it as an interactive experience. They've already spent a lot of time generating new video material–finding Los Sures' original subjects and documenting Williamsburg today–and they wanted to use the hack to really delve into the presentation of the interactive material, linking the original film to their new material.
The resulting prototype is an amazing interface where viewers can move back and forth between 1984 footage, text, and original video material. In the sample we watched, a young mother talked about raising her children in the area, and the team skipped over to footage of her now adult son talking about growing up there in the '80s, then to new footage of her, with white hair, looking back at how she did it. Written text augments all the video material.
Here's Living Los Sures' prototype.
StoryCorps Audio Slideshows – NPR listeners will be familiar with the work of Michael Garofalo and Isaac Kestenbaum, the senior producer and production manager, respectively, for StoryCorps. Since 2003 StoryCorps has gathered audio records of average Americans' lives, letting them tell their stories in their own words. The result is some of the best oral history work in recent memory, but it's also made the StoryCorps producers sitting on top of a vast library of content with no real way to curate it or re-release it after its initial radio broadcast. A few years ago, they began teaming with POV to produce animated shorts of some of their archives, in the tradition of Nick Park's Creature Comforts, but there's still a lot of content just sitting online with no way to get it in front of the public.
Garofalo and Kestenbaum were teamed with Antonio Kaplan and Matt Oltendorf of the transmedia production company Innovent. This proved an unusual project because not only was there no video, the simplicity of the audio really dictated a simple interface. "You can't really break it apart," Kaplan said.
The result? A website that mines trending topics from the news and pushes related stories to the top of the pile. As a story plays key words scroll past, surrounded by colors related to those words. It's a simple design that focuses listeners on the story being told, not distracting them away from it. Users can then watch related videos, share, or save videos for future viewings.
Here's StoryCorps Audio Slideshows' prototype.
With the hackathon complete, POV will turn its attention to its 25th season, but another hack will not be far off. For filmmakers interested in learning about interactive design, there's no better step than applying to an event like this; calls for entries for the next POV hack will be sent out in their newsletter.