Back to selection
TORONTO 2012: "GINGER & ROSA" AND "EAT SLEEP DIE"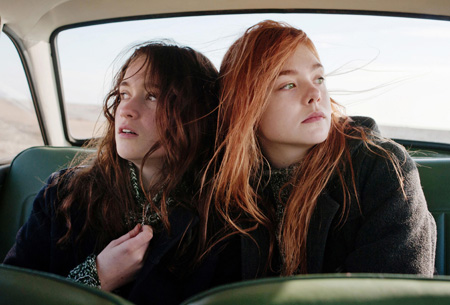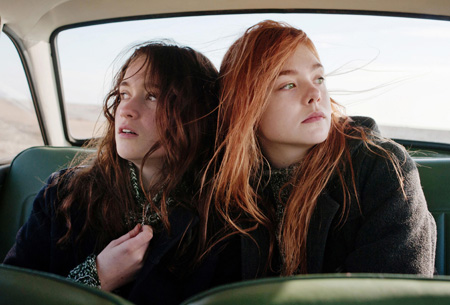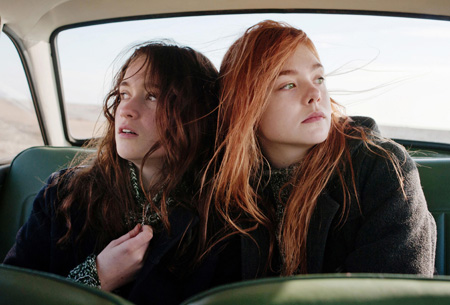 Sally Potter's theoretical bent has long placed her in a strange position, in which difficult films like Yes consistently gain mainstream distribution while leaving audiences demanding refunds. Continuing this duality, Ginger & Rosa—an emotionally charged tale of two girls coming of age in the shadow of the Cuban Missile Crisis—finds Potter treating overtly political material with a level of accessibility in plot and performance that's new to her work.
Rosa (Alice Englert) and Ginger (Elle Fanning) are lifelong friends born on the same day. Rosa is the more carefree and liberated of the two, while the sensitive Ginger takes pleasure in books, jazz records, and other "beatnik" accoutrements. Rosa's dreamy aspirations to true love are met with a raised eyebrow by Ginger, but things turn serious when Rosa's attentions fall on Ginger's father Roland (Alessandro Nivola), an outspoken activist and professor.
Potter's impressionistic early scenes of the girls' lives—running, giggling, smoking; making out—are a testament to d.p. Robbie Ryan, suggesting a gynocentric Tree of Life. These small moments of grace are a visual and emotional delight, deftly establishing both the intense friendship between the young women and what is at stake in their personal crisis.
At roughly the half-hour mark, however, narrative takes hold, and the film inches towards standard melodramatic territory. Ginger, struggling to keep her secret from her mother (Christina Hendricks), turns to an adult circle of friends for guidance, including an outspoken American (Annette Bening) and a gay couple played by Oliver Platt and Timothy Spall. Disturbed by the growing nuclear threat, she becomes politicized, obsessing over the bomb as a means of diverting her attention from the drama brewing near her own kitchen sink.
Fanning, who was 13 at the time of filming, gives a performance that has already been referred to as "Oscar-worthy"—a slow burn that builds to histrionics bordering on hysteria. Unfortunately, Potter has neglected to fill out the surrounding characters, a failure that leaves her push-pull between the personal and the political somewhat muddled. (What are you hiding from, young Occupier?)
Roland is portrayed as a hypocritical intellectual rather than an out-and-out scoundrel, but the former is its own stereotype—the sexy, licentious activist our parents warned us about. Likewise, Rosa is barely on-screen, amounting to little more than a slutty Judas, while Christina Hendricks' frustrated artiste housewife feels like a brush stroke. By film's end, we're in Fish Tank territory, though thankfully without any symbolic horses.
Eat Sleep Die, the debut feature of Gabriela Pilcher, was recently awarded the Audience Award at the Venice Film Festival, and typifies another kind of crowdpleaser. No major stars or celebrity producers here; just a low-key drama penned, edited, and directed by a young unknown.
20-year-old Rasa (Nermina Lukac) is of Balkan descent, living in Sweden since the age of one. She loves her father, her friends, and her job at the local vegetable-packing plant. When she finds herself downsized and replaced with cheaper foreign labor, Rasa canvases the area looking for work so that she can keep her ill father at home.
Independent, driven, and resourceful, Rasa is a close sister to Rosetta, Luc and Jean-Pierre Dardenne's titular heroine. Although lacking the intellectual rigor of les frères Dardenne, Pilcher has crafted a solid, small-scale character piece powered by Nermina Lukac's charismatic performance as Rasa.
Though capable of quiet moments, she also merrily roughhouses with her Dad (Milan Dragišic) and the other men in her Eastern European community. Like Rasa and her beloved father, these men are immigrants, although they do not consider themselves "foreigners"—that designation is reserved for newer visitors from Iraq and Asia. To Pilcher's credit, this hypocritical hierarchy remains an ever-present subtext, a suggestion of the endless cycle of assimilation and exploitation fostered by globalism.
While Pilcher does adhere to the visual hallmarks of the Dardenne-inspired art film, her emphasis on community, the spirited optimism of her heroine, and the subtle incisiveness of her politics set her apart from the miserabilist pack. Consider me in agreement with the crowds at Venice: this was a fine first film, and one of the few pleasant surprises I've had at the festival.
Lori Donnelly is the Film Programmer of the Dryden Theatre at the George Eastman House in Rochester, NY. Previous to the Eastman House, she worked at the AFI Silver Theatre, the Brattle Theatre in Cambridge, MA, and the Museum of Fine Arts, Boston.