Back to selection
Independent Film Week: 3 Films I Can't Stop Thinking About, Part 1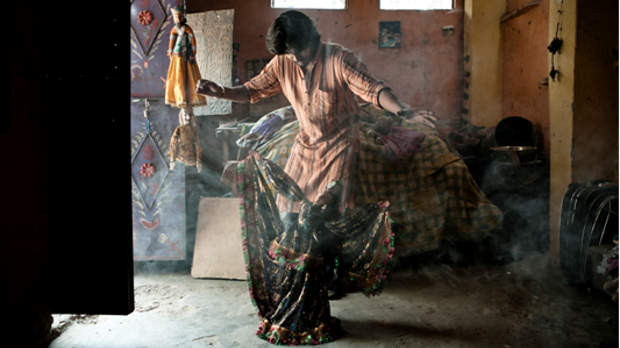 The first rule of Film Week is that if you have time to blog during Film Week, you're probably not doing it right. The second rule of Film Week is that if you attend, the best part is that you will meet all kinds of awesome people making awesome films. This may intimidate you. It's okay. Be cool. I guess that's the third rule of Film Week, bro: just be cool.
When the good folks at Filmmaker Magazine asked me to blog about Film Week again this year, I knew I wanted to write about some of the awesome people making awesome films I knew I would meet. With all the "industry" stuff to get excited/nervous about, it's good to remember that everyone that is at Film Week is there because of the films. I could write about all of the films included in Film Week, all of whom deserve it, but I've chosen three I can't stop thinking about. Here is the first:
Tomorrow We Disappear
In between meetings my first morning, I fell into conversation with Jimmy Goldblum and Adam Weber. This inseparable pair are knee-deep in post production on Tomorrow We Disappear, an ecstatic and lyrical portrait of India's last colony of magicians, acrobats, and puppeteers. Here is how they described the film on their Kickstarter page:
"For hundreds of years roaming artists traveled the Indian countryside, creating the stories, the mythological backbone that would unite a country. Before radio, film, and television, these artists helped form what we now call the Web of India.
In the 1950s the artists ended their itinerant routes and moved into vacant land beside a jungle in West Delhi. They called their new home the Kathputli Colony. The colony is now a tinsel slum, providing home to some of the world's greatest street magicians, acrobats, and puppeteers. But last year the government sold the Kathputli land to real estate developers; the slum is to be bulldozed and cleared for development.
Our film, Tomorrow We Disappear, will take you into the world of the Kathputli Colony, to experience the last remnants of its unique culture before it's too late."
They already have like 5000 fans on Facebook. Which makes sense, because the film, which they've also described as a "dark fairytale," is going to be amazing. What I've seen of it so far gives me goose bumps: the luscious cinematography, the beautiful use of music, the masterful editing… watch their teaser and tell me you don't want to see this film.
Jimmy and Adam are pretty young, but they have already had all kinds of success in creative endeavors—producing award-winning transmedia campaigns (Jimmy), editing for Michel Gondry and Quentin Tarantino (Adam), and more—but Tomorrow We Disappear is their first feature. They came to Film Week looking for support; they need finishing funds and perhaps an executive producer who can offer guidance. Jimmy says of their needs, "Adam and I are like these talented children fumbling around in a sandbox; and we have the best toys, and we're making a lovely sand castle. But we could probably use some adult supervision before we swallow something bad."  Adam adds, "Also, because we're both a documentary film and transmedia project, we're interested in identifying festivals who'd want to collaborate on some interesting interactive executions."
I asked Jimmy to tell me what Film Week was like for him.
"We were entering into Film Week after ten months of intense editing. Your social skills begin pouring out your ears, and your ego guides you to some dark, stupid places. So I was leaving the edit cave and emerging with wonderful dichotomous thinking like, "Tomorrow We Disappear is obviously the greatest documentary – nay, film – ever made," and, more commonly, "I'm an worthless idiot; I should enroll immediately in whatever obscure graduate program will have me." Then I met all the doc filmmakers, and – this sounds so bullshitty – but I was just crushing on all of them so hard. Milton [Tabbot, IFP's Senior Director of Programming] and his crew curated such an inspiring group of filmmakers; many of these documentarians are taking the genre in all sorts of kooky directions. After awhile, I just started pushing other projects in my meetings. "You can't fund us in this cycle? Fine, then at least give These Birds Walk or Roots and Webs your money."
Meeting Jimmy and Adam was so inspiring; the passion and energy and sense of joy they bring to this film is contagious. You can get a sense of what it's like to talk to them by listening to this interview they did on NPR. Now that I've met them, I'm depressed I didn't have $10K to plunk down when they did their Kickstarter; I could have earned myself a 45-minute hug from both of them.