Back to selection
Independent Film Week: 3 Films I Can't Stop Thinking About, Part 3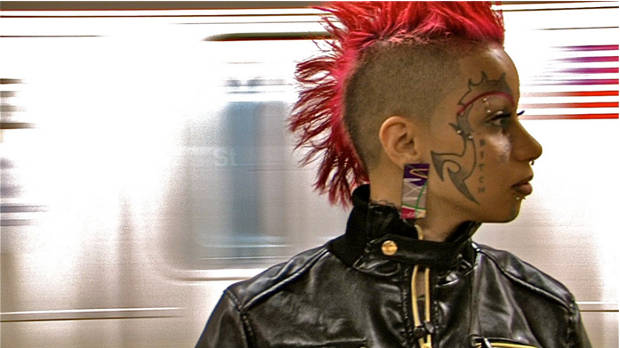 The first rule of Film Week is that if you have time to blog during Film Week, you're probably not doing it right. The second rule of Film Week is that if you attend, the best part is that you will meet all kinds of awesome people making awesome films. This may intimidate you. It's okay. Be cool. I guess that's the third rule of Film Week, bro: just be cool.
When the good folks at Filmmaker Magazine asked me to blog about Film Week again this year, I knew I wanted to write about some of the awesome people making awesome films I knew I would meet. With all the "industry" stuff to get excited/nervous about, it's good to remember that everyone that is at Film Week is there because of the films. I could write about all of the films included in Film Week, all of whom deserve it, but I've chosen three I can't stop thinking about. Here is the third:
Lucky
I think everyone agrees that one of the highlights of Film Week is the IFP Labs Showcase Screening – and not just because the always-amazing Rooftop Films works so hard to make it a good time (music! beer! free!). I had the good fortune to participate in the IFP Lab and Showcase Screening this year with my film Our Nixon. But the best part of this year's screening for me was seeing a short excerpt of Laura Checkoway's documentary Lucky. It was the best kind of teaser: in just a few minutes, I was literally aching to see more. It's immediately clear that Checkoway brings an extraordinary intimacy and sensitivity to her subject.
Checkoway's background is in journalism. She is a former senior editor of Vibe and is best known for My Infamous Life, the autobiography she co-penned with Mobb Deep's Prodigy. Her beat has often been pop culture, but Laura Checkoway doesn't do surface. Laura Checkoway has long been hailed for going deep: deep into her subjects' lives; deep into social issues like domestic violence, homophobia and racial profiling; deep into universal truths about pain, longing, and redemption. So when Checkoway decided to make a documentary chronicling the life of a tattooed, homeless lesbian named Lucky Torres, who dreams of escaping her plight by getting famous, you had to know she would do something special.
After following Lucky for one year, Checkoway wrote about her for The Fader (read the whole story here). In it, she explained her initial attraction to Lucky:
"I met Lucky Torres on one of the last summery nights of 2007. Around midnight, a group of young lesbians gathered on the steps at the Christopher Street Pier in Greenwich Village to talk about homophobia, how the pier is like home and Lil Wayne. Lucky was the unmistakable standout of that group, dripping with the kind of unhinged swagger bred only on the streets of New York. Just under five feet and covered in tattoos, her look was both an armor and rebellion."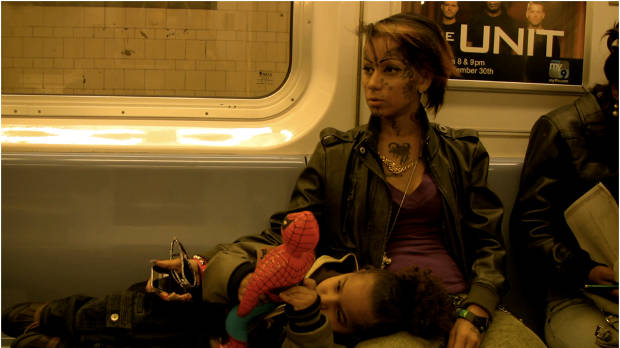 Checkoway said that she thinks in long form and it's hard for her to summarize the film into an elevator pitch. (I hear you, sister.) But when people ask her what her film's about, she says:
"I tell people that Lucky's an orphan who was never adopted and ran away from foster care as a little girl. She was raised by the streets of New York and wears it all over herself in tattoos. Now she's a mother, moving from shelter to shelter, trying to hold onto her son. She sees fame as her only way out and tries to position herself to meet Lil Wayne, who's like her mythical savior. Then the film takes an unexpected turn when she and her sister Fantasy piece together their family's shattered past. There's also a love story."
Lucky is a true labor of love: Checkoway has been working on it for over five years now. I get the impression that she's held the film very close to her chest, because while she isn't afraid to show Lucky's darker side, she's also fiercely protective of and grateful to her. But now, she and her producer Neyda Martínez are looking for finishing funds and other kinds of support to bring the film from rough cut to fine cut (and beyond). She told me, "We are pushing it as far as we can on our own," but at a certain point (again, I speak from experience!) every filmmaker needs to find passionate advocates and partners or risk misery/exhaustion. I asked her what it was like to bring Lucky to Film Week:
"I loved it. The best parts were seeing other filmmakers' work, seeing my friends from the Doc Labs. Meeting industry people and observing how this whole thing works. Realizing how much I love my film and that I don't need to seek everyone's validation, I just need to connect with someone who gets it.
The hardest moment of the week was on the first day after my marketing presentation, I check my phone and there's a text: "Lucky got locked up." She's free now, but my heart was bleeding on my way home that day."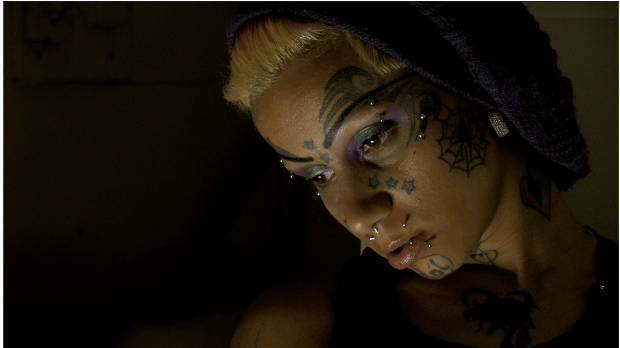 From the early scenes I've seen, one thing is clear: Lucky will make you cry, it will make you angry, and it will challenge your stereotypes. In Lucky Torres, so breathtaking to look at (did I mention she has the word "bitch" tattooed on her face?), Laura Checkoway has discovered a subject brimming with complications. What makes her so fascinating to me is the way she so openly embodies both vulnerability and strength. Lucky may not have much, but she has an incredible spirit. I can't wait for you to meet her.