Back to selection
Half the Sky & Social Documentary Transmedia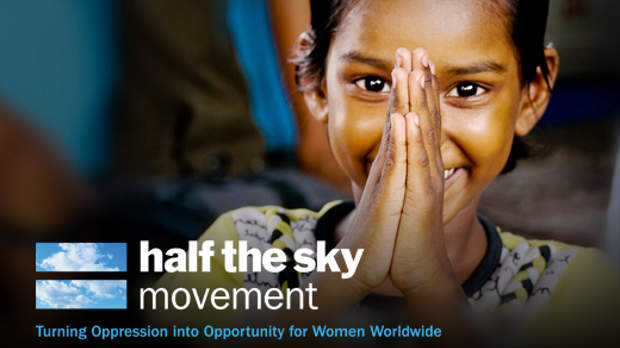 One of the most intriguing things about transmedia when compared to traditional film, particularly documentary, is that through its multiple entry points and interactive experiences it has the potential to more fully engage viewers in causes. It doesn't just inspire people to action, in other words; at its best, it gives them the tools and initial opportunities to take action then and there.
Such is the case with Half the Sky, a four-hour film and transmedia property that airs in two parts tonight and tomorrow on PBS. In fact, it may be possible that Half the Sky is the most important and ambitious social documentary transmedia project created yet. Such a statement runs the danger of hyperbole, of course, but it's hard to overstate how important this production may be.
First is the content. Based on the 2009 book by husband-and-wife New York Times journalists and Pulitzer Prize winners Nicholas Kristof and Sheryl WuDunn, Half the Sky is dedicated, as the subtitle says, to "turning oppression into opportunity for women worldwide." As Kristof and WuDunn reported from China and developing regions they realized that oppression against women was the most wide-spread human-rights violation in the world: violence including sexual violence, forced prostitution, genital mutilation, withholding educational and economic opportunities, and even slave trading are all accepted in various parts of the world, even right in the United States. Thus they wrote the book to shine a light on these negative issues while focusing on the positive solutions, to show how many activists were working to improve women's and girls' lots throughout the world. A small movement started, and expanding it to include film and transmedia was the next step.
In fact, even before the film's director/producer Maro Chermayeff came onboard, Kristof and WuDunn were determined to incorporate multiple platforms simply because something like a Facebook game could reach an audience that wouldn't watch a PBS film or read a thick nonfiction book—and the subject matter deserved as large an audience as possible. Kristof had seen the potential of games like Darfur is Dying and PeaceMaker in doing just this, and with Half the Sky he was anxious for any means to reach outside the choir, to build a different kind of audience. PBS, the Corporation for Public Broadcasting, and ITVS, which collaborated on the project, and producers Jamie Gordon and Mikaela Beardsley were all on-board, and they brought on Chermayeff because of her extensive experience with long-form documentary, including series like Carrier and Circus. It was her first time working with transmedia on this scale, but with the backing of all these organizations and the impetus of the book behind her she was determined to exploit it to its fullest potential.
And there lies the second reason for Half the Sky's importance: the sheer scope of what the team accomplished. Six actresses/activists—Meg Ryan, Olivia Wilde, America Ferrara, Diane Lane, Eva Mendes, and Gabrielle Union—traveled with Kristof, Chermayeff, and the production crew to six different developing nations to depict conditions and showcase a local "game changer" working in the trenches there. Dozens of other scholars and leaders like Hillary Clinton and Desmond Tutu appear on camera. Perhaps more impressively (at least for filmmakers weary of endless grant applications), over 50 NGOs and funding organizations have contributed to the project. The resulting media is impressive to say the least, particularly in the way some of it is designed for viewers who want to assist and some of it is to educate and train the people in at-risk situations:
* The book, which serves as the base for everything else
* The four-hour television series, which will air on PBS in the U.S. and be distributed by Freemantle globally; throughout the film various on-screen hashtags encourage live audience discussion
* An hour-long version of the film, which will show in over 100 community screenings sponsored by ITVS
* 18 short educational video modules developed with some of the core NGOs to address very specific issues they face as they work in developing nations
* A Facebook game developed by Frima Studio and PeaceMaker creator Games for Change that uses mechanics from games like Farmville to create social interactions (thus increasing the Half the Sky community) and actually contribute donations (cash, books, etc.) to real women and girls in the developing world
* Three mobile games developed by Games for Changes and USAID designed to educate people in the developing world about prenatal health (9 Minutes), how to de-worm and gain gastrointestinal health (Worm Attack!), and the importance of valuing girls' education as much as boys' (Family Values); mobile games, unlike Facebook, can be quite common in developing countries, making this a great educational medium
* An active social advocacy website at http://www.halftheskymovement.org/ that curates ways for people to get involved
* The PBS.org site
* A three-year initiative with ITVS called Women and Girls Lead, featuring screenings of over 50 films like David Southerland's Kind Hearted Woman
* 30 Songs in 30 Days: a program that's been releasing a new single by a female artist for free download each day through September
* A broad array of curriculum for students on all levels, complemented by a network of college students working as "campus ambassadors" for the movement, book clubs, etc.
Chermayeff admits that this is all over the map, but "the connections are not tenuous—it's all very strictly connected together." In addition, users can look at everything or focus specifically at one issue, like sex trafficking, that most interests them. It's easy to measure the usage of these components individually, but the Half the Sky team is working hard, with a two-year grant from USAID, to measure movement across platforms. Their methodology and findings there could help transmedia producers in the future as they design other multifaceted projects.
For a director who says her crew needles her for not even knowing how to operate her iPhone, Chermayeff really enjoyed producing the games and overseeing the project's entire umbrella. "I'm really interested because I think the future really demands filmmakers to understand the next level of how people are consuming your content." She points to Danny Boyle's position in the recent film Side by Side, saying that his allegiance to film over digital is fine, but it does make him of his time—and potentially limits his future audience. With Carrier, she worked hard with her team of cinematographers, who all won Emmys for the show, to create stunning and original footage, and then she was shocked to see people watching it on a tiny phone on the subway. "Then I said, 'Wait a minute, they're watching it!' And that 18-year-old isn't necessarily somebody who would watch PBS. So technology must serve the audience. I'm not into tech for tech's sake, but I'm interested in the audience and how people are experiencing stories. For me it's still about the story. No matter what technology you slap on something, it's still just the basics."
Half the Sky airs tonight and tomorrow on PBS; the filmmakers and participating actresses like @oliviawilde will live-chat on Twitter during the screening with the hashtag #HalftheSky.