Back to selection
Hawaii Critics Notebook #1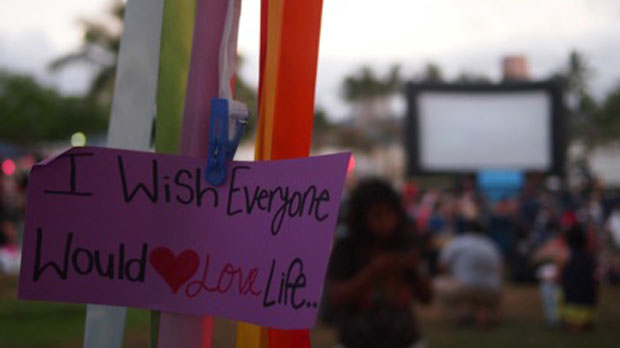 To be a film festival in today's era of instant-streaming gratification and downloading-at-home culture means organizing events and creating a community beyond the traditional movie screen, and this year's edition of the Hawaii International Film Festival certainly promised its patrons far more than a typical film-going experience. Out with the hot dogs, seating rows, frigid air conditioning, and desultory Q&A's of your usual festival situation, and—for a few special nights at least—in with artisanal food trucks, outdoor screenings, martial arts demos, live music performances, cosplay displays, lengthy photo ops with various stars, and even, oddly enough, quite a few films.
(As a special bonus for those nostalgic for the desktops they left behind, there was always the now-dreaded DCP projection format to give viewers all the computer glitches, download errors, and encryption issues they missed from home.)
This past Saturday found HIFF far from its popcorn-fluorescent home at the Dole Cannery multiplex, having taken up refuge at a local park instead for a free outdoor screening of Hayao Miyazaki's 2001 animated classic Spirited Away. As dusk fell on another warm Honolulu evening and palm trees swayed in the breeze, several food trucks set up shop on the outskirts of the park, serving up Hawaiian and Vietnamese specialties and even a few Miyazaki-inspired menu items. Children ran back and forth along the lawn, playing with glowsticks and decorating a wishing tree with paper-and-crayon wishes for the future (see above); other audience members walked around in their finest cosplay outfits, posing for photos with one another. As dusk turned to night and the film began (and a light rain threatened, then fortunately receded), those once-running children settled into a rapt tranquility, quietly asking questions of their families and friends as to what that witch onscreen was up to, and how on earth Chiro would ever get her family back.
Later that night and through Sunday, other questions were soon being asked, only this time of two more-than-willing celebrities, both from Japan. Nineteen-year-old martial-arts sensation Rina "The High-Kick Girl" Takeda, in town with cult filmmaker Noboro Iguchi's newest genre-bender Dead Sushi, appeared in costume (complete with sushi nunchucks!) for the film's Saturday night screening, and eagerly demonstrated her high kicks both in the theater and afterwards in the lobby, to the entertainment of several passersby. ("Audiences like it when young actresses are guests," dryly noted a translator. "Much more popular than old men.") For Dead Sushi, Iguchi, whose past work include such genre-tweaking hits as Mutant Girls Squad and RoboGeisha ("Geisha is beautiful. Geisha is deadly. Geisha is…robot") here combines the recent food/nostalgia subgenre of Japanese cinema (where individuals' lives are made better by a sudden love of bread/sushi/cakes/etc.) with…the zombie film. "Sushi…is HUNGRY" promises Dead Sushi's tagline; "This Is…Sushi Action! Sushi Erotica! Sushi Violence!" Tongue firmly in cheek and fake-blood spurter firmly on extra-high, the film's special effects are so ruthlessly, giddily low-budget they make Ed Wood look like Michael Bay. Schlock cinema at its finest, Dead Sushi is Jiro Dreams of Sushi crossed with 2000 Maniacs, with Iguchi a 21st-century Herschell Gordon Lewis.
While the teenage Takeda is just beginning in film, the legendary actor Koji Yakusho finds himself at the height of his career (though, like Takeda, he is not unfamiliar with the appeal of sushi, judging from his infamous early role in Juzo Itami's Tampopo). Appearing at HIFF on Sunday night to accept the festival's Career Achievement Award and present his newest work, Shuichi Otika's genial film-on-filmmaking indie comedy The Woodsman and the Rain, Yakusho projected the kind of eternal calm that defines his screen persona, graciously posing for photos with excited audience members for over 45 minutes. Beginning his career in 1978 after being chosen (out of over 800 applicants) by the great Tatsuya Nakadai to study at Nakadai's Mumei-jeki ("school for unknown performers"), Yakusho has gone on to work with such Japanese filmmaking icons as Shohei Imamura (Warm Water Under a Red Bridge), Kiyoshi Kurosawa (Cure; Charisma; Séance), Juzo Itami (Tampopo), Kon Ichikawa (Dora Heita), and Takashi Miike (13 Assassins), building a screen persona as iconic as any in film today. His world-weary charm, crossed with a face that appears to have already lived through whatever the world is about to throw its way, harkens back to such classic stars as Humphrey Bogart, Robert Mitchum, or Toshiro Mifune, no matter the genre or the era. Moving effortlessly from low-budget indies to studio tentpoles (his other starring role of the year came as the title lead in Toei's massive hit Admiral Yamamoto), starring in family dramas, supernatural thrillers, jidai-geki, melodramatic romances, and police procedurals, Yakusho embodies the range of Japanese cinema over the past twenty-some years; his presence at HIFF triggered sold-out screenings of The Woodsman and the Rain.
While the weekend brought photo sessions and discussions with actors, actresses, and directors, Monday evening unveiled another of HIFF's beyond-the-screen spotlights, a live presentation of the multimedia piece Himalaya Song by singer/composer Gingger Shankar (one of Filmmaker's "25 New Faces" in 2011), musician/composer Dave Liang (Shanghai Restoration Project), and filmmaker Mridu Chandra. Collapsing the boundaries of musical performance, the moving image, and live narration, this "ode to the Himalayas" offers up a concert, a spoken-word narrative, and documentary footage in an effort to both capture the mystique of the Himalayas, and to warn of their endangerment from environmental forces. Over an at-times-heartbreaking compilation of visual documents of the Himalayas (drawn from YouTube clips, found footage, and television news reports, but also featuring hypnotic collage pieces and hand-drawn animation), Chandra spins a yarn from the future to the present, creating a tale of a scientist in the year 2050, struggling to understand the collapsing world that she has inherited. For each tale, a separate song arises, performed by Shankar and Liang in a mesmerizing blend of Indian classical vocal and violin pieces, jazz, trip-hop, and more. A singer and violinist who has toured with Smashing Pumpkins and Talvin Singh, among others, and also composed the score for works as diverse as Mel Gibson's The Passion of the Christ and Maryam Keshavarz's Circumstance, Shankar (whose voice covers five octaves, and whose chosen instrument is the double violin, of which only two exist in the world) proves a mesmerizing figure onstage, not so much accompanying the visuals, but alchemizing them. With Shankar slightly stage left but still in front of the screen, and Chandra and Liang slightly stage right (but still near the screen), the only issue, in fact, was the stage presence of all three performers, which at times threatened to overshadow the cinematic image, already not helped by an overlit stage that washed out the screen. This slight complaint, of course, is coming from a film critic, not a music one (and, after all, the event was placed in HIFF's "Sound and Vision" category, not "Vision and Sound"). Indeed, part of the appeal of Himalaya Song is that it can attract audiences interested in either a concert, a film screening, or both; no matter the preference, it is an ode to the possibilities of collaborative media, and to the potential of film festivals to fully expand beyond the screen, and learn to speak in—and listen to—new mediums.
"Our audience at HIFF was very responsive to our performance— which is sort of a philosophical musing on our relationship with the earth— and many people came up to us afterwards to tell us their own stories," noted Chandra a few days after the festival. "We met several people who live in Hawaii who we ended up meeting again during the course of our time at the festival. Opening up this kind of conversation about what we believe and how we can preserve the environment is exactly what we want to do with this project."
The ability to create a conversation between film, music, and Hawaii was certainly at its finest during HIFF's gala screening of Jake Shimabukuro: Life on Four Strings, a documentary on the Hawaii-raised global ukulele superstar. "The only problem with Jake," recalled director Tad Nakamura at one screening, "is that there's no dark side," and true to form Life on Four Strings is one of the lightest, most joyful documentaries on a musician—and on the sheer ecstasy of music, and creating music—one could ever see. Following Jake's unlikely rise from pimpled Honolulu teen and birthday-party performer, to Hawaiian radio sensation, to YouTube fame and global superstardom, the film rarely breaks stride with its subject's cheerfulness, charm, and dedication.
For Jake (an Oahu native), and for many of the crew, the HIFF screening represented a homecoming. "Many times, Jake let us know being able to screen the film in his hometown meant everything to him," said the film's executive producer, Don Young. "He had over 80 family members there alone, so it was a very special evening that he's been looking forward to since we started the project. For the team, it was so important for us to present the film to the community where Jake's story began."
Patrolling the balcony before the show and performing a few songs afterwards, Shimabukuro certainly left little doubt that the documentary's "screen persona" was true to life, radiating schoolboy happiness and even going so far as to personally shake hands with and graciously thank everyone leaving a post-screening afterparty. Part of that kindness may be due to a post-screening high, of course, but for many, Shimabukuro's simple act of consideration embodied something more. "The screening went great," recalled Young. "There were over 1,000 in attendance, and dozens came up after thanking us for making the film. Most told us it's so rare that films about Hawaii that are emotionally honest, but also celebrate Hawaii's great uniqueness." Whether organizing an outdoor screening for hundreds of families, charming legendary actors into staying far into the night to sign autographs, or thanking each person at an after-party for your own documentary, it's such acts of graciousness and sharing that create community "beyond the screen," and showcase the uniqueness of both Hawaii and its film festival.