Back to selection
The Week in Cameras: An October Surprise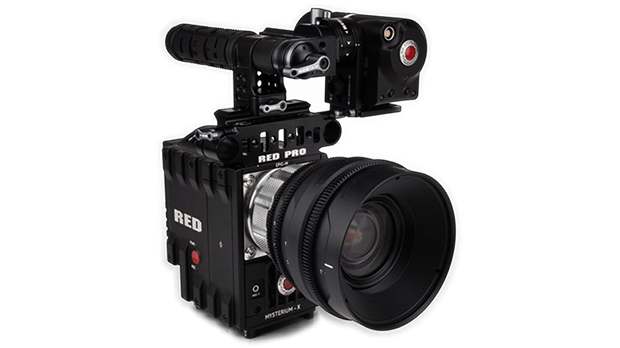 The RED EPIC
This Tuesday we have the big announcement of "The New F" from Sony to look forward to. Will it be amazing? Sony is certainly talking it up, billing it as "The Future, Ahead of Schedule."
Peter Crithary of Sony has tweeted:
Peter Crithary @CineAltaNews
Those few that have seen, and know the features, their reaction is #GameChanger
Of course, he's from Sony, so he might be expected to say that. Filmmaker Sebastian Wiegärtner has said:
Sebastian Wiegärtner @wiegaertner
#TheNewF announcement will be very tough for some big players in the industry! I was so surprised yesterday!
And Andy Shipsides of AbelCine said:
Andy Shipsides @AndyShipsidesSpent
4 hours in a Sony meeting today. Holy Crap. Amazing.
It's widely assumed that "The New F" will be a 4K model that replaces – or is a step up from – the existing PMW-F3. Talk of other features include; high-frame rates and 50Mb/s 4:2:2 recording. There are also reports of a new recording format, XAVC, and S-Log2, which is a version of S-Log that first appeared on the F65.
Cinescopophilia: S-Log2 on The Sony TheNewF Camera
A post on the REDUser forum claims that the new camera will be called the PMW-F5, will be in the $22,000-$25,000 range, and that to record at 4K you'll need the $19,000 R5 recorder. Others have disputed these figures. Claiming that Sony hasn't announced any prices yet.
While 4K and high frame rates are interesting, Sony allegedly already did that with the NEX-FS700. They just haven't told us how and what 4K recording will cost on the FS700; will we find the answers to those questions on Tuesday too?
And how much better will the image on the new camera be compared to the NEX-FS700, and what other features will it have that would differentiate it from this camera? Is it price, image quality, or both that will define this camera as a 'Game Changer?'
RED's Response
While we wait for Sony's announcement, RED has pre-announced their own announcement. On November 1st (after Sony's official announcement) RED will be announcing a new price for the EPIC. Given the tone of the post from Jim Jannard, this will be a fairly significant price change, not a couple of hundred dollars off the list price:
Everything in the electronics world changes… usually for the better, cheaper and faster. EPIC just did.
We have learned how to make EPICs in quantity, lowered our assembly costs, found better suppliers and paid off our NRE.
That means we can continue to charge the same for an EPIC (and now make an obscene amount of profit) or lower the price.
Those of you that paid the initial price hopefully got your money's worth. It was the best price we could offer at the time. You rented your cameras. You used them to generate income by shooting projects.
REDUser: Everything changes… IMPORTANT post.
More than a few people have noted the coincidence of announcing this right after Sony's own announcements.
Ultimately, consumers win when prices come down; just as long as they didn't buy their camera a month before the new camera is announced.