Back to selection
Sundance 2013 Premieres and Documentary Premieres Announced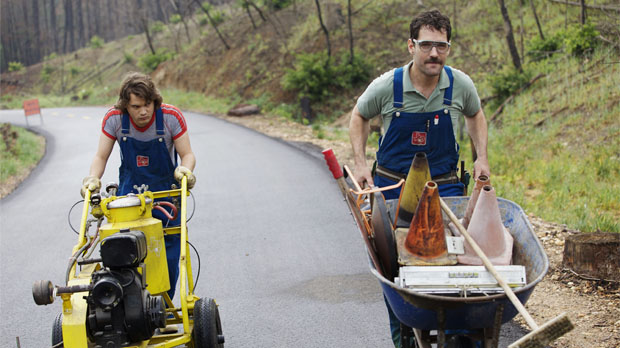 Prince Avalanche
Announced today by the Sundance Film Festival were their robust Premieres and Documentary Premieres sections, which always feature a large number of well-established names both in front of and behind the camera. In the narrative section, Richard Linklater's trilogy-concluding Before Midnight is bound to get a lot of attention, while there are also welcome returns to the festival for Michael Winterbottom, Rob Epstein, David Gordon Green, Park Chan-wook and Jane Campion. There additionally notable debuts from Joseph Gordon-Levitt from Nat Faxon and Jim Rash (the writers of The Descendants). On the doc side, Lucy Walker, Barbara Kopple, Alex Gibney, Sebastian Junger and RJ Cutler are all attending with new works, though Dave Grohl — in Park City with his first first as director, Sound City — may get even more attention and headlines than these well-known non-fiction names.
The shorts selected for SFF 2013 — the last remaining section of the festival — will be unveiled tomorrow.
PREMIERES
A showcase of world premieres of some of the most highly anticipated dramatic films of the coming year. Presented by Entertainment Weekly.
A.C.O.D. / U.S.A. (Director: Stuart Zicherman, Screenwriters: Ben Karlin, Stuart Zicherman) — Carter is a well-adjusted Adult Child of Divorce. So he thinks.  When he discovers he was part of a divorce study as a child, it wreaks havoc on his family and forces him to face his chaotic past. Cast: Adam Scott, Richard Jenkins, Catherine O'Hara, Amy Poehler, Mary Elizabeth Winstead, Clark Duke.

Before Midnight / U.S.A. (Director: Richard Linklater, Screenwriters: Julie Delpy, Ethan Hawke, Richard Linklater— We meet Jesse and Celine nine years on in Greece. Almost two decades have passed since their first meeting on that train bound for Vienna. Before the clock strikes midnight, we will again become part of their story. Cast: Ethan Hawke, Julie Delpy, Xenia Kalogeropoulou, Ariane Labed, Athina Rachel Tsangari, Seamus Davey-Fitzpatrick.

Big Sur / U.S.A. (Director and screenwriter: Michael Polish) — Unable to cope with a suddenly demanding public and battling advanced alcoholism, Jack Kerouac seeks respite in three brief sojourns to a cabin in Big Sur, which reveal his mental and physical deterioration. Cast: Jean-Marc Barr, Kate Bosworth, Josh Lucas, Radha Mitchell, Anthony Edwards, Henry Thomas.
Breathe In / U.S.A. (Director: Drake Doremus, Screenwriters: Drake Doremus, Ben York Jones) — When a foreign exchange student arrives in a small upstate New York town, she challenges the dynamics of her host family's relationships and alters their lives forever. Cast: Guy Pearce, Felicity Jones, Amy Ryan, Mackenzie Davis.

Don Jon's Addiction / U.S.A. (Director and screenwriter: Joseph Gordon-Levitt) — In Joseph Gordon-Levitt's charming directorial debut, a selfish modern-day Don Juan attempts to change his ways. Cast: Joseph Gordon-Levitt, Scarlett Johansson, Julianne Moore, Tony Danza, Glenne Headly, Rob Brown. 

The East / U.S.A. (Director: Zal Batmanglij, Screenwriters: Zal Batmanglij, Brit Marling) — An operative for an elite private intelligence firm goes into deep cover to infiltrate a mysterious anarchist collective attacking major corporations.  Bent on apprehending these fugitives, she finds her loyalty tested as her feelings grow for the group's charismatic leader. Cast: Brit Marling, Alexander Skarsgård, Ellen Page, Toby Kebbell, Shiloh Fernandez, Patricia Clarkson.

The Inevitable Defeat of Mister and Pete / U.S.A. (Director: George Tillman Jr., Screenwriter: Michael Starrbury) — Separated from their mothers and facing a summer in the Brooklyn projects alone, two boys hide from police and forage for food, with only each other to trust.  A story of salvation through friendship and two boys against the world. Cast: Skylan Brooks, Ethan Dizon, Jennifer Hudson, Jordin Sparks, Anthony Mackie, Jeffrey Wright.

jOBS / U.S.A. (Director: Joshua Michael Stern, Screenwriter: Matt Whiteley) — The true story of one of the greatest entrepreneurs in American history, jOBS chronicles the defining 30 years of Steve Jobs' life. jOBS is a candid, inspiring and personal portrait of the one who saw things differently. Cast: Ashton Kutcher, Dermot Mulroney, Josh Gad, Lukas Haas, J.K. Simmons, Matthew Modine. CLOSING NIGHT FILM

The Look of Love / United Kingdom (Director: Michael Winterbottom, Screenwriter: Matt Greenhalgh) — The true story of British adult magazine publisher and entrepreneur Paul Raymond. A modern day King Midas story, Raymond became one of the richest men in Britain at the cost of losing those closest to him. Cast: Steve Coogan, Anna Friel, Imogen Poots, Tamsin Egerton.

Lovelace / U.S.A. (Directors: Rob Epstein, Jeffrey Friedman, Screenwriter: Andy Bellin) — Deep Throat, the first pornographic feature film to be a mainstream success, was an international sensation in 1972 and made its star, Linda Lovelace, a media darling. Years later the "poster girl for the sexual revolution" revealed a darker side to her story. Cast: Amanda Seyfried, Peter Sarsgaard, Hank Azaria, Adam Brody, James Franco, Sharon Stone.

The Necessary Death of Charlie Countryman / U.S.A. (Director: Fredrik Bond, Screenwriter: Matt Drake) — Traveling abroad, Charlie Countryman falls for Gabi, a Romanian beauty whose unreachable heart has its origins in Nigel, her violent, charismatic ex. As the darkness of Gabi's past increasingly envelops him, Charlie resolves to win her heart, or die trying. Cast: Shia LaBeouf, Evan Rachel Wood, Mads Mikkelsen, Rupert Grint, James Buckley, Til Schweiger.

Prince Avalanche / U.S.A. (Director and screenwriter: David Gordon Green) — Two highway road workers spend the summer of 1988 away from their city lives. The isolated landscape becomes a place of misadventure as the men find themselves at odds with each other and the women they left behind. Cast: Paul Rudd, Emile Hirsch.

Stoker / U.S.A. (Director: Park Chan-Wook, Screenwriter: Wentworth Miller) — After India's father dies in an auto accident, her Uncle Charlie comes to live with her and her mother, Evelyn. Soon after his arrival, India suspects that this mysterious, charming man has ulterior motives but becomes increasingly infatuated with him. Cast: Mia Wasikowska, Matthew Goode, Dermot Mulroney, Jacki Weaver, Nicole Kidman.
Sweetwater / U.S.A. (Directors: Logan Miller, Noah Miller, Screenwriter: Andrew McKenzie) — In the late 1800s, a fanatical religious leader, a renegade Sheriff, and a former prostitute collide in a blood triangle on the rugged plains of the New Mexico Territory. Cast: Ed Harris, January Jones, Jason Isaacs, Eduardo Noriega, Steven Rude, Amy Madigan.

Top of the Lake / Australia, New Zealand (Directors: Jane Campion, Garth Davis, Screenwriters: Jane Campion, Gerard Lee) — A 12-year-old girl stands chest deep in a frozen lake. She is five months pregnant, and won't say who the father is. Then she disappears. So begins a haunting mystery that consumes a community. Cast: Elisabeth Moss, Holly Hunter, Peter Mullan, David Wenham. This six-hour film will screen once during the Festival.
Two Mothers / Australia, France (Director: Anne Fontaine, Screenwriter: Christopher Hampton) — This gripping tale of love, lust and the power of friendship charts the unconventional and passionate affairs of two lifelong friends who fall in love with each other's sons. Cast: Naomi Watts, Robin Wright, Xavier Samuel, James Frechevile.

Very Good Girls / U.S.A. (Director and screenwriter: Naomi Foner) — In the long, half-naked days of a New York summer, two girls on the brink of becoming women fall for the same guy and find that life isn't as simple or safe as they had thought. Cast: Dakota Fanning, Elizabeth Olsen, Boyd Holbrook, Demi Moore, Richard Dreyfuss, Ellen Barkin.

The Way, Way Back / U.S.A. (Directors and screenwriters: Nat Faxon, Jim Rash) — Duncan, an introverted 14-year-old, comes into his own over the course of a comedic summer when he forms unlikely friendships with the gregarious manager of a rundown water park and the misfits who work there. Cast: Steve Carell, Toni Collette, Allison Janney, Sam Rockwell, Maya Rudolph, Liam James.
DOCUMENTARY PREMIERES
Renowned filmmakers and films about huge subjects comprise this section highlighting our ongoing commitment to documentaries. Each is a world premiere.
ANITA / U.S.A. (Director: Freida Mock) — Anita Hill, an African-American woman, charges Supreme Court nominee Clarence Thomas with sexual harassment in explosive Senate hearings in 1991 – bringing sexual politics into the national consciousness and fueling 20 years of international debate on the issues.

The Crash Reel / U.S.A. (Director: Lucy Walker) — The jaw-dropping story of one unforgettable athlete, Kevin Pearce; one eye-popping sport, snow boarding; and one explosive issue, traumatic brain injury. An epic rivalry between Kevin and Shaun White culminates in a life-changing crash and a comeback story with a difference. SALT LAKE CITY GALA FILM

History of the Eagles / U.S.A. (Director: Alison Ellwood) — Using never-before-seen home movies, archival footage and new interviews with all current and former members of the Eagles, this documentary provides an intimate look into the history of the band and the legacy of their music.

Linsanity / U.S.A. (Director: Evan Leong) — Jeremy Lin came from a humble background to make an unbelievable run in the NBA. State high school champion, all-Ivy League at Harvard, undrafted by the NBA and unwanted there: his story started long before he landed on Broadway.

Pandora's Promise / U.S.A. (Director: Robert Stone) — A growing number of environmentalists are renouncing decades of antinuclear orthodoxy and have come to believe that the most feared and controversial technology known to mankind is probably our greatest hope.

Running from Crazy / U.S.A. (Director: Barbara Kopple) — Mariel Hemingway, granddaughter of Ernest Hemingway, strives for a greater understanding of her family history of suicide and mental illness. As tragedies are explored and deeply hidden secrets are revealed, Mariel searches for a way to overcome a similar fate.

Sound City / U.S.A. (Director: Dave Grohl) — Through interviews and performances with the legendary musicians and producers who worked at America's greatest unsung recording studio, Sound City, we explore the human element of music, and the lost art of analog recording in an increasingly digital world.

We Steal Secrets: The Story of WikiLeaks / U.S.A. (Director: Alex Gibney) — In 2010, WikiLeaks and its sources used the power of the Internet to usher in what was for some a new era of transparency and for others the beginnings of an information war.
When I Walk / U.S.A., Canada (Director: Jason DaSilva) — At 25, filmmaker and artist Jason DaSilva finds out he has a severe form of multiple sclerosis. This film shares his personal and grueling journey over the next seven years. Along the way, an unlikely miracle changes everything.

Which Way is the Front Line from Here? The Life and Time of Tim Hetherington / U.S.A. (Director: Sebastian Junger) — Shortly after the release of his documentary Restrepo, photographer Tim Hetherington was killed in Libya. Colleague Sebastian Junger traces Hetherington's work across the world's battlefields to reveal how he transcended the boundaries of image-making to become a luminary in his profession.

The World According to Dick Cheney / U.S.A. (Directors: R.J. Cutler, Greg Finton) — How did Dick Cheney become the single-most-powerful nonpresidential figure in American history? This multi-layered examination of Cheney's life, career, key relationships and controversial worldview features exclusive interviews with the former vice president and his closest allies.