Back to selection
An Evaluation of Whistler Film Festival 2012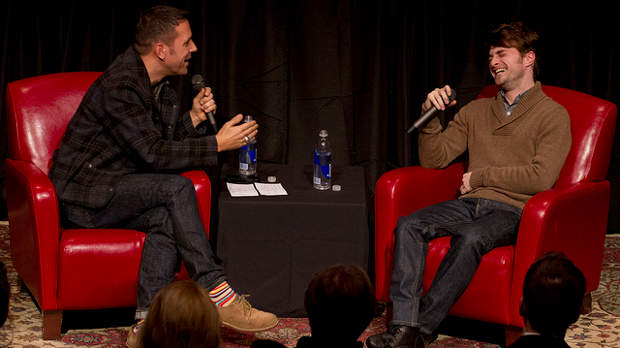 Courtesy of Whistler Film Festival
Every November, amidst the onset of ski and snowboard season, the Whistler Film Festival attracts a crowd of producers, filmmakers, journalists, critics and the occasional celebrity (this year the token stars are Daniel Radcliffe and Rashida Jones). Left off that list would be cinephiles — sure, there may be a tiny scattering of hardcore movie buffs, but they're the exception that proves the rule — as WFF is a deliberately uncinephilic festival composed of accessible indie-ish Canadian cinema and more emphatically put the spotlight on an industry-driven summit. You're more likely to find a far greater number of people squeezed into a smallish room for a party than at any given screening during the festival. If, as Brian D. Johnson (Canadian journalist, frequent WFF attendee) asserts in Macleans magazine, the small programming puts a certain emphasis on the films shown, one would assume more people would show up for them. The press screenings are the most disconcerting. Usually screened in the earlier part of the day, I often found myself one among a very tiny handful of visiting media who had bothered to attend a film at 11 am. But Whistler has a certain charm: a nonchalance, certainly not conducive to ennobling the seventh art, but conducive to creating a comfortable, easy-going visit, no matter which part of the spectrum of visitors you're a part of (filmmaker, spectator, Bell Media rep). Then there's the reality that the industry events are about more than open bars and hors d'oeuvres.
There's a real sense that deals can be made here, that a certain handshake could lead to the funding of a project. Whether I'm chatting with Slamdance's Dan Mirvish, or an aspiring Vancouver filmmaker, there's an undeniable presence of enthusiasm about being in Whistler. It may be difficult to find someone in the crowd to discuss your excitement over what Godard is going to be trying with 3D, or if the Cahiers du Cinéma Top 10 is more accurate in assessing the films of 2012 than Sight & Sound's list — but it's easy to bump into any number of creative individuals passionately pursuing the business-card swap that will justify their visit, and that's valuable even if it's not what a festival should really be about.
In fact, I find that looking at WFF as an industry conference with a sidebar of films to be a more honest approach to defining the festival than associating it with its wannabe-Sundance ambitions. However, it's been effectively demonstrated that Whistler can't be Canada's Sundance, for many reasons. One of those reasons is that when it comes to the crop of films each has to pick from, there's no comparing America's wealth of independent cinema, in terms of quantity but also quality, to Canada's, which has always suffered in the realm of narrative film made outside of Quebec. Unfortunately, Whistler has a tendency of revealing just that. The festival could benefit from some reupholstering when it comes to its image and vision. This year Paul Gratton took the job as Director of Programming, resulting in only minor changes from previous years. Among Gratton's contributions was a brief series of midnight screenings: a mix of the cult classics Battle Royale and El Topo, and new genre movies like American Mary from Vancouver's Jen and Sylvia Soska, and The Last Will and Testament of Rosalind Leigh, directed by Rodrigo Gudiño. This mini-sidebar was a welcome addition, though its limited scope makes its two classics choices seem somewhat arbitrary.
Among the festival's biggest events was the "China Canada Gateway for Film Script Competition," wherein a dozen teams of writer/producers had a limited time to pitch a movie idea to three Chinese studios. Each studio chose one project to develop by the end of the day (with a $5 million budget, no less). Whether a good movie could come of this venture, I know not, but it's pretty rare to have $15 million dollars on the table just like that. The main driving force behind WFF is their prestigious partnership with Variety. This year, Variety's Steven Gaydos hosted a couple events, including a Q&A with Rashida Jones (Parks and Recreation), who received Whistler's "Trailblazer" award for her versatility as an actress and screenwriter, having co-written this year's Celeste and Jesse Forever. Secondly, Gaydos hosted an entertaining roundtable with five of Variety's "Ten Screenwriters to Watch," which included Reid Carolin (Magic Mike) and writers of forthcoming projects like Kate Dippold, who penned Paul Feig's forthcoming comedy The Heat (check out a full list of the 10 screenwriters here). With Variety's flag planted at Whistler, the festival does have potential to gain notice, but once again it doesn't seem likely to do so unless it also improves its programming — though there were a handful of notable films this year.
Three films in particular stood out at the festival. Meet the Fokkens (the original title, Ouwehoeren translates into "Bullshitting") is a Dutch documentary about Martine and Louise Fokken, identical twin sisters who have spent most of their lives in Amsterdam's Red Light District working as prostitutes. At the age of 69, Martine still spends her days turning tricks, while her sister, exhausted from the lifestyle, has retired. Driven by the exuberant personalities of the twins, the film offers an endearing portrait of two eccentric characters, while also offering a fair and frank look at life in the Red Light District.
All That You Possess, directed by Montreal's Bernard Émond, debuted at TIFF under the radar, but unfairly so. The film quietly and movingly tells the story of Pierre, a lecturer who, disillusioned with his university, leaves to focus on translating the Polish poetry of Edward Stachura — that is, until the 12-year old daughter that he abandoned before she was born finds him. Avoiding all the marks of soapish melodrama, Édmond articulates the awakening of Pierre's desire to participate in life, too long buried away in the literature he loves.
The main competition was underwhelming — and problematically described as containing "uniquely Canadian" films, a phrase that followers of Canadian cinema know is all but useless. However, the winner of the competition's "Borsos Award for Best Canadian Feature" (and an accompanying check for $15 000), Picture Day, was a deserving victor, as was the film's lead Tatiana Maslany, who won the prize for Best Performance. Smartly written and directed by Kate Miles Melville, Picture Day is a well-executed coming-of-age drama that distinguishes itself with its strong sense of its characters and their emotional universe. The aforementioned American Mary, directed by the Soska Sisters, also deserves singling out for its moral intelligence and Kathryn Isabelle's (best known for the Canadian cult favorite Ginger Snaps) lead performance — here's hoping Maslany and Isabelle both get strong roles in the near future.
Ultimately, while Whistler is mostly made up of middling material, there are standout films well worth getting some attention, and maybe the festival could grow into something meaningful for Canadian film. But for now, the programming is simply too safe and middlebrow. Canada's richest cinematic history comes from experimental work and documentaries that verge off the beaten path (maybe some retrospective programming to link this lineage would be a nice start, especially if Whistler wants to distinguish itself from Vancouver as the more Canada-focused fest west of Toronto), yet WFF stubbornly colors within the lines. For now, the Whistler Film Festival makes for a nice retreat for industry folk looking for a mix of skiing, networking and casually checking out some films — but if the festival wants to become something more, which they clearly do, they'll have to reevaluate their game plan.