Back to selection
Five Questions with Only the Young Co-Director Jason Tippet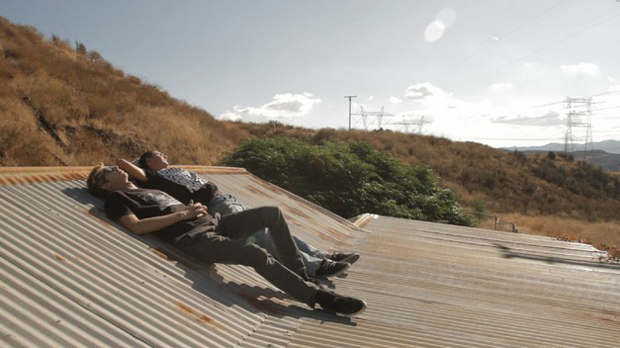 Capturing the subtle ache of youth on screen has never been an easy task – as evidenced by the long tradition of idiosyncratic, auteur-driven "coming of age" features like American Graffiti, The Last Picture Show, and Dazed and Confused. So it's quite an impressive feat that those same emotions and aesthetics are so naturally evoked in the real-life stories of three adrift youth in the new documentary Only the Young. Following the quiet travails of evangelical skate punk best friends Garrison, Kevin and Skye, this debut feature from filmmaking team Jason Tippet and Elizabeth Mims is one of the year's most intimate, memorable, and lovingly rendered cinematic experiences.
Filmmaker: The film has a deeply cinematic quality – the narrative, the cinematography, and the overall aesthetic are reminiscent of fictional coming of age films like Myth of the American Sleepover and Dazed and Confused rather than traditional vérité documentary. How conscious of this were you during production, and what was it that inspired you to endeavor towards this style?
Tippet: I feel like we figured out this style of filmmaking with a short we made at Calarts called Thompson. We tried some different things with that film and wanted to expand on those ideas with Only the Young. Dazed and Confused is one of my favorite films. What inspired us was showing the audience a type of lifestyle or friendship. You watch a film like Dazed and Confused and you want to step into the film for a while and have a few beers with Randall "Pink" Floyd. Or pontificate about the future with Adam Goldberg. And for me, Only the Young was my situation growing up. Filming brought me back to being in high school, and I hope that the movie creates a similar feeling for the audience. I'd assume Richard Linklater told a story that was familiar and very close to his heart.
Also, if you watch the Dazed and Confused Criterion Collection's behind the scenes, it doesn't feel like a job. We never wanted to make filming feel like a daunting thing that we didn't look forward to. I truly enjoyed the days we were able to spend with Garrison, Kevin and Skye. I think that translated onto the screen.  
Filmmaker: How did you meet your subjects? What initially drew you to Garrison, Skye, and Kevin? 
Tippet: We met Garrison and Kevin at the skate park. Garrison thought we might have lost keys to a Jaguar. After confirming the Jaguar wasn't ours, Kevin skated over and started to argue with Garrison about where they should go to lunch. They sounded like a sweeter version of Beavis and Butthead. They told us about an abandoned house they found in the desert and plans to build a halfpipe inside it. After hearing that we had ideas about making another short film… until we met Skye – one of the most honest and well-spoken teenagers I've met. They were all so brave in front of the camera and I can't thank them enough for letting us share their stories. It's incredible how someone losing their keys changed the whole direction of the next two years of our lives. It's like a real life version of Crash, except with less racism and more drinking.
Filmmaker: The film's soundtrack – made up mostly of old soul music – is not what one might expect from a film about young Christian skateboarders. What drew you to this sound? 
Tippet: What the songs were about gave us the idea to use them for a coming of age film. The songs talked about heartbreak and struggling with relationships and loving someone who doesn't love you back, it felt very fitting for the story. It also worked well with the pacing of the film. We wanted to make a slow paced film. Not something that's over-cut and aggressive. 
Filmmaker: The film is the product of an exceptionally long shoot, with you following your subjects for over two years. How did you know when the story was over?
Tippet: About halfway into shooting, the plan was to stop at graduation. Because hopefully by that point we'd have laid out what could potentially happen with them in the months following graduation. It felt like a natural place to end the film. Everyone walked away with a direction in mind. 
Filmmaker: Are you still in touch with Garrison, Skye, and Kevin? If so, have there been any unexpected developments in their lives since you wrapped production? 
Tippet: Yeah, Garrison called me last night and wanted to know if Derek Waters (producer) and myself wanted to train hop to Arizona when the film opens there. It might be a decent extra on the DVD.  Garrison recently quit his job at Vans and is working part time at a Christmas Tree lot. Kevin loves chili. He's working his dream job at Tommy Burger. He told me at the AFI screening that he has gallons of chili tucked away in his fridge. However, he didn't offer me any. And as far as I know, Garrison and Kevin still skate everyday.
Skye is busy finishing up her last year of high school, but still has time to be my life coach. Lately, she's expressed interest in writing and telling stories. I think she's incredibly gifted and look forward to hearing about all her accolades.