Back to selection
Cinema Eye Announces Nominees for the 2013 Heterodox Award, Launches Voting for Audience Choice Prize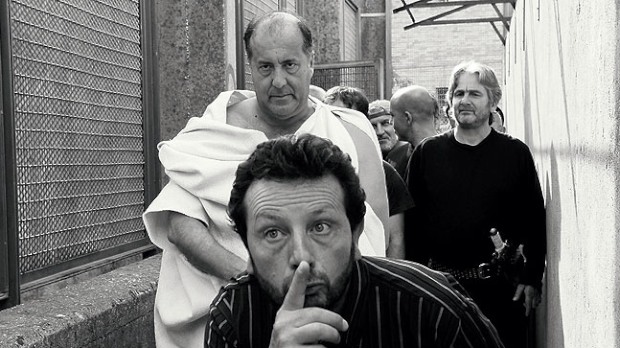 Caesar Must Die
Nominees for the Heterodox Award, the Filmmaker-sponsored Cinema Eye award given to a narrative film that imaginatively incorporates non-fiction strategies and aesthetics, were announced today by Cinema Eye Honors. The five nominated films are: Paolo and Vittorio Taviani's Caesar Must Die (Cesare deve morire), Craig Zobel's Compliance, Jem Cohen's Museum Hours, Pablo Larraín's No, and Terence Nance's An Oversimplification of Her Beauty.
Said Scott Macaulay, Editor of Filmmaker Magazine, "In the third year of the Heterodox Award, our nominated filmmakers explore the interstices of documentary and fiction in fascinating and diverse ways, from situating their characters within the confines of real-life locations (museums, prisons) to exploring within dramatic contexts the aftermath of real crime and social injustice. Giving all five of these films their extra kick is our knowledge of, and sometimes confusion over, the nature of the reality they represent."
Commented Esther Robinson, Cinema Eye Honors Co-Chair, "For the first two years, the Heterodox Award has felt like an exciting experiment. Would there be enough films pushing through the barriers between fiction and non-fiction films to justify the award? Would the filmmaking community embrace this conversation? With the arrival of the third year, we can answer both questions with a resounding 'yes!' Filmmakers continue to blend genres, push structures and delight our nominators with work that challenges staid divisions between fiction and nonfiction films."
Ten finalists for the Heterodox Award were selected in voting by the Cinema Eye Honors Nominations Committee. The ten finalists were then viewed and five nominees selected by the writers and editors of Filmmaker Magazine. A jury will watch the five nominees and choose a winner that will be announced on January 9.
Each of the five films tangles with the nature of reality in a different way. In Paolo and Vittorio Taviani's bracing and politically astute blend of documentary and fiction, Caesar Must Die, real-life Italian inmates of a high-security prison audition for, rehearse and stage a version of Shakespeare's Julius Caesar. Through its fascinating recontextualization of Shakespeare's classic, the film explores criminal identity while reflecting the larger tensions of Italian society itself.
Craig Zobel's Compliance draws its dialogue from phone records and real-life court transcripts, turning the true story of a prank phone caller and sexual predator into a disturbing meditation on the politics of authority.
In Jem Cohen's lovely meditation on culture, friendship, and the dialogue carried across centuries through art, Museum Hours, a lonely woman and quiet museum guard strike a quiet bond while while surveying the paintings of Vienna's Kunsthistorisches Museum. Cohen's camera captures the subtlety of their interaction while also evoking the majesty of this museum and its collection.
Pablo Larrain's No details the 1988 ouster of Chile's General Augusto Pinochet Ugarte via constitutional referendum, using footage from the referendum's actual advertising campaign along with an artfully lo-fi U-matic camera aesthetic to recall the politics as well as the media of its era.
Finally, Terence Nance's An Oversimplification of Her Beauty engagingly obsesses over the filmmaker's "friend-zone'd" relationship with a charismatic young woman, played in the film by the real-life object of his affection. "One-sided non-fiction" is how Nance describes his picture, which mixes multiple formats as well as animation to present an exhilarating portrait of love, longing and artmaking in the digital age.?
Previous winners of the Heterodox Award are Matt Porterfield's Putty Hill and Mike Mills' Beginners.
In addition, Cinema Eye announced its 2013 Audience Choice Price voting commencement, which, this year, occurs via both website and Twitter.
Ten films, including a number of the most talked-about and debated documentaries of the year, are amongst this year's Audience Choice nominees. Last year, more than 10,000 people voted for the award, which went to Cindy Meehl's Buck.

This year's nominees for the Cinema Eye are: 5 Broken Cameras (Directed by Emad Burnat and Guy Davidi), Beauty is Embarrassing (Directed by Neil Berkeley), Bully (Directed by Lee Hirsch), How to Survive a Plague (Directed by David France), The Imposter (Directed by Bart Layton), Jiro Dreams of Sushi (Directed by David Gelb), Kumaré (Directed by Vikram Gandhi), Marina Abramovi? The Artist is Present (Directed by Matthew Akers), Searching for Sugar Man (Directed by Malik Bendjelloul) and Trash Dance (Directed by Andrew Garrison).

The public can vote for the 2013 Audience Choice Prize on the Cinema Eye Honors website or by sending a message to @cinemaeyehonors on Twitter with the name of the film of their choice. [For example: @cinemaeyehonors I vote for Buck!]. Voting will be open through Monday, January 7, 2013.