Back to selection
Twine Unboxing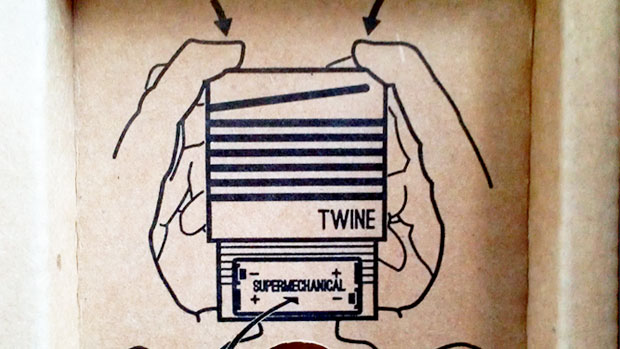 Last year I wrote about Twine, an easy-to-use sensor kit that broke out on Kickstarter by raising 1,500% over their initial ask. The interest in Twine was so strong that their goal of $35k ended up bringing in over $500k.
The concept taps directly into the "internet of things," where interactions involving everyday objects are given a voice. Since contributing to the project, I've been waiting anxiously for my Twine to arrive. In December, it finally came and I immediately put it to work in a storytelling context with my students at Columbia University.
Listen to your world talk to the internet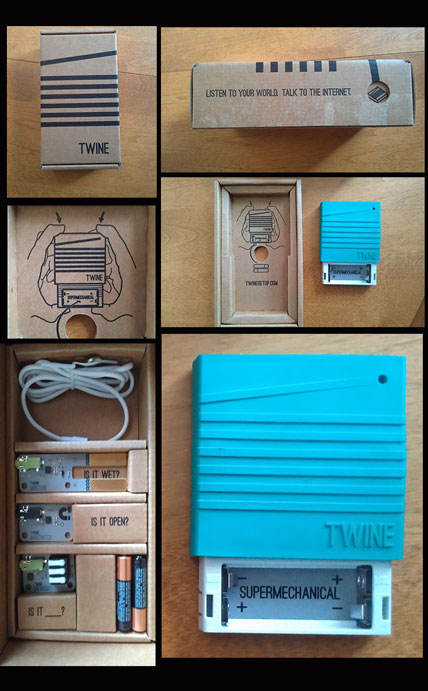 You can get Twine up and running in a few easy steps.
The kit comes with a number of sensors that work right out of the box.
Temperature (included)
Measure the temperature. Are your pipes freezing? Is your air conditioning broken? Is it nice up by the lake today?
Orientation (included)
Sense which side of Twine is facing up. Trigger actions by flipping Twine over, or detect when an object is opened.
Moisture sensor (included)
Detect the presence of water. Know when your basement floods, when it rained, or the last time you watered your garden.
Magnetic switch
Triggered when a magnet is moved toward or away from it, so put that magnet on a door. Get notified when the mailbox is opened, or when someone opens your front door.
Breakout board
Plug in your own analog or digital input without soldering. Terminals for signal, 3.3V power and ground are provided.
Potential for storytelling
While the examples that Twine outlines on their site are utility focused the concept of a physical object "talking" has interesting applications for storytelling. The possibilities of unlocking story elements (txt messages, phone calls and / or media files) when something is discovered or triggered in the "real world" is an interesting step into immersive storytelling.
One thing is certain sensor technology like Twine is rapidly becoming commoditized and can already be found in a wide range of everyday items. What Twine does very effectively is provide a simple web based interface that enables a user to easily program an interaction.
______________________________
Lance Weiler has written, designed, built, directed, and run various film, tv, gaming and immersive storytelling projects. In 2007, he co-founded diy days, a gathering for those who create which is held in the US and Europe. Currently, Lance is collaborating on a project with David Cronenberg, TIFF and the CFC which will launch later in 2013. For fun he curates a site full of random things he <3's called Text of Light.