Back to selection
Murder in Passing: Transmedia on the Toronto Subway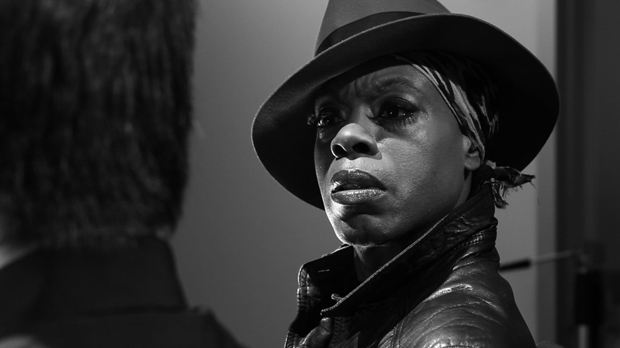 Public transit's always been a great place for art, from busking musicians to the New York MTA's current Sam Shaw photography exhibit, sponsored by Arts for Transit. Such exhibits are often moving in the direction of narrative media, and today the Toronto Transit Commission is launching a new project that explores the boundaries between public art and a good old-fashioned transmedia detective story.
Every day for the next two months a new thirty-second episode of Murder in Passing will play in the Toronto subway. The series, which adds up to a roughly twenty-minute film, begins today with the discovery of a murdered transgender bicycle courier in the fictional city of Passing. It will follow the police investigation until the final episode on March 1, giving viewers clues along the way to let them solve the mystery on their own. The project was shot in a noirish black and white and features no sound—due to the displays' lack of speakers—thus making it essentially a silent movie. The style is very fast-paced, jaunty, and a little tongue-in-cheek, but the clues are engaging—who doesn't enjoy a good murder mystery, especially if they can digest it in thirty-second chunks on their morning commute—and overall the project addresses serious issues like Toronto's bicycle usability, transphobia, and greenwashing. As writer-director John Greyson says, "We're hoping that the style and humor and narrative of this murder mystery will keep everyone in the room together, despite the fact that some may find the topics challenging."
That's a metaphorical room, of course, because Murder in Passing seeks to use social media to expand the story and engage viewers/users who want to go beyond a passive viewing experience on the subway platforms. The free Metro paper available on the TTC will have clues from the series' protagonist Detective Epicene, bringing in a print component and prompting engaged viewers to pick up the paper as well; there are Twitter and Facebook components for those who wish to engage on social media sites; and each subway display includes the URL to the project's website at http://murderinpassing.com. There viewers (including those outside Toronto) can see the videos and search for clues in a blog, but for my money the most interesting thing is the series of daily "interstitial" videos that feature operatic fugues composed by Greyson's longtime collaborator David Wall—and additional clues. As if in answer to the silent nature of the main videos these create a rich musical experience, bringing music into transmedia in a way not often done; not only are these videos themselves quite original, but Greyson and Wall even allowed the fugue structure to influence the structure and content of the main offline videos, as they will supposedly develop and recapitulate themes over the next two months.
So how did Murder in Passing come about? The original idea belonged to Sharon Switzer, Digital Content and Programming Curator for Pattison Onestop, a private company that specializes in outdoor video and media in locations like malls, offices, hotels, and parks. Onestop won the rights to the TTC's digital ad spaces (such as light boxes) in 2005 and brought Switzer onboard the next year to curate artistic material beyond traditional advertisements. In 2007 she founded Art for Commuters (A4C), a separate art collective that could seek additional funding beyond the screentime Onestop had to offer, and since then she's been working on ambitious projects like the social/documentary experiment Confessions Underground, in which people could make their most private confessions public, and the Toronto Urban Film Festival (TUFF) each September.
She also conceived of Murder in Passing in 2007 and brought Greyson onboard, with most of the intervening years being spent in grant writing and the pursuit of funds. Eventually the project was a coproduction between Pattison Onestop, A4C, and Greyson's production company Greyzone; Switzer, Greyson, and Anneli Ekborn co-produced. As she describes it, Murder in Passing is "a much more ambitious project than anything we have done over the past six years, with the except of the Toronto Urban Film Festival."
It seems the lessons from the TTC, A4C, and Pattison Onestop can be extrapolated to New York and other cities with major public transit systems. As Switzer says, "We have a strong working relationship with the TTC regarding the network of screens in general, and they have been very supportive of the ongoing development of our arts programme, although they have no direct involvement with the programming. In other words, we don't work together on any of the projects that I run, but they seem happy with what we are doing . . . [But while they are] very supportive of all the programming we have done, Pattison Onestop leads, and funds the programming. Arts grants and sponsorship help pay for some specialized programming, but for the most part, Pattison Onestop invests in this as part of our community programs." Similar public entities are already in place elsewhere—New York's Arts for Transit and London's Art on the Underground, for instance—and transmedia producers may look to synergies between these, private and public grant organizations (Murder in Passing received money from the Social Sciences and Humanities Research Council of Canada for its scholarly components and the Canada Council for the Arts for its operatic material), and independent production companies to get future projects off the ground.
Back in Canada, Switzer is maintaining an ambitious production slate, meaning Torontonians have a lot to look forward to in the future: in 2013 there's the annual photography project Contacting Toronto, which will feature photos of Toronto's underground rivers and sewers throughout an entire downtown subway station; Stroll City, a Twitter project with Shawn Micallef; a Twitter-based book club with the Toronto Public Library; and the Toronto Urban Film Festival, which features silent one-minute films. Switzer adds, "I'm also working on a large climate change project with the Cape Farewell Foundation and a pilot program with OCAD University, showcasing student work on our giant video billboard at Yonge and Edward stations, as well as some others that are still in the planning stages." As for Greyson and Wall, they'll be continuing their collaboration with a pair of opera documentaries set in Palestine and Baghdad.