Back to selection
Story as Software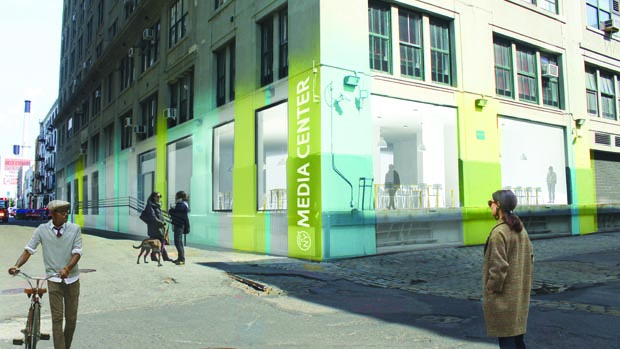 An architect's projection of the IFP Made in NY Media Center
We are swimming in a sea of data. In 2012, Facebook passed the one billion-user mark, 48 hours worth of new video was uploaded to YouTube every minute and Apple received their one-millionth app submission while the Android store listed more than 600,000 apps with more than 20 billion installs. These stats represent an incredible amount of online activity with a decent percentage attributed to a rise in smartphone and tablet usage.
Fame and riches await those who can effectively capture and monetize even a small percentage of this activity. In April, Facebook announced that they were acquiring Instagram, a photo-sharing app with 30 million users, for a record-setting $1 billion in cash and stock. But getting 30 million users in 18 months is no small feat. In the competitive tech landscape, the odds of success are stacked against developers. According to Ars Technica, 80 percent of mobile or tablet applications do not generate enough revenue to support a standalone business.
A Nuclear Winter
Meanwhile, the rumblings of an impending "nuclear winter" have been growing louder. With limited exit options (few companies outside of Facebook, Twitter and Google are making large acquisitions), a soft market for IPOs and not enough venture capitalists to fill the deal flow, many fear that a Series A crunch is likely. PandoDaily recently estimated that more than 1,000 mobile or Web-based startups could feel the pinch, as they burn out of cash, unable to move beyond their initial seed or angel rounds. This situation is only compounded by the fact that many startups race to market without a real revenue model. Often the main focus is to build a large user base, which usually entails giving the product or service away for free
But no matter how the "nuclear winter" shakes out, one thing is clear: In order for a startup to survive, it needs to distinguish itself.  Breaking through the clutter requires good storytelling, and more often than not, the ability to make an emotional connection with the perspective user.
I've often stated that storytelling is going to drive the next generation of mobile and social applications. At its core, storytelling is a universal language that helps convey a message. In a business context this means that storytelling can help to unify stakeholders within a company around a particular mission or goal.
A new type of collaboration
The issues facing independent filmmakers have been well documented. The democratization and commoditization of filmmaking tools have resulted in a market flooded by too many pictures. The infrastructure to reach audiences is fragmented. Often filmmakers lack a business plan and spend little-to-no time crafting a release strategy past their festival premieres. Meanwhile, the real odds of a filmmaker scoring a substantial acquisition at an A-list festival are slim.
But within the struggle to reach the market and obtain sustainable business models filmmakers and entrepreneurs find themselves in similar terrain. This common ground presents opportunities for cross-pollination between the storytelling and tech communities. Just in the last year a number of story hacks have emerged in NYC, San Francisco and Los Angeles — thanks to the efforts of StoryCode, Tribeca and FIND. A community is growing, and what had previously been lab programs for the development of films are now taking on qualities seen within tech incubators and accelerators. This is true of Sundance's New Frontier Story Lab, which brings writers, directors, UI/UX designers, developers and game designers together for a week of exploration and mentoring around a number of selected projects.
The emergence of story-driven incubators and accelerators
This past fall, IFP announced it would be building and managing the Made in NY Media Center. Scheduled to open in the summer of 2013, the Media Center will be housed within an 20,000 square-foot facility in DUMBO. Within its walls will sit a state-of-the-art screening facility, an open-air café, community-focused co-work space, a transmedia incubator, as well as conference and classroom facilities. The center is attracting a number of innovative NYC companies and educational institutions in hopes of creating a foundation for the collaboration and cross-pollination of talent and skills. The potential for a "learn, do and share" environment is an exciting opportunity for one of the largest and oldest filmmaking organizations in the country. [Editor's note: IFP is the publisher of Filmmaker.] It presents a rare opportunity for reinvention and could very well help to nurture a new generation of independent voices.
Meanwhile, in San Francisco, Matter.vc has rolled out a storytelling accelerator. Its mission is to innovate within the media tech space. Backed by the Knight Foundation, PRX and KQED, Matter will work with storytellers and media entrepreneurs to build what might just become the next generation of media institutions. To accomplish this, Matter is utilizing tech accelerator methods such as design thinking, mentorship, collaboration, rapid prototyping and experimentation.
A chance to put storytelling at the center of the process
I strongly believe that story is a potential key to sustainability for both filmmakers and entrepreneurs. Here are four points that I'd love to see explored within a story-based incubator or accelerator.
1.     Welcome to the story layer. An interesting potential growth area can be found within the "the Internet of things," where everyday objects become connected to a network. This offers opportunity for stories to travel beyond a single screen and into the real world. Storytelling can drive the discovery of people, places and things. What new models are possible when storytellers step beyond the screen? Can storytelling thrive as a utility?
2.     Purposeful storytelling. Stories have the opportunity to transform. Often a filmmaker will make a deeply personal work, but is then frustrated by its reception in the marketplace. Films lack re-playablity and their shelf life and value is at odds with an on-demand culture where work is disposable. Is there a new business opportunity by giving stories a greater purpose?
3.     Story as software and hardware. Since the infrastructure to tell immersive stories is fragmented, there is no single path or process to build emotionally charged work. The "ask" of the audience is too great and often not intuitive. How can storytellers become stakeholders in a new infrastructure?
4.     The second screen gets pervasive. The current crop of second-screen applications have been designed and built by engineers. In many cases they emulate common social features found in Web-based technologies. Are second-screen experiences missing a larger opportunity by limiting themselves to the living room?