Back to selection
Five Questions with Concussion Director Stacie Passon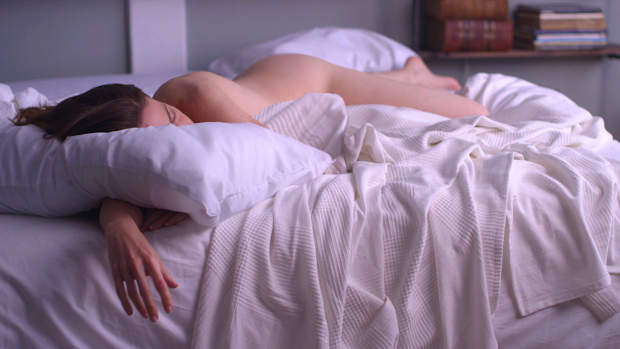 Concussion
Stacie Passon's Concussion has a logline that might be misleading. The story of a bored, lesbian housewife who covertly takes a job as a high-scale prostitute for women, the film is so much more than that high-concept, basic-cable-ready premise implies. Equal parts darkly comedic social satire and gut-wrenching character study, Concussion is anchored by a stunning performance by character actress Robin Weigert, and marks the arrival of a strong new filmmaking voice in director Stacie Passon. The film premieres today in US Dramatic Competition at the Sundance Film Festival.
Filmmaker: For a film from a first-time director, Concussion is quite accomplished. Can you speak a bit about your background, and how Concussion came together?
Passon: Well first let me say, this is an honor for me.  I have gotten to know many of the people in and around Filmmaker Magazine in the last year, and I have an enormous respect for what you do.  And you care so much about developing filmmakers. So, thank you.
Concussion came together really I think on the strength of the premise. My friend Anthony Cupo read the script and went nuts for it.  He's a trusted friend I've worked with for years and he's a producer and editor who's really interested in disruptive technologies around the entire process of filmmaking.  He's always finding ways to do things more cost effectively, so I knew I would be in great hands there.
Then I reached out to my friend Rose Troche (director of Go Fish, and Co-Executive Producer of The L Word) to look at my script, to give me notes and to help with casting ideas. She believed in the project, and there started a year-long odyssey of working with her and Anthony to make the movie.
Filmmaker: Rose serves as Concussion's lead producer. How did you first meet her, and how did her previous experience influence your filmmaking process?
Passon: I met Rose in Chicago when she had just finished wrapping Go Fish.  We already knew each other, so I think when we reacquainted for this project, we developed a trust quickly.  Yes, she is so experienced and so good at what she does, and she was able to focus me in a way that was essential to making this film.
Rose is an auteur and very protective of the director. And so after script notes, she pretty much said, "go direct your film" and then got more involved as post went on. I come from the commercial world and I believe in collaboration.  What I learned is that she is tirelessly creative and not afraid to kick me in the pants and tell me to keep going.  I love that.
Filmmaker: Where did the inspiration for Abby's character come from?
Passon: In the movie, Abby reads this book at the beginning. It's called Mating in Captivity and it's a book my friend Meredith gave me a long time ago.  I read it and thought what Esther Perel was saying was important. She said something like, and I'm paraphrasing, how it's unrealistic to believe that the aspirations of a forty two year old would be the same aspirations of her former twenty six year old self.
Your fears at twenty six have to do with making a life for yourself, sustaining yourself, finding a person that was like-minded, a comfort to love. You meet someone with those traits, you're crazy about the idea of finding your way together, it's wonderful. And if that's what happened at twenty six for you, your fears after forty are going to be different.  They have to do with time running out and things going unexpressed, and loss of independence and identity.
And that's where we begin with Abby.
Filmmaker: Robin Weigert is an actress who has been doing wonderful work for years, but I'm not sure I've seen her command the spotlight as she does in Concussion before. How did you meet Robin, and how did you know she was right to play Abby?
Passon: I met Rob at a restaurant in New York three months before we began to film.  Anne Davison, our casting director, suggested her.  I told Anne, I wanted to create an immersive experience and I wanted an actor who could handle it.
Robin is a very special actor.  Don't ask me, ask John Hawkes and Jon Robin Baitz and many, many others way above my pay grade.  I was just lucky that she responded to the material, that she was scared by it, felt challenged by it.  And I think that's why she did it.  I hope people take notice.  I think they will.
Filmmaker: Dispersed throughout the film's dense cerebral drama are many moments of comedy and social satire. How did you work to balance the film's lighter moments with the dark overall subject matter and themes?
Passon: I think the tone reflects her contrary instincts. We are different on any given day.  It's who we are.  Sometimes we're heroes, sometimes we're villains and sometimes we're both at the same time.  I'm not the first person to write about the contrary instincts of women.  You've got to go way back to find the first writer who did that. I just wanted the material to be compelling. And compelling to me, is to make it as real as I could so that people could relate.