Back to selection
Cinereach Announces 2012 Grant Recipients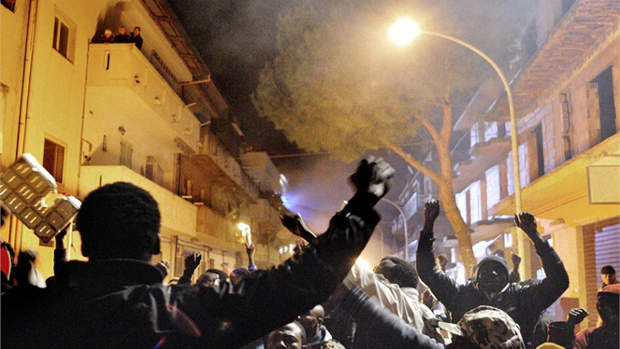 Cinereach announced today that it has awarded over $500,000 in grants to 22 feature-length film projects that applied for support in 2012. More than 2,000 applications were submitted, from filmmakers based in upwards of 100 countries.
The 22 grantees in this round are comprised of twelve non-fiction films, seven fiction films, and three hybrids. The fourteen new grantees range from the early development stages to late post-production. The renewed support went primarily towards the completion of prior grantees' films, including Cutie and the Boxer, God Loves Uganda and Narco Cultura, which will premiere at the 2013 Sundance Film Festival, and Our Nixon, which will premiere at the International Film Festival Rotterdam.
"Not only do these grantees reflect a larger number of fiction projects than previous cycles, there are also more first-time feature filmmakers, and more projects in development or early production," said Cinereach Grants Manager Adella Ladjevardi. "Providing support early in the life of a film, or in the career of a filmmaker, sets the stage for a long and meaningful relationship."
"These grantees reflect Cinereach's ongoing commitment to supporting nuanced films that strive to surprise and move audiences," said Cinereach Creative Director Michael Raisler. "I'm thrilled we have the opportunity to not only welcome exciting new projects into the family, but also to fuel our existing grantees' creative ambitions as their projects near completion."
Below are the Cinereach Grant recipients.
The Fourteen New Cinereach Grantees:
A Chjàna
Dir. Jonas Carpignano | Algeria, Italy, Libya and Mali | Fiction | In Development
Searching for a better life, Ayiva makes the perilous journey across the Sahara and Mediterranean. Once in Italy, the need to earn money for his family is challenged by the harsh conditions and intolerance faced in his newly claimed home.
About a Mountain
Dir. Lily Henderson | USA | Hybrid | In Development
Behind the façade of Las Vegas' infamous Strip, a struggling writer searches for the meaning behind a boy's suicide, encountering relative misfits and humbled saints, living under the shadows of a multi-billion dollar fantasy-land.
Bluebird
Dir. Lance Edmands | USA | Fiction | In Post-Production
In the frozen woods of an isolated Maine logging town, one woman's tragic mistake shatters the balance of the community, resulting in profound and unexpected consequences.
Cowboy
Dir. Malcolm Murray | USA and Japan | Fiction | In Development
Mourning his great love, a Japanese janitor works a cattle ranch in the American Southwest. For him and for a family of struggling ranchers, the past is as inescapable as the future is uncertain.
E-Team
Dir. Katy Chevigny and Ross Kauffman | France, Germany, Libya, Switzerland, Syria, Russia, Turkey and USA
Non-Fiction | In Production
A chronicle of the intense and courageous work of three investigators working to expose international human rights abuses.
Five Nights in Maine
Dir. Maris Curran | USA | Fiction | In Development
Unexpected tragedy brings an African-American widower face-to-face with his estranged mother-in-law in rural Maine.
Garnet's Gold
Dir. Ed Perkins | England and Scotland | Non-Fiction | In Production
One extraordinary man's quixotic and recklessly brave adventure in search of hidden treasure, in a belated rite of passage to reclaim his soul and rediscover the meaning of his life.
 Just a Band
Dir. Anjali Nayar and Wanuri Kahiu | Kenya, USA and Germany | Hybrid | In Production
Four young Kenyans form an afro-futuristic pop band that rides a wave of international acclaim. The unlikely superstars end up being ambassadors for their country. How do they deal with it? They go to Space.
La Fin du Monde
Dir. Ventura Durall | France | Non-Fiction | In Production
An existential comedy following a year in the life of the folksy locals and esoteric outsiders in the petite hamlet of Bugarach, France, purportedly ground zero for those looking to survive the Mayan-predicted apocalypse.
Love True
Dir. Alma Har'el | USA | Hybrid | In Production
A look into the opposing realities of the "True Love" fantasy and an inquiry into whether our view of love changes as we grow older. Through sessions of Psychodrama and Improvisation three couples explore their hopes, memories and love lives.
The Silk Railroad
Dir. Martin DiCicco | Armenia, Azerbaijan, Georgia and Turkey | Non-Fiction | In Development
The construction of a railroad linking Turkey, Azerbaijan and Georgia promises wealth and opportunity, but for those living along the route it opens old wounds and new divisions.
This is Congo
Dir. Daniel McCabe| Democratic Republic of Congo | Non-Fiction | In Production
An in-depth look at the Democratic Republic of Congo's resource wars, driven by the multiple perspectives of those directly involved and affected.
Untitled Mark Jackson Sicily Project
Dir. Mark Jackson | Italy | Fiction | In Production
A war photographer returning from the conflict in Libya, where she was held captive and brutalized, retreats to a small town in Sicily.
Vidal v. Buckley
Dir. Robert Gordon and Morgan Neville | USA | Non-Fiction | In Production
The ten nationally televised 1968 debates between Gore Vidal and William F. Buckley defined a new era of public discourse, demarcating the moment that TV's political ambition shifted from narrative to spectacle.
The Grantees Receiving Renewed Support:
Cutie and the Boxer
Dir. Zachary Heinzerling | Japan and USA | Non-fiction | Completed
A reflection on love, sacrifice, and the creative spirit, this candid New York tale explores the chaotic forty year marriage of famed boxing painter Ushio Shinohara and artist Noriko Shinohara.
Dukhtar
Dir. Afia Nathaniel | Pakistan | Fiction  | In Post-Production
A mother goes on an extraordinary journey to save her ten year old daughter from an arranged marriage.
God Loves Uganda
Dir. Roger Ross Williams | Uganda and USA | Non-fiction | Completed
A powerful exploration of the evangelical campaign to change African culture with values imported from America's Christian Right. The film follows American and Ugandan religious leaders fighting "sexual immorality" and missionaries trying to convince Ugandans to follow Biblical law.
Narco Cultura
Dir. Shaul Schwarz | Mexico and USA | Non-Fiction | Completed
An explosive look at drug cartels' pop culture influence on both sides of the border as experienced by an LA narcocorrido singer dreaming of stardom and a Juarez crime scene investigator on the front line of Mexico's Drug War.
Our Nixon
Dir. Penny Lane | USA | Non-fiction | In Post-Production
Newly uncovered Super 8 home movies filmed by Richard Nixon's closest aides – and fellow Watergate conspirators – offer an intimate and surprising new glimpse into his presidency.
Sunlight Jr.
Dir. Laurie Collyer | USA | Fiction | In Post-Production
Down and out lovers, Melissa and Richie, get pregnant and become homeless at the same time in this social realist story in the vein of Barbara Ehrenreich's Nickeled and Dimed.
Untitled Gay Retiree Documentary
Dir. PJ Raval | USA | Non-Fiction | In Post-Production
This film captures the experiences of several LGBTQ seniors as they navigate the adventures, challenges and surprises of their "golden years."
White Elephants, a Congo Trilogy
Dir. Kristof Bilsen | Democratic Republic of the Congo | Non-fiction | In Production
This story of public sector workers in a rail station, post office and the only fire station in Kinshasa offers poetic and compassionate insight into a country in transition, and lives lived beyond chaos.