Back to selection
Call for Entries: IFP Labs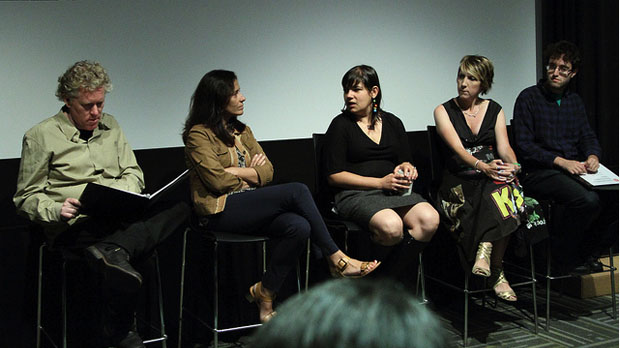 If you are a first-time filmmaker and have a narrative or documentary project in the final stages of post-production, here's a heads up that the deadline for submission to the Independent Filmmaker Labs is upcoming. Run by IFP, which publishes Filmmaker, the labs help movies with a budget under $1 million, providing each film's team with in-depth assistance on everything from editing to marketing to festival strategy. The IFP Labs select 10 documentary and 10 narrative projects, assembling filmmakers for three separate sessions throughout the year, during which the individuals are helped to discern the best way for their movies to stand out in the very busy and competitive indie marketplace.
Films from the 2012 labs have already had considerable success. From the Narrative Labs, Alexandre Moors' Blue Caprice premiered at Sundance and will open New Directors/New Films; Stacie Passon's played in competition at Sundance, won a Teddy Award at Berlin, and was picked up by RADiUS-TWC; Daniel Carbone's Hide Your Smiling Faces had its world premiere at the Berlin Film Festival; and Visra Vichit Vadakan's Karaoke Girl premiered in competition at Rotterdam. Last year's Doc Lab alums include Alex Meillier's Alias Ruby Blade, which premiered at IDFA 2012; Stephen Silha and Eric Slade's Big Joy Project: The Adventures of James Broughton, in competition next month at SXSW; Penny Lane's Our Nixon, which premiered at Rotterdam, is closing New Directors/New Films and plays soon at SXSW; and Bassam Tariq and Omar Mullick's These Birds Walk, which premiered at True/False, is at SXSW, and will be released later this year by Oscilloscope.
The Independent Filmmaker Labs are free, and the application deadlines are March 8 (documentary) and April 5 (narrative). Visit the IFP website for more information and to apply.