Back to selection
Five Questions with Awful Nice Director Todd Sklar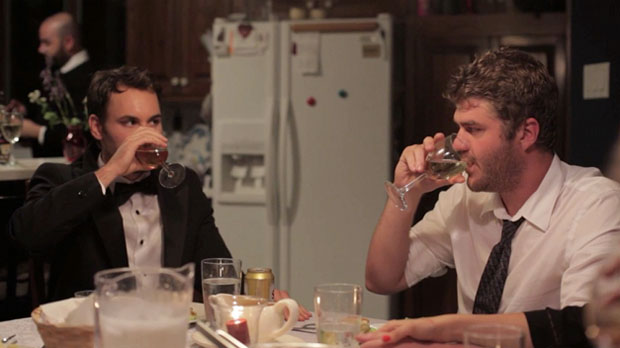 After self-releasing his first feature film, Box Elder, around the country in 2008, director Todd Sklar has had a successful run of it with major U.S. film festivals. His short '92 Skybox Alonzo Mourning Rookie Card premiered at Sundance in 2012, which he has made into the feature Awful Nice. Co-written by Sklar and Alex Rennie, Awful Nice follows the misadventures of two brothers who travel back home to Branson, Missouri, to put their recently deceased father's estate in order. Starring Christopher Meloni, Alex Rennie, and James Pumphrey, Awful Nice premiers in the Narrative Feature Competition category tomorrow at SXSW.
Filmmaker: Awful Nice is an expansion on your short '92 Skybox Alonzo Mourning Rookie Card, which premiered last year. Was it always your intention to make the short into a feature?
Sklar: Interestingly enough, we had the feature written first, and the original intention was to just make that, however right before we were set to begin shooting, our main producer left the project to work on a different movie, so we adapted our feature script into a short as sort of a last-minute back-up plan, in case our whole shoot fell apart. The idea was that we'd take the first two planned days of shooting and use 'em as a little test shoot and make a short out of it, and then push for a couple weeks to try and regroup for the feature. Worst case scenario, if things fell apart, we'd at least come out of it with a decent short film and some killer Branson souvenirs. The crazy part was actually trying to work it back into a feature afterwards. We had to cut a lot of stuff from the original feature script since we had a much tighter timeline than originally planned, plus we were pretty much "building the boat" piece by piece while we were sailing it, which is never a good way to go about making a movie. It was the complete opposite of how we made the short; we had done several weeks of prep for a feature shoot prior to it, and were only shooting five scenes. So it basically ended up going the complete opposite way I think most short-to-feature transitions go, in that we were over-prepared for the short, and playing catch-up and shooting on the fly the entire time for the feature.
Filmmaker: You spoke last year at Sundance about your writing style with co-writer Alex Rennie as a literal passing back and forth of the screenplay. Did you write Awful Nice in the same way?
Sklar: Very much so. We were literally passing the laptop back and forth for each pass with the short because we were writing it on the flight down to Branson, but for Awful Nice, we had the same thing going on, minus the tray-tables and laptop pass-backs. We'd usually take turns doing passes on different chunks of the movie, and then after a week or so do a hand-off and rewrite the other person's stuff a bit. The nice thing about living with your best friend and writing partner is that you can always get immediate feedback on stuff while you're cooking eggs or watching Die Hard or talking about sports bloopers or buying groceries, etc. I literally can't tell you how many times a text message about buying an extra thing of lettuce sidetracked into a piece of dialog for a scene. We also tend to write better for the other person. So, for me, a lot of the stuff I was writing for Alex's character in the movie was based on things I'd see him doing on a day-to-day basis, and likewise for him on the Jim character. Combining that with doing the back and forth thing allowed for the other person to get a good look at what the other one was focusing on and pulling from in real life, and I think that helped inform both of us very quickly about what kind of overall movie we wanted to make.
Filmmaker: The film's subject of familial bonds stems from your actual relationship with your own brother. Has making this film changed anything between the two of you?
Sklar: That's a tough one. I don't think my brother and I have had our trip to Branson yet, so to speak, but we're also not nearly as estranged or dysfunctional as the two brothers in the film. I think Alex and his brother would say the same thing about their relationship too. It's interesting because a lot of the stuff in the movie is based directly on me and Alex spending so many years on the road together, and a fair amount of the comedy was stripped from those tours, so in a weird way, it's as much about the brotherhood of friendship as it is about the familial bond.
Filmmaker: You self-released your last feature film, Box Elder. What is your distribution plan for Awful Nice right now?
Sklar: Nothing would make me happier than to have a distributor fall in love with the movie, acquire the film, and then ALSO utilize the network we built on all of the tours. That would be the best case scenario. We've worked with enough distributors to know that there's no substitute for what they do. That said, if we get into a situation where we're one of the last kids at the dance and there's no one to go home with, we'll absolutely take this thing out on our own. We've been building and scheming for years on a release plan that would work together with a traditional all-rights distributor, but also has a version we can execute as a self-release by partnering with different people on the ancillary side of things, so we'd happily do that if we don't find a suitable partner or home for the film. But again, we'd prefer to work as a marketing tool for a distributor rather than have to spearhead the release on our own. We spent years building a committed audience and a nationwide campus marketing network, but ultimately, those assets are most valuable when an experienced distributor uses them to enhance a release. So if we're sticking to the prom metaphor here, we are very hopeful that someone's ready to spike the punch bowl and take advantage of our assets right now…
Filmmaker: How has Missouri continued to support your filmmaking endeavors? Will you keep making films there?
Sklar: The biggest draw for me is that I will always look for as many excuses as possible to eat as much Kansas City BBQ as often as I can, and so traveling back to Missouri to make films is really secondary to the BBQ lust. But there's also just a lot of good people down there trying to do really good work, and it'll always be my backyard where I get to play with my friends. And Branson in particular was amazing to us on this movie. The folks at the CVB and tourism board, specifically Lynn Berry and Bill Lennon, both did more than most of the film's producers as far as getting us what we needed throughout the shoot. Everybody should make a movie in Branson as long as those two are around. And as far as continuing to make stuff in Missouri; for me, location always tends to play a central character in whatever I'm writing, so we'll see if I have any more stories to tell in MO. Alex and I are cooking up a thing right now that's based in New Orleans that we wanna do this summer, and we've got a TV pitch that's going out in a few weeks that's set on the road, but maybe after those two we'll end up doing something else in Missourah. There's a script we're almost done with that's based on our experience in a fraternity down there that got kicked off campus, so if we end up getting to make that, I suppose we'd like to base it down at MU where it all happened in real life.