Back to selection
The Full Frame Film Festival, Part Three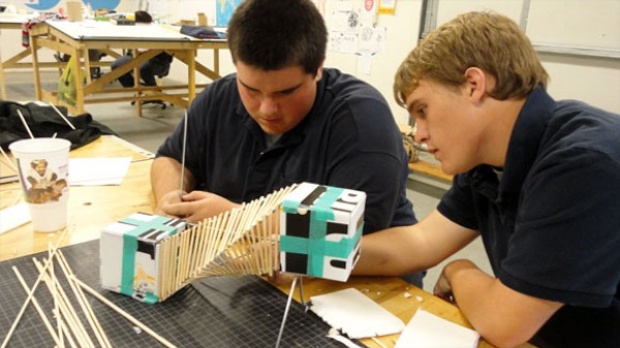 If You Build It
Several of the films from this year's Full Frame Documentary Film Festival dealt with themes of community. Two films in particular that focused on question of community were Patrick Creadon's If You Build It and Jeff Reichert and Farihah Zaman's Remote Area Medical. In both cases, we are introduced to both the pleasures and the complexities of providing resources — medical or educational — to rural communities that have been neglected in recent years.
If You Build It depicts the efforts of Emily Pilloton and Matt Miller to introduce a design-oriented curriculum to rural Bertie County, North Carolina, and to provide students with an opportunity to create something that could give back to their town. Pilloton and Miller's concepts, which Pilloton introduced in a TED talk, emphasize the role of creativity and experimentation in learning and she repeatedly reminds students that they should be prepared to "get dirty." However, because the couple are not from the community, the local school board is skeptical of their plans and only allows them to stay and teach if they are willing to do so for no pay, leaving them to support their projects through grant money and a series of fundraisers. The students in the class are presented with a series of increasingly difficult design projects. First, they are asked to design and build a cornhole board (for the popular beanbag game) and then a chicken coop, with several of the students creating coops that evoke everything from geodesic domes to Frank Gehry's whimsical building designs.
But the group's big project proves to be one that has the potential to become a resource for the town, a farmer's market that will allow residents to buy and sell food locally rather than paying for groceries at an overpriced store. Students create and combine designs and then become involved in the process of trying to build the structure on land provided by the town. We see students applying not just design skills but also math, history, and social science principles in thinking about how the space should be designed and how they can best serve the public. Ultimately, the project's conclusion turns bittersweet, raising a number of questions, some of which were unaddressed, about why Pilloton and Miller were not better received by the school board. While Miller, in particular, worries about "imposing" his ideas on a reluctant community, few adults from Bertie County directly address why the school board chose not to keep them permanently as teachers.
In keeping with this theme of community, Jeff Reichert and Farihah Zaman's observant
Remote Area Medical,
which also had its world premiere at Full Frame, documents the work of a team of doctors, nurses, dentists, ophthalmologists, and countless other volunteers who set up a massive medical camp for four days in the rural town of Bristol, Tennessee, at the town's famous NASCAR track. Locals, most of whom have no health insurance, much less dental or optical, line up, sometimes days in advance to gain access to even some basic health or dental care, whether that involves having some teeth pulled, getting new dentures, or in a couple of cases, getting a screening for cancer.
Many of the patients recite familiar stories about the lack of health care and about the lack of jobs. Bristol is a relatively isolated town in the mountains of Tennessee, and most of the people describe working as waitresses or coal miners or being unemployed because they don't have a college degree. But in addition to the lack of easy access to health care, many of them talk about how important getting treated — especially for dental work — is for their self-esteem. One woman with deteriorating teeth discusses her reluctance to seek out help reflecting that "we try to take care of our own, but if we don't have the means to do that, we do what we do." Later, she adds that going to see the free doctors "is going to take something out of me." But despite this fear of lost pride, hundreds of people seek out help.
While Remote Area Medical avoids taking an explicit stand on the current debate over the Affordable Care Act, it is explicit about the failures in a country where there are "people who have no access to the system." Similarly, founder Stan Brock remarks that "the patients will always be there. The big question is whether you can see all of them. Welcome to America." But instead of an overt political stance, Remote Area Medical is content to tell the stories of the many patients who seek out aid, to trace out the images of a community of people that develops over the course of a single weekend, and just as quickly, closes down, as the medical supplies are packed and the volunteers return to their homes across the country.