Back to selection
Richard Dutcher on Project 23 and The Boys at the Bar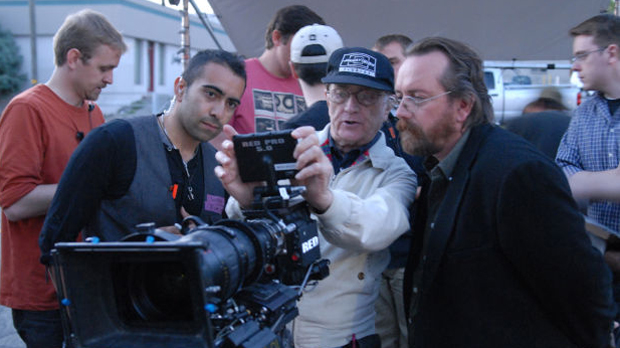 Richard Dutcher is one of the most important and accomplished directors that nobody's heard of. Like many independent filmmakers, Dutcher is a multihyphenate: writer, director, actor, producer, editor. In the process he's created eight feature films that span genres and styles, including romantic comedy (Girl Crazy), intense emotional drama (States of Grace), gritty gut-wrenching naturalism (Falling), supernatural horror (Evil Angel), elegant formalism (Tryptich), and even a passionate period piece with only one actress (Eliza and I). And since his 2000 film God's Army he's become something like the Robert Rodriguez of Utah: the most important filmmaker in a region with a fast-developing indie community. Although the state includes both Sundance and Slamdance in the north and John Ford country in the south, it wasn't until God's Army that a multitude of local filmmakers felt ownership for the local film scene and were galvanized to make films, found production companies, run new film festivals, and create a small but robust industry. Hence Dave Boyle, Jared and Jerusha Hess, Ryan Little, Christian Vuissa, Jared Cardon, and a host of others.
So it shouldn't be any surprise that with his newest project The Boys at the Bar Dutcher's added another job description to his resume: teacher. He had been informally mentoring filmmakers, enough that in 2011 it made sense to organize a more formal effort in the shape of a guerrilla film school that would produce a single feature film from concept to distribution. "I just put the word out on Facebook," he says. "And I always said that if I could find 20 students that were willing to do it then I would do it. And I really didn't think I would. So I was surprised when, at the end, I had 23 people that wanted to do it. So we just organized and started the journey."
Dubbing themselves Project 23, the group started meeting at night in November 2011 in a law office in Salt Lake City. They began developing a new concept by Dutcher, a comedy that takes place in a single night in an Irish pub in St. Louis. Dutcher describes The Boys at the Bar as "an experimental, 'conflict-free' comedy. It's a kind of celebration of American humor." The students were put to work organizing preproduction and raising the $150,000 production budget. Actual shooting took place in May 2012, with cinematographer Bill Butler (Jaws, The Conversation, Grease; seen with Dutcher above). With a single location and semi-improvised script, production only lasted a week, and for the past year Dutcher has been guiding his students through the postproduction process.
Because of the ubiquity of crowdfunding, part of that process now includes running a Kickstarter campaign for finishing funds that's now in its final week. To show his dedication to the film, Dutcher launched a 12-day water fast on April 28 (culminating on "the worst birthday of [his] life"); his daily YouTube updates have become as much a part of The Boys at the Bar's story as the film itself (never has an actor relished a slice of watermelon more than Dutcher does in his last post). Health concerns required him to eat before the Kickstarter campaign came to an end, but the Project 23 team is still pushing hard to reach their $30,000 goal.
The film is therefore not finished yet, but can Project 23 be seen as a successful new model for film education and mentorship? "It's an unqualified success in my mind," Dutcher says. "Those that [stuck with it] learned how to make an independent film–and did make an independent film." That underscores the greatest difficulty of the process for Dutcher as a mentor: "The hardest part was keeping some of them motivated. A few of them really didn't understand the work of a film producer. They thought it would be all glamour and excitement. So when they saw how much hard work, personal risk, and thankless effort they would have to put in… a few of them lost enthusiasm." Such a response among 23 participants is not unexpected, of course, and Dutcher says he would do it again if possible.
"What I would be incredibly pleased to see is if this story got out there, if someone like Paul Schrader started taking 20 new filmmakers through this process. Or Hal Hartley, or whoever some of the guys are from my generation who stopped making movies. That, to me, would be the icing on the cake. It's this wonderful, beautiful hybrid–an economic and educational model–and I would like to see it catch on." He adds the caveat, however, that it should only catch on as long as it remains viable, and with the speed of change in today's industry that window might not last long. "It might not work two years from now, but then you come up with something else."
For the time being, Dutcher's managed to create a feature film, nearly two dozen film producers who can now grow the indie film industry in Utah and elsewhere, and a model for others to follow in other regional centers. At a time when the unsustainability of filmmaking tops Ted Hope's list of film career hazards, this potential should not be discounted. If we can see similar mentoring arrangements spring up in San Francisco, New Orleans, Austin, Portland, Toronto, or Minneapolis, this new economic and educational model might just spark a small but important paradigm shift throughout indie film.