Back to selection
When Life Gives You Lemons: An Unexpected Crowdfunding Success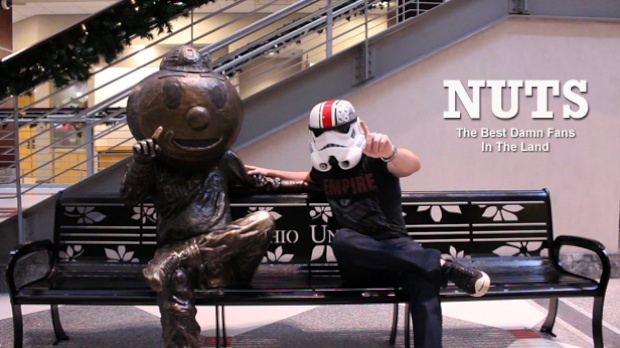 Call me crazy, but I have a feeling that I am sitting on a niche documentary goldmine. It's titled Nuts: The Best Damn Fans In The Land. It will be about Buckeye Nation, which is the cultish fandom of The Ohio State University. I've never been more certain of a project's potential success than this one. However, my past attempts at trying to get it funded tell a much different story. For almost a decade I failed to obtain funding for this golden project. Then a miracle happened, which I will get to in a moment.
Buckeye Nation is the largest college fan base in the country. The potential audience for this documentary is over three million of the most loyal and passionate fans in the world. It would be the first feature documentary that I know of to peek inside the world of sports fanaticism from the fans' perspective. The fans I'm including in the movie have entertaining/enchanting stories to tell. I have a simple yet strong self-distribution plan. Maybe I actually am crazy, but I don't see how this won't be [at least] moderately successful.
I've been a Buckeye my whole life so I will be able to give this movie a personal touch that no outside filmmaker could replicate. By no means do I want to produce a shallow fluff piece. I want to create something that is insightful and nuanced. My goal is to focus on the fascinating fans that have great stories to tell and are doing good things for their communities through philanthropy and entrepreneurship. It will be honest and sincere, something severely lacking from the mainstream media's portrayal of Buckeye Nation.
Besides living in a cookie-cutter city [where most people don't understand the film industry], my biggest impediment up to this point is that I'm a horrible salesman. Actually, I'm worse than horrible. I believe Nuts could be one of the best character-driven documentaries ever. It should be an easy sell, but I have been blessed with the exact opposite personality that is required to successfully convince people through talking. Most of the time I prefer to remain quiet. I'm an observer and a listener. I would rather convince people through my work, however I don't have fancy accolades next to my name so people with power don't take me seriously. And in today's noisy world of infinite distractions I don't blame them.
It came to a point last year when I said, "F#*k it, I'm making this movie one way or another, with or without funding." I gave up trying to get people to help me. It was an exercise in futility. My instincts told me that 2013 was the year I had to start this movie so I did. With no other funding avenues available, I naturally turned to crowdfunding, hoping the crowd would come to the rescue. After months and months of preparing, I launched an Indiegogo campaign in early February with the goal of raising $50K in a month. I only managed to raise a measly $965 towards my ambitious goal. Epic fail. A kick in the nuts. Ouch.
If someone would of told me on March 11th, the day the campaign ended, that in a little over a month I would have a successful crowdfunding campaign for Nuts under my belt, then I would've said that person is on crack. Failure was the only thing on my mind. Success was a chimera.
By setting the bar way too high, I set myself up for a huge embarrassment. Based on my all my research I thought $50K was reasonable. Ha, reasonably delusional more like it. I assumed Buckeye Nation would eagerly support a fellow Buckeye and throw money my way. Never did I ever think the exact opposite would happen. But it did and I had to deal with it. Luckily, over the years I've learned how to deal with failure. Instead of letting it defeat me I've used it as motivation to get better. I try to learn from my mistakes and move forward.
As with all my failures, my failed crowdfunding effort taught me a few things about this wonderfully weird world around me. Ultimately, it made me realize I needed to scale down my ambition and change the focus so I could produce it as a one-man-band on a much smaller budget with the resources I have at my disposal. I didn't want to work this way because I was sick of it. I really wanted to hire a crew and buy some awesome equipment, but that wasn't going to happen so I had to kill that dream and resort back to doing what I've always done. Maybe one day [if I'm lucky] I'll have the luxury of hiring a crew and buying some really nice toys instead of the prosumer level ones.
Speaking of luck, a fortunate thing that came from this abysmal failure was that it caught the attention of a start-up crowdfunding site called UFunded. The site's goal is to connect entrepreneurs with alumni from their schools. They reached out and said they could help me if I was interested in trying crowdfunding again. The founders also just so happened to be alumni from my alma mater Ohio State. I love happy coincidences. This was exactly what I needed for my project. I took this as a sign from the universe that I should give this crowdfunding thing one more try even though my previous failure had me down in a hole like Layne Staley.
Eventually I climbed out of the hole, made the necessary adjustments, and launched a new campaign on April 2nd. After three long, excruciating weeks I was able to successfully raise $4,900 with the help of some awesome Buckeyes spreading the word for me. Twenty-three people stepped up to the plate and helped turn my dream into reality. I am forever grateful to these awesome people for making Earth Day [the day my campaign ended] my new favorite day.
I understand that this will seem like a very insignificant amount of money to many filmmakers reading this, but trying to raise this much as a one-man-band seemed like I was climbing a mountain. Reaching my goal felt like I reached the peak, but I'm only halfway there. Now I have to make it back down the mountain alive and deliver a quality movie. Then after that I have to climb another mountain by trying to break through all the noise. Damn, this shit is tough. I feel like Sisyphus.
For the past decade life has been giving me lemons in response to my efforts to make Nuts, but whenever life gives me lemons I think of the words my great grandpa once told me. He said, "Boy, when life gives you lemons you turn that shit into gold." Touché, grandpa.
This alchemistic aphorism is what has given me the strength I've needed to get to this improbable point in my filmmaking career. Weeks before my first campaign ended I was ready to finally give up on the project and move on with my life. I had enough. Then out of the blue opportunity came knocking at my door. Now I'm preparing to make my first fully-funded feature documentary. I never thought the day would come where one of my ambitious projects would obtain outside funding. As the genius Maynard James Keenan says in one of my favorite songs, "Holy F@*king Shit!"
It's crazy how much things can change within a month. Lady Luck often knocks when you least expect it. At the end of the day the only thing that guarantees failure is quitting. Well, being an idiot also guarantees it, but that's not the point. The point is that if you remember these words by the late/great Jimmy V, then you will overcome any adversity.
No matter how hard and impossible things seem to be, don't give up and eventually one day you will find yourself in the position you always dreamed of — the position of turning life's lemons into gold. It might take longer than you expected, but your time will come. I'm still a long way from making gold, but at least I know I'm on the proper path to reaching this goal and as I learned in my youth, knowing is half the battle.