Back to selection
Premiere Day at the Cannes Critics' Week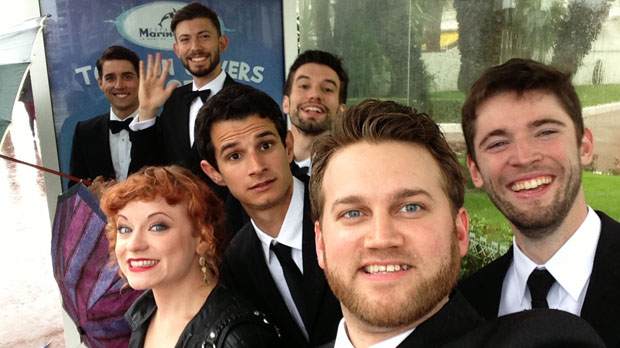 Well, the big day has arrived. We woke up early to heavy rain and made a quick run for our morning pastries before putting on our Sunday finest for the screening. After trying to find a cab for the better part of an hour, we called and last-minute audible and decided to walk, torrential downpour be damned! We arrived mostly intact and a little worse for the wear, but were warmly greeted by the Semaine staff who whisked us back to the green room where we got to meet the other Critics' Week filmmakers.
At the theater, which was almost at capacity despite the rain, we settled into our seats for the first short of the program — ours! It was a thrilling and slightly terrifying moment — before the premiere, only about 20 people had ever seen the film, so we were very excited and a little nervous to see how it would be received. Luckily, the audience seemed to really enjoy the film and afterwards we even got to do a quick Q&A with festival programmer Fabien Gaffez, who has been a vocal supporter of the film.
We then returned to our seats for the rest of Shorts Program 1, which included some really amazing, provocative, and moving films – our congratulations to each and every one of our fellow filmmakers. And my deepest thanks to the entire cast and crew of The Opportunist for helping get us here. We were very honored to have many of them with us at the premiere, including actor Riccardo LeBron, cinematographer Mike Fuchs, editor Chris Amos, and colorist Tyler Roth.
The following day, we had a sunny brunch on the beach with the other Semaine filmmakers, before heading to the American Pavilion at the International Village where I was invited to speak on a panel other American filmmakers including Jim Mickle and James Toback. AmPav was very kind and even live-tweeted some of our conversation!
We walked around the International Village and bumped into some old friends at the German Pavilion before heading back to the apartment to get ready for our next screening. It looks like the rain has finally cleared, so stay tuned for sunnier updates and photographs to come!