Back to selection
David Lowery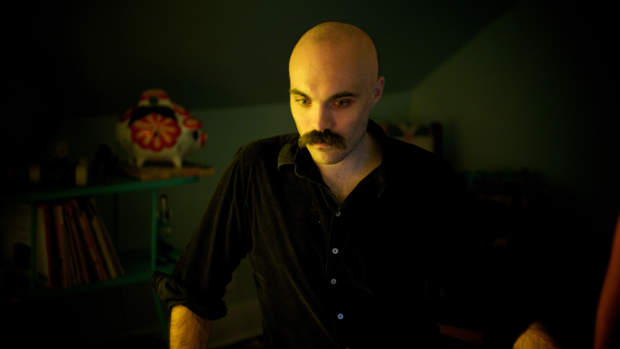 In the middle of writing the follow up to his 2009 feature, St. Nick, David Lowery was stuck. "I reached a point in the script where it became very difficult," Lowery remembers. "I was trying to make it an action movie, but I wasn't sure why I wanted to make the story. So I did what I always do when I'm fed up, which is go for a run." While jogging, Lowery plucked the seed of a scene from his script — a father talking to his daughter one night — and spun it out into something a little different: a bedtime story between a father and his son. "The whole story erupted in my mind," says Lowery. "It was just there."
Upon returning home, Lowery typed the story out in one sitting, and that afternoon jog turned into Pioneer, one of the best shorts you'll see all year. A single scene, the short focuses on the father as he tells a violent story about a soldier and an absent mother to his absorbed young son. Both a fanciful tall tale and a mysterious, even frightening, parable, the bedtime story ushers not only the young son, but us too into a metaphorical, mixed-up place, where childlike wonder coexists with adult wisdom. Musician and actor Will Oldham plays the father and what a joy his sensitive, empathetic and pitch-perfect performance is! The four-year-old Myles Brooks is equally sensational. Pioneer premiered at Sundance 2011 and went on to win Best Short at SXSW, the Indie Grits Festival and the Ashland Independent Film Festival. The film will be released by Wolfe Video on DVD this August.
Recently, Lowery watched Pioneer on a double bill with St. Nick, which is a sparer take on childhood more concerned with tone and texture than story. "St. Nick is like a distended version of my memories of childhood," he says, "and Pioneer takes the same themes and collapses them into a more concise form. It represents a step forward for me as a filmmaker, and it's also directly personal, which is the reason I dedicated it to my dad."
When the Dallas-based Lowery is not directing his own features, he's making a living editing — both corporate and commercial work as well as indie features. He co-edited Dustin Guy Defa's tremulous relationship drama, Bad Fever, and he's currently cutting Andrew Brotzman's Nor'easter. "Working on other people's films makes me a better director," admits Lowery, adding that he "loves all kinds of movies. I'm going to see Transformers: Dark of the Moon 3D today, despite myself." And when he's not writing or directing or editing film, he's often writing about it. His "Drifting: A Director's Log" is one of the best filmmaker blogs, filled with information on his own shoots but mostly his takes on other films, everything from Malick's The Tree of Life to work by the colleagues he meets on the fest circuit. "I feel that building an audience is part of being a filmmaker," Lowery says. "I was blogging in 1999, before blogging was even a word, and I've kept it up. I didn't go to film school, so seeing someone mentioning a title online and then going and watching it and exchanging ideas about it in the blogosphere — that's been my education."
Next up for Lowery? He's talking to a couple of Hollywood producers about larger projects but, for the moment, he says, "I'm in pre-production on my next feature, which is about an outlaw in the '70s who breaks out of prison to find his wife and daughter and build them a house." — S.M.
Contact: davidpatricklowery@gmail.com