Back to selection
Kicking Ass in Clintonland: The Little Rock Film Festival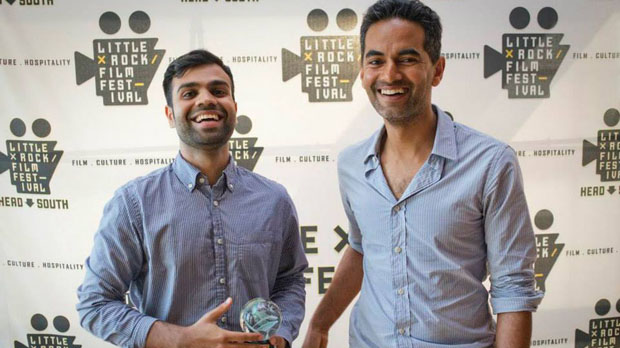 "A great film is made with love and time. Then it knocks you on your ass." Such was the guerrilla tagline for the seven-year-old Little Rock Film Festival, and the same could be said regarding fests themselves – and writing about them, for that matter. Truth be told, I was initially on the fence about heading south to cover a festival in a state I was hard-pressed to locate on a map, and knew only through its past racist history and present-day Jeff Nichols films. Fortunately, my sister pointed out why passing up the chance to visit Little Rock would have been insane: "It's the next best thing to Graceland!" And so I was sold.
Actually the Graceland comparison was pretty on the mark right from the start, when I landed at the Bill and Hillary Clinton National Airport, and promptly was whisked down President Clinton Avenue to the highly historical – and ridiculously hospitable – Capital Hotel. (I can now boast of having ridden in an outsized elevator rumored to have accommodated President Grant and his horse. This was also the first time I'd ever stayed in a grand suite complete with a dining room table.) Every day the spirit of Slick Willie hung in the humid air as I walked past the Clinton Museum – which, alas, doesn't sell cigars – and towards the massive Clinton Library, which hosted the festival's Arkansas Times Closing Night Awards Gala. (It was there, with the dream of a surprise Bill sighting dancing in my head, that I surreptitiously followed two men wearing suits and earpieces until I realized they were only escorting current Governor Mike Beebe, who impressively showed up to voice his support for the fest.) Indeed, downtown Little Rock is such a shrine to the 42nd president that one can only imagine the surreal heights it will reach when the man from Hope finally leaves the building for the last time.
Yet even if I hadn't been feted with a genuinely warm southern welcome – which included a gift bag bigger than the carry on I'd brought for my five-day stay, inside of which was perhaps the best bit of festival swag ever (click here to see what Destin Daniel Cretton, director of opening night's Short Term 12 did with his talking Bill Clinton action figure) – the Little Rock Film Festival would still be without a doubt one of the most inspiring fests I've had the pleasure to attend. And that's due mostly to the sweat and smarts of two brothers, co-founders Craig and Brent Renaud – who serve as executive director and artistic director, respectively – both working filmmakers and veteran conflict documentarians. Recipients of dozens of prestigious awards, including two Columbia Duponts and an Edward R. Murrow Award, this humble duo have covered everything from the wars in Iraq and Afghanistan, to the earthquake in Haiti, to Mexico's drug war. And it's both what these globetrotting Little Rock homeboys know – and who they know – that makes LRFF one truly unique event.
As a doc fanatic who skipped all of the big American indie fests this year I was happy to finally have the opportunity to catch a slew of buzzed about flicks, many with filmmakers and cast present. Martha Shane and Lana Wilson's After Tiller, Richard Rowley's Dirty Wars, Dawn Porter's Gideon's Army, Penny Lane's Our Nixon, Mike Lerner and Maxim Pozdorovkin's Pussy Riot – A Punk Prayer, Dan Krauss's The Kill Team and AJ Schnack and David Wilson's We Always Lie To Strangers were all films I was glad to be able to check off my must-see list. Perhaps the one doc that most lived up to and exceeded its hype, though, was Lotfy Nathan's 12 O'Clock Boys. (The LRFF screening even included a Q&A with the director and the doc's charismatic star.) It's a respectful and artful portrait of Baltimore's illegal dirt bike riders told through the eyes of Pug – a streetwise youngster and dirt bike obsessive who gives Quvenzhané Wallis a run for her money in the endearment category. Then again, I never went gaga over Beasts – thus I didn't make time to attend LRFF's The Making of Beasts of the Southern Wild, a look at two behind-the-scenes shorts with their co-director Bill Ross (Tchoupitoulas, 45365).
Unfortunately, I also didn't have time to see Omar Mullick and Bassam Tariq's These Birds Walk, a study of Karachi's street children and the rare Samaritans that look out for them, that's been nabbing numerous accolades along the fest circuit (and, as pictured above, picked up a hefty chunk of change in Little Rock – $10K for winning the inaugural Heifer International Social Impact Film Award). And it wasn't the only flick I regretfully missed, as daily I seemed to be getting sidetracked by one-of-a-kind activities and fascinating panels – such as "Distributor Spotlight: Oscilloscope Laboratories," and especially "Flip The Script: A Combat Soldier Interviews War Reporters" – held in the well-stocked filmmakers' lounge. In fact, one of my greatest surprises was encountering the innovative mix of high caliber filmmakers and producers – even journalists and programmers – that showed up in Little Rock to leisurely network and hang out. I chatted with everyone from We Always Lie To Strangers co-director and True/False Film Festival co-founder David Wilson, to Christof Putzel, a senior correspondent for Current TV (now owned by Al Jazeera), to Fake It So Real director Robert Greene. Greene actually moderated a panel titled "Cinematic Nonfiction: Not Your Parents Documentary Film," which I served on along with Philip Martin, chief film critic for the Arkansas Democrat-Gazette, Omar Mullick (These Birds Walk), and Richard Rowley (Dirty Wars). As for Dirty Wars, The Nation magazine's National Security Correspondent Jeremy Scahill, author of the bestselling Blackwater: The Rise of the World's Most Powerful Mercenary Army and Dirty Wars: The World Is A Battlefield, on which Rowley's doc is based, even held a book reading and signed copies of his latest. (Oddly, I only ended up meeting the very approachable Scahill when we shared a ride back to the Bill and Hill National Airport.)
Indeed, LRFF was much greater than the sum of its 100-plus films. Thankfully, all the venues I frequented, from live theater art-house The Rep, to the Historic Arkansas Museum, to Heifer Village – right next door to the Clinton Library – were within easy walking distance to each another. (That included the Argenta Community Theater in North Little Rock, which allowed for a lovely stroll across one of the city's many scenic bridges.) But sadly, since I couldn't be everywhere at once, something had to give. That meant missing out on the Diamond State Music Revue – an entire slate of Arkansas acts carefully curated by the White Water Tavern's Matt White – and most of the many late-night parties. (Save for closing night's spectacular, two-hour riverboat cruise down the Arkansas, which I chose over the closing night flick Don Jon – sorry, Joseph Gordon-Levitt.) I also skipped the morning youth programs – as well as the kid-friendly screening of Diary of a Wimpy Kid, which featured a Q&A with cast members Zachary Gordon and Robert Capron, and producer and Little Rock native Brad Simpson – and dropped the ball when it came to the Made in Arkansas and shorts programs. Then again, there's always next year – when the 325-seat Arcade Theater in the River Market District, still under construction, will serve as LRFF's home base – and, if the 2013 edition is any indication, decades more to come.