Back to selection
Five Questions with La Camioneta Director Mark Kendall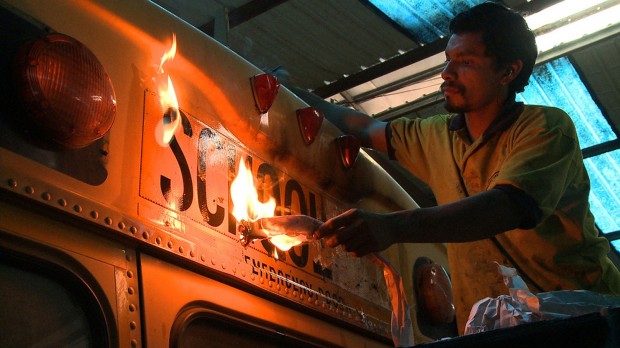 La Camioneta
This interview originally ran at the time of the film's world premiere at the SXSW Film Festival 2012, and is now being republished to coincide with with La Camioneta's theatrical release, which starts today at Brooklyn's reRun Theater. Visit the official website of La Camioneta for dates of further theatrical screenings.
Director Mark Kendall carries a spirit of adventurous, a keen eye for character, and a wellspring of ambition into his first documentary feature, La Camioneta: The Journey of One American School Bus. Starting out at an auction in rural Pennsylvania for decommissioned school-buses, Kendall boards one of the buses sold and accompanies the driver on the perilous journey to the vehicle's new home: Guatemala.
The road to Guatemala is fraught with corruption and violence, with local gangs demanding bribes from drivers to ensure their safety. Since 2006, nearly 1,000 bus drivers have been killed along the route, and Kendall captures the personal stakes behind this haunting statistic in colorful detail. But beyond that, he crafts an intimate meditation on the tapestries that bind societies together; on how an object as seemingly stagnant as a school bus can mean so many different things to so many different people.
Filmmaker: What initially drew you to this subject? What inspired you to take this journey?
Kendall: This film was inspired by a conversation that took place on board a camioneta back in 2009. I was travelling on a six-week bus trip through Central America, and during my time in Guatemala the camionetas were my principal form of getting around. I immediately recognized them as old school buses and my curiosity was piqued when one of the drivers told me that the camioneta we were riding on came from a school district in Tennessee, just 20 miles from where I was living at the time.
I found myself thinking about the old school bus I used to ride to basketball games in high school. Where was it now? Is it driving around somewhere in Guatemala? Who were the people that buy and repair these buses? How did they bring them down to Guatemala? And who was responsible for making them become so beautiful?
Originally, my idea was to follow one out-of-service school bus through the entire journey it took to become a camioneta and to use that transformative process as a narrative thread to weave together the stories of the people who make it all possible. Following the bus seemed like the best way to organically embed myself within the world of the story, and would itself become a vehicle into exploring more personal stories about migration, exchange, transformation and connectedness.
Filmmaker: How much research had you done before you boarded the bus? Were you already acquainted with your subjects, or did you discover your story as you went?
Kendall: There were two things I really needed to know before I felt that making the film might actually be possible. The first key was finding someone in search of an old school bus that was destined for Guatemala. My research pointed me to the 422 Bus Auction, and my time there eventually led me to Mingo.  From that point onwards, most of our casting decisions were left primarily up to fate. I didn't know where in Guatemala the bus might end up, who might be its new owner, or what route – if any – it might end up joining. Some buses never leave the junkyard and others are scrapped for parts.
I had a clear and focused story in mind and was interested in exploring certain themes, but the process of developing the film was really guided by embracing the people and the locations that organically became intertwined with our bus' journey. We rode down to Guatemala on the bus, and when we arrived to Chimaltenango, Mingo introduced us to his brother-in-law, Geronimo, who ran the junkyard where the bus would sit for the next few weeks and wait to be sold. When Ermelindo began showing interest in purchasing it, Geronimo introduced us to him and mentioned that we'd come down on the bus and were interested in following its journey. The process continued like that throughout the course of production.
The second key for me was to learn as much as I could about what was going on with respect to the violence on the camionetas. I wasn't sure how the journalistic elements of the story would interact with the more conceptual ideas I had for the film, but I wanted to do my due diligence. It was important for me to learn as much as I could, so that I could make decisions about story based on accurate social and political context, not to mention be as safe as possible while I was down there.
I sent out lots of emails, spoke to a few journalists in Guatemala via Skype and began creating a base of contacts that I followed up with in person when I arrived on-the-ground in Guatemala. Many of them became invaluable resources and collaborators throughout production.
Filmmaker: What surprised you the most on the trip? Were there revelations that you were not prepared for?
Kendall: Looking back on it, the whole experience feels more like one, larger, evolving surprise that revealed itself slowly over time. And yet somehow it feels like it couldn't have turned out any other way. That's one of the incredible things about making documentaries.
Filmmaker: As the journey of this bus plays out, the film begins to explore some very deep, almost spiritual, issues. Was this always something you intended for the doc?
Kendall: I have always been interested in how different people define and seek to expand their own worlds, and I seem to be drawn towards telling stories where the journalistic and the transcendent collide.
My first short film, The Time Machine, tells the story of a watchmaker from Honduras who works in Grand Central Terminal. Set amidst the din of Grand Central where punctuality reigns supreme, the film explores his understanding of his craft, revealing the contrast between his public duty to keep New Yorkers running on schedule and his personal desire to live a life free from the shackles of time. There is a spiritual and philosophical tone that is present throughout the film. My most recent film, La Camioneta, tracks the rebirth of one decommissioned school bus and explores each person's relationship to the process associated with bringing it back to life, quietly revealing a complex portrait of movement between the Americas.
In each film, my goal has been to explore how different people's approach to their profession empowers them in some way to overcome their fears and transcend the limitations of their immediate environments. While these films are very different in content, in form, and in style, they are both inspired by my interest in individual's attitudes towards their work and my desire to create an immersive experience that reflects my view of the world.
Filmmaker: You are exploring some very weighty social justice issues here, issues that the American media doesn't report on enough. What kind of change do you hope this film enacts?
Kendall: This isn't the kind of film that's going to generate one kind of reaction, nor is it the kind of message-driven documentary that is familiar to most audiences. The film definitely has a strong point of view, and there are a number of political and social themes that are embedded within the world of the story, but they exist more at the level of the subtext and aren't presented in a problem/solution format. This is because the issues are all actually quite complex, and I wasn't interested in making that kind of film.
My hope is that the film will linger on inside of people's minds long after seeing it, and their thoughts and feelings about it will re-emerge and evolve over time. I hope that next time they see a school bus, they will replay moments from the film and will continue questioning their own relationship to something so seemingly-familiar, something that they might have previously taken for granted.
I think the way the issues are framed has a big impact on establishing a language we use to describe the problem as well as the solution. If you can change the narrative, you can begin to work towards changing the outcome. I tried to provide plenty of space for people to engage with the story and to come to their own conclusions on their own terms. When people begin to see familiar things in unfamiliar ways, that's when the real interesting possibilities begin to arise.