Back to selection
Going Digital in the Desert: Currents 2013 New Media Festival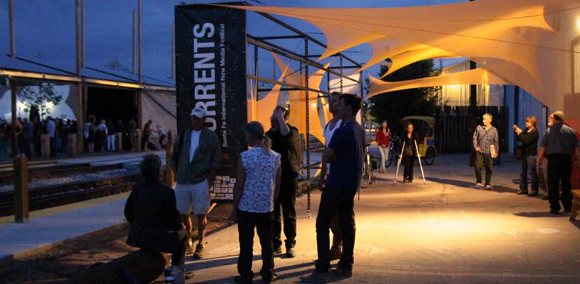 Perhaps the one word that best describes the Currents New Media Festival, an annual event hosting an international array of artists that steams into Santa Fe for the last half of June, is "overwhelming." This year cutting edge-curious New Mexicans and tourists alike are being treated to futuristic video installations and interactive artwork, art-apps and animation, multimedia performances and experimental documentaries (including Denis Côté's disturbing study in the banality of human evil towards animals, Bestiaire) – all taking place inside El Museo Cultural, a cavernous warehouse in the Railyard District. Then there are the satellite happenings. Digital Dome screenings – planetarium-type experiences in the "world's only fully articulating dome" – occur at the Institute of American Indian Arts. Numerous lectures and panels take place in galleries such as Zane Bennett Contemporary Art, which presented both a panel titled "Art and the Legacy of Artificial Life," as well as a talk by Cesar Meneghetti, whose Venice Biennale installation I/O, exhibiting at El Museo, came about through the Brazilian artist's introducing digital media to mentally and physically handicapped adults in the suburbs of Rome.
And I haven't even gotten to the workshops at the youth center Warehouse 21 – "Rapid Development of Visual Performance Tools" and "Exploring the Analog Model" were both taught by sonic and visual artists Darwin Grosse and Andrew Pask – or the trio of programs ("From Nanos to Cosmos," "Geo-Info-Eco" and "Photonic Interference & Coherence" – dealing with light-based media) presented by Scientists/Artists Research Collaborations (SARC) at the Center for Contemporary Arts. And did I mention every last thing is, as the catalog introduction notes, "free and open to all"? (Yes, you read that right. Checking the fine print I could only find, "Visit as often as you like, and – as long as the doors are open – stay as long as you like. Your interest, enthusiasm and support make the Festival possible.")
Which may be more mind-blowing than even Joyce Rudinsky and Victoria Szabo's Psychasthenia 2 – a video game that explores psychological diagnoses and treatments in the context of consumer culture – or Emily Martinez's AntiApocalypse, an immersive digital cinema controlled by an EEG brain/computer interface that reacts to the viewer's attention (or lack thereof). But Currents New Media is actually the down-to-earth brainchild of two highly dedicated Santa Feans, Mariannah Amster and Frank Ragano, co-executive artistic directors and the founders of Parallel Studios. Begun in 2002 as an intimate showcase of New Mexican media-makers, the festival now totals over a hundred participants, including 23 national and international artists in attendance this time around. Whether from Australia or Argentina, Canada or Cyprus, Columbia or China, Ireland or Italy, France or Finland – the Currents culmination is proof that from the humblest human idea an entire digital world can grow.
Currents 2013 New Media Festival runs through June 30th. For more information click here.