Back to selection
Full Frame Film Festival 2013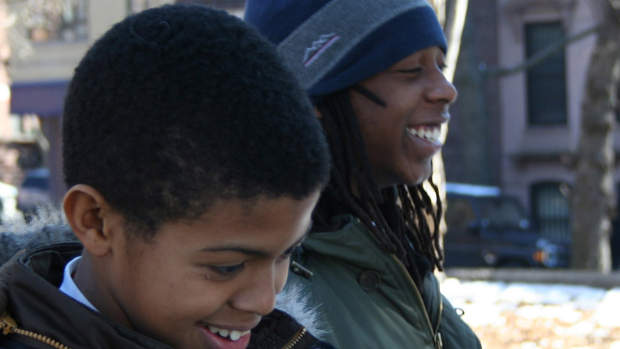 American Promise
Nestled in downtown Durham, in the heart of North Carolina's Research Triangle, the Full Frame Documentary Film Festival is one of the region's most engaging—and enjoyable—cinematic events. Full Frame has delivered an outstanding slate of documentary films to the local community every spring for well over a decade, but the festival thrives in part due to its friendly, relaxed atmosphere and involved audiences. Given the presence of three major universities—the University of North Carolina, North Carolina State University and Duke University (a festival sponsor)—the festival invariably attracts large crowds of highly educated viewers. But as a leading documentary festival, it also provides a site for thinking about some of the current trends in nonfiction cinema.
This year, the Reva and David Logan Grand Jury Prize went to Joe Brewster and Michèle Stephenson's insightful American Promise, which follows the educational experiences of two middle-class black males, Idris and Seun (Idris is Brewster and Stephenson's son), from kindergarten through high school. The film, which has received favorable comparisons to Hoop Dreams and Michael Apted's Up series, is an unflinching depiction of the two families and the struggles they face with an educational system that evaluates student performance based in part on assumptions and stereotypes, especially when it comes to black males. But by following Idris and Seun for over a decade, American Promise also ensures that we develop an emotional connection to its larger subject matter, using scenes depicting both boys talking about their ambitions and struggling with their homework to convey the challenges middle-class black families face as they negotiate with educational institutions. Brewster and Stephenson are solid storytellers who use the techniques of personal documentary — handheld camera, direct engagement with the camera — incredibly effectively. American Promise is a film that will likely resonate with audiences for some time and speaks urgently to some of the ongoing challenges that face the American educational system.
Although Full Frame focuses on offering a wide range of documentaries, many of the festival's major categories reward films that engage with specific social issues, especially human rights issues and environmental concerns. The Kathleen Bryan Edwards Award for Human Rights went to Martha Shane and Lana Wilson's After Tiller, which focuses on the work of the last four late-term abortion providers still working in the U.S. after the assassination of George Tiller. An honorable mention award in this category was given to Marco Williams' The Undocumented, which looks at the work of organizations that provide for the repatriation of immigrants who die while crossing the border between Mexico and the U.S., bringing an unusual — and refreshing — point of view to a timely topic. Meanwhile, A Will for the Woods won both the Nichols Environmental Award and the festival's Audience Award.
While the competition films helped to bring in a number of emerging documentary filmmakers, the invited programming allows the festival to sustain relationships with relatively familiar figures. Carl Deal and Tia Lessin followed up their success with Trouble the Water with Citizen Koch, an agitprop documentary about the harmful effects of unlimited campaign donations focused specifically on the recall election of Wisconsin governor Scott Walker. Given the political climate in North Carolina, Citizen Koch played incredibly well, serving as a cogent account of the effect that big donors can have on local politics. Other filmmakers who had solid return engagements to Full Frame included Alan Berliner for First Cousin Once Removed and Barbara Kopple's Running from Crazy, providing audiences with access to some of the most significant contributors to the documentary format.
One significant trend that I noticed at this year's festival was the widespread use of crowdfunding tools, especially Kickstarter, both as a way of generating financial support for a movie and as a way of cultivating word-of-mouth enthusiasm. Many of these documentaries — including American Promise, If You Build It, Maidentrip and Good Ol' Freda — had relatively explicit ties to political or social causes, or in some cases, fan communities, allowing the filmmakers to use existing social or political networks to raise funds. Full Frame also serves as an important site for education and outreach. The festival invites student fellows from nearby universities, and offers a number of panels focusing on a number of issues pertinent to documentary and independent filmmakers. Full Frame also now serves as an Academy Award-qualifying festival for documentary short films, allowing the festival to deepen its support for that format. In addition, it now has a permanent screening site at the American Tobacco Campus, allowing the organization to sustain this outreach throughout the year. For these reasons, Full Frame is well positioned to serve the interests of the documentary industry and the local community for years to come.