Back to selection
Letter from Locarno, Week Two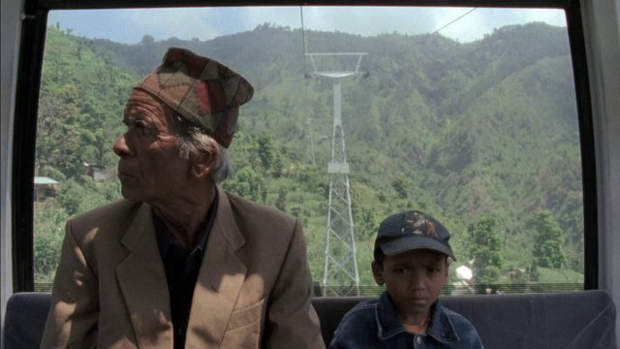 Manakamana
The Locarno Film Festival is characterized by its relaxed atmosphere and by its expansive programming. One can meander easily from a George Cukor classic on 35mm (he's receiving a complete retrospective here), to the latest Ben Rivers and Ben Russell experimental narrative (part of the "Signs of Life" series, named after the Herzog film), to Jeremy Saulnier's Blue Ruin screening in the 8,000 seat Piazza Grande. And in between, you can take a dip in the lake. It's the kind of festival where you never have to wait in line for a press screening.
This exceptional experience is in part due to the festival's timing. Situated after Cannes and before Venice and Toronto, Locarno attracts fewer high-profile premieres and less industry hysteria. It is still one of Europe's oldest and most respected festivals (it opened in 1946 and was an early supporter of Italian neorealism) and retains its status as a place of discovery. It may lack the glitz of Cannes, but it more than makes up for it in charm and adventurous programming.
Indeed, one aspect of Locarno's programming is that contenders for the Golden Leopard tend to diverge dramatically in form and content. It would seem that a jury might be hard pressed to judge films as different as Destin Cretton's Short Term 12 and, say, Pays Barbare, the 65-minute found-footage documentary by the revered Italian filmmaking team Yervant Gianikian and Angela Ricci Lucchi. Both are in competition this year.
Carlo Chatrian, the festival's new artistic director, insists that each film be taken on its own terms. "I hope that all the films selected here share a common ground, which is cinema. To me, if cinema's a great art, it's because it's so diverse," Chatrian told me in an interview yesterday. He sees the programmer's duty to describe the diversity of the medium, especially in today's environment: "It's also an answer to the homologation of cinema in Europe, and to the reduced space for film as art."
As it happens, Cretton's film received a wildly enthusiastic response here. While I did not attend the public screening, colleagues tell me that the film received a 10-minute standing ovation. Gianikian and Lucchi's film has also garnered attention, if perhaps not quite as demonstrably. Known for their landmark experimental work From the Pole to the Equator (1986), they are highly idiosyncratic filmmakers. Their latest tackles Italy's colonial wars in Ethiopia in the '30s via stunning footage unearthed from a private film archive originally intended for home-viewing, and their film offers a blunt cry against fascism and its rise today.
Also receiving world premieres this week were films by festival favorites Korean director Hong Sang-soo, here with Our Sunhi, and Catalan director Albert Serra, with Historia de la meva mort. Hong's output is impressive, having already premiered Nobody's Daughter Hae-Won at Berlin earlier this year. His latest follows a young woman's relationship with three men, including her film professor and an ex-boyfriend studying film, and is shot in part to appear as a student film. It's a slight work that offers subtle pleasures typical of Hong and features extended drinking scenes and discussions about the filmmaking. One recurring joke involves the characters using and reusing each others' words, suggesting that life is a script being passed from person to person.
Serra's third feature continues his interest in reworking the costume drama. His previous films include an adaptation of Don Quixote and a black and white retelling of the Three Kings. The director, not lacking for ambition — he apparently called his latest film "unfuckable" in the press conference — takes on both Casanova and Dracula in a film about the clash between the Enlightenment and the Romantic Movement. By turns absurdist and ponderous, it's unquestionably a singular and beautiful work — the carefully composed digital video images recall 18th Century paintings — but its glacial pace scenes rendered it a difficult go for many attendees.
Landscape, ever present in Locarno, figured centrally in a number of works included in the Filmmakers of the Present section. Freely mixing fiction and non-fiction elements, Nontawat Numbenchapol's By the River tells of a remote fishing village disrupted by the contamination of a local creek by a mineral processing plant. Lois Pantiño's meditative Costa da Morte, a portrait of a mythic region of Galicia, contrasts epic long shots of the territory with intimate voiceovers of residents, seen as tiny figures in the vast landscape. Both are well-crafted, atmospheric works that sometimes lapse into vagueness.
The Ugly One, an ambitious new work by French filmmaker and artist Eric Baudelaire and narrated by Japanese New Wave screenwriter Masao Adachi, follows a couple in Beirut coping with the loss of their child to a terrorist act. Featuring stunning photography of the city's beaches and ruins (lensed by Claire Mathon, d.p. on Stranger By the Lake), the film's confusion of memory and place begins as a slightly stilted meta-textual exercise and builds to a work with political and emotional urgency.
The standout in this section thus far is Stephanie Spray and Pacho Velez's Manakamana, a non-fiction film set in Nepal that follows pilgrims who travel by cable car high above the jungle to the titular temple for worship and sacrifice. The camera, which never leaves the car, is fixed on the various passengers, and each shot is the length of one ride high above the jungle. Combining aspects of documentary, ethnographic and structuralist film, Spray and Velez's work is utterly transfixing. It's as deeply engaged with its human subjects as it is with the history of cinema. It's precisely the kind of film one hopes to discover at a festival.