Back to selection
Jean-Pierre Jeunet on his 3D Movie, The Young and Prodigious T.S. Spivet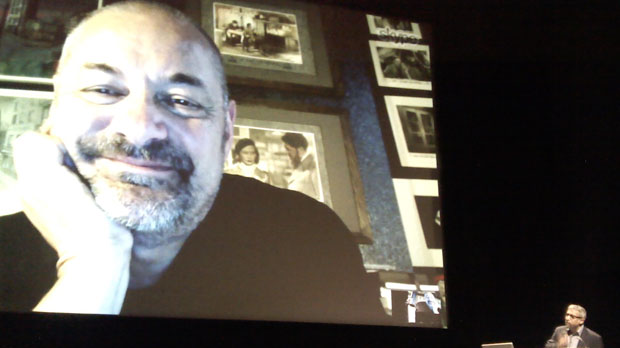 Jean-Pierre Jeunet via Skype
When he was eight, Jean-Pierre Jeunet would marvel at 3D pictures on his View-Master. It was a popular toy where someone could see a sequence of stereoscopic images printed on a cardboard disc inserted into a handheld viewer. "It my first step into cinema," the director of Amelie fondly recalled, "because I would adjust the frame in the viewer to change the order, and I'd imagine a new kind of film."
Little did Jeunet know that his beloved View-Master would lead to him to direct an entire film in 3D 52 years later. Jeunet was speaking about the pleasures — and challenges — of shooting his forthcoming The Young and Prodigious T.S. Spivet in three dimensions. This past weekend, Jeunet spoke from Paris via Skype to an audience of 3D filmmakers at the 3D FLIC: Toronto International Stereoscopic 3D Conference. "All my films could have been shot in 3D," he proclaimed as his face towered three storeys high at the TIFF Lightbox, "even Amelie."
Spivet is Jeunet's first 3D film, and it was fitting that he would preview 12 minutes of it in Canada. After all, the film was shot here under the guidance of Toronto stereographer Demetri Portelli, who joined the event's host, filmmaker Ali Kazimi, and his Spivet star, Jakob Davies, onstage. Jeunet started preparing Spivet by adjusting his mindset. "I thought in 3D," said Jeunet. "I wrote the script and made the storyboards in 3D."
Jeunet also watched a lot of 3D films to avoid making common mistakes. "For example, if you have something in the foreground out of focus, I hate that! Or if someone moves very fast in front of the camera, you have some strobe. It's ugly." To remedy those moments, Jeunet had his editor slow the action onscreen. In fact, Jeunet purposely slowed the overall pace of Spivet which allowed him to show off the beautiful Prairie landscape of Alberta (doubling as the U.S.).
Like Amelie, Spivet centers on a wide-eyed innocent, in this case a farm boy named Layton (Davies), who invents the world's first perpetual motion machine and becomes an overnight celebrity. The grown-up stars include Helena Bonham Carter and Callum Keith Rennie as Layton's parents, and Judy Davis as the city slicker who builds and exploits Layton's celebrity.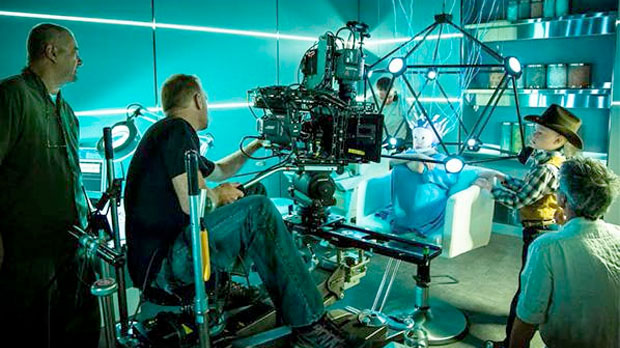 Overall, Jeunet found that he had to work harder on Spivet. "3D is not for lazy people," he told the amused audience. "Definitely." Though Jeunet religiously follows his storyboards on every film, he often relied on Portelli, who was previously the stereographer on Scorsese's Hugo, to technically advise him. "Before almost every shot we'd have a fast meeting to decide the depth and the plane — where is the negative and the positive space" to maintain proper 3D.
"You have to be careful of distortion on the face," added Portelli. "If the actor is the protagonist, you don't want to make him look like the villain with a big nose. You always have to be elegant. My job was to protect the faces of the actors while Jean-Pierre was directing them."
Spivet is the first feature to be shot on the ARRI Alexa M camera, which was portable and allowed faster set-ups, even shooting on a flatbed truck in rural Alberta. "Before, the Alexa was a big camera and for us it was hard to use as a Steadicam," noted Portelli.
Despite that, Jeunet found shooting in 3D slower than conventional 2D. "3D can kill a director," he deadpanned. "A director is impatient. When you have the beautiful cloud, you are waiting for one hour for the 3D, and you can die. I died [on Spivet] maybe twice."
Jeunet found it useful to run tests with his wardrobe and props departments to see which visual patterns and objects worked in 3D and which were distracting. 3D did not affect how he directed his actors. However, he learned that in 3D he couldn't place the camera very close to their faces, which is one of his trademarks. "Luckily, 3D loves a short lens. I shoot only short lenses, never long lens."
During the Q&A period, Jeunet was asked to compare the 2D and 3D versions of his film. "Wow!" he answered like a little boy. "It's a pity to think that some people are going to watch the film in 2D."
The general theme of the 3D FLIC conference was that 3D remains at an experimental stage with technology constantly evolving and craftsmen continually testing the format through trial and error. Jeunet is keeping the door open for a second 3D film as he dreams of the technology's future: "The real days of 3D will be free. It will be the day we won't need glasses."
Photo of Jeunet at the TIFF Lightbox via Allan Tong