Back to selection
Five Questions with I Am Divine Director Jeffrey Schwarz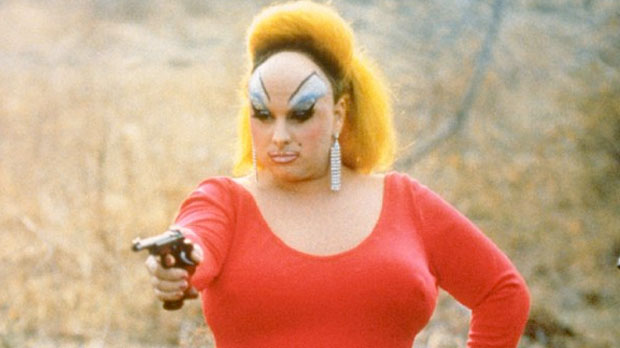 I Am Divine
Before there was RuPaul's Drag Race, hell, before there was RuPaul, there was the divinely dangerous Divine, actor, singer, drag queen, provocateur extraordinaire. Willing to do not almost anything but anything on screen (including eating dog feces for Pink Flamingos, one of the many films he made with the legendary shocksploitation director, John Waters), all in the name of art. Starting its theatrical run this week at the Cinema Village in NYC  and the Alamo Drafthouse Slaughter Lane in Austin, I Am Divine tells the behind-the-scenes story of this force of nature that left no taboo unturned. Filmmaker interviewed the doc's director, Jeffrey Schwarz, over email.
Filmmaker: How did you first become interested in Divine?
Schwarz: Since I was a teenager I've worshiped at the altar of Divine and of John Waters. Anyone who feels like an outsider growing up can certainly relate to the world that they created and the way they lived their lives. I had read about Pink Flamingos years before actually seeing it, in John Waters' book Shock Value. At the time I had no tangible connections to gay culture, so John and Divine's sensibility certainly helped lead me down a creative path. And then finally seeing Divine in those movies was just mind blowing. I'd never seen anything like it and watching him on screen was thrilling. He was so fully committed to the characters he played, and the way he lived his life, not caring what anyone thought about him was certainly inspiring. As far as deciding to make I Am Divine, it's now been 25 years since his death and I started getting concerned that Divine's legendary status might be in jeopardy, particularly with a younger generation. There hasn't been a proper documentary about his life so I wanted to fill that cultural void with this film. Divine is an inspiration to misfits, outsiders, rebels, and freaks and I hope this movie reignites interest in this incredible individual.
Filmmaker: How did you approach fundraising?
Schwarz: Once I committed to making the film, we just dove in assuming that the universe would make sure we made it to the finish line. We spent two years cultivating a very lively community on our Facebook page, and now we have around 13,000 fans even before anyone's seen the film. When the time was right we launched a very ambitious Kickstarter campaign with some unusual incentives. And we made our goal, too. We wanted fans to feel they had a stake in making sure the film got finished, and me and our producer Lotti Pharriss Knowles provide them with trashy entertainment on a daily basis. When it came time to hit them up for donations, we felt that we had earned the right to do that because we were cultivating their trust and friendship. The campaign was a way for people to give back to Divine, to feel personally connected to something really special, and to show that Divine still has a thriving fan-base. We made our goal and then some.
Filmmaker: Divine is such a larger than life figure. How did you approach humanizing him?
Schwarz: That was very important of course, to go beyond the layers of eye liner and wigs and hairspray to find the very real man inside. Divine never considered himself a drag queen. He was a character actor who played female parts. He was a fantastic and brave performer, a fine actor, and a warm, generous person who couldn't have been more different from the roles he played. I wanted people get to know the man behind the mask of the Divine character. He was a sweet, soft spoken guy with so much love in his heart. People have told me they felt a sense of peace and loving when they were around Divine. He couldn't have been more different than the characters he played in the John Waters films, but people just assumed he was that way. It was actually a great frustration for him. We wanted to avoid hagiography and certainly Divine had his insecurities, an addictive personality, and a spending problem. It was important to look at the craziness too, which I think makes him even more endearing.
Filmmaker: Waters and Divine are less shocking now than they were at the time. How did you create the context to explain the shock value of their work?
Schwarz: Oh I don't know – Pink Flamingos is still pretty shocking. It definitely still packs a punch, especially with people who haven't seen it before. And not just the dog shit scene. The scene where Divine gives her son a blowjob on camera is one of the most transgressive moments in any movie ever. But John and Divine were making those films to shake up the love generation. They wanted to scare hippies and become famous and it worked. Divine's look in Female Trouble was a punk rock before punk rock. Those films have been hugely influential in pushing boundaries in humor. Johnny Knoxville and the Jackass crew have certainly taken their cues from John Waters. It's amazing to me that the Jackass films are so hugely successful and distributed by Paramount Pictures. Shock value is completely mainstream now and it's harder and harder to get a rise out of an audience. That's what I loved about the original Hairspray being rated PG – what's more subversive than that? But Divine was there first – she ate shit so we don't have to. He certainly helped to make drag hip. Before Divine a lot of the drag world was trying to be pretty and feminine, or doing Judy Garland impersonations. Divine helped make drag radical and subversive.
Filmmaker: Making a film about a person who is no longer with us is difficult, mainly for the obvious reason that you can't interview them. How did you approach getting Divine's point of view?
Schwarz: We were lucky to find some very revealing interviews that Divine did over the years. One of the best sources was extended audio interviews John Waters did with Divine for his book Shock Value. Thank God those tapes survived. As with my last film, Vito, it was really important to weave a first-person narrative throughout the story when it was possible. We were able to include audio interviews of Divine talking about some of the more dramatic episodes in his life – the difficult break with his family and how they reunited, his struggles being taken seriously as an actor, and the problems he faced being pegged as a cult movie star and being worried about his future. One of the best moments we found was Larry King asking him if he was a transvestite and his one-word answer, "No." Through these interviews and the hundreds of candid photographs, vérité footage, and film clips Divine is certainly front and center in the narrative.