Back to selection
Five Questions with Sunlight Jr. Director Laurie Collyer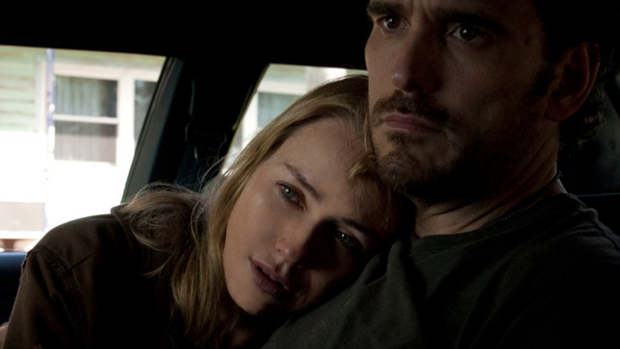 Sunlight Jr.
The following interview was originally published in May 2013 to coincide with the world premiere of the film at the Tribeca Film Festival. Sunlight Jr.goes on release theatrically today through Gravitas Ventures.
While the lives of the working class are not the stuff Hollywood dreams are made of, they are at the heart of Laurie Collyer's new film, Sunlight Jr. Starring Naomi Watts and Matt Dillon as a couple dealing with an unexpected pregnancy while trying to survive on minimum wage jobs, Sunlight Jr. premieres at the Tribeca Film Festival this weekend where it is sure to stir up a conversation about what it means to be numbered among the working poor in American society today.
Filmmaker: Although income inequality and poverty is one of the biggest issues facing America right now, very few films are set on the working poor. Which came first – your interest in making a movie about the working poor or the story you wanted to tell?
Collyer: I think they are inseparable – the subject matter and story – but if I had to choose, I'd say it was my interest to set the movie against a backdrop of one of the biggest issues facing America right now. Poverty and income inequality. Minimum wage work represented 21% of the labor lost after the bank crash of 2008, but 57% of the jobs created since the crash represent minimum wage work. You can't live on minimum wage work in this country. You can barely survive. Barbara Ehrenreich documented it in her book, Nickeled and Dimed.
Filmmaker: What was your writing process? How much time did you spend on the script? Did you write every day while you were working on the script or did it evolve over time?
Collyer: Cinereach gave me a development grant and I wrote the script in three or so months, with a few polishes over the next six months.
Filmmaker: At one point did Naomi Watts and Matt Dillon come aboard and did this help you secure financing for what some might see as a risky project?
Collyer: We knew that having stars attached would help with financing, but it was most important to cast the actors that would be perfect for their roles. Naomi and Matt are stars because they are genius actors so we lucked out landing both big stars and amazing actors. When you watch Naomi and Matt in the movie, their movie stardom immediately falls away as they embody their characters. It was an honor and a privilege to work with such fine actors.
Filmmaker: Did the script change after the actors became involved or was it shot as written?
Collyer: Both actors had great notes, and I used them. My d.p. gave great notes too and during prep helped me rewrite several scenes. I rewrote the last scene of the movie on set. That was crazy and scary but endings always come last to me. Same thing happened with Sherrybaby.
Filmmaker: Both Sherrybaby and Sunlight Jr. explore the question of what it means to be a parent. Were you thinking about this as you wrote either project or did it just happen to come up in the writing process?
Collyer: My mother is an Italian American, [and they have] a very strong mother culture. They worship the Madonna or St. Teresa and the mothers are obsessed with their children, doting especially on the males. I think I have a bit of that culture in me and the idea of family is a strong one. My own family is very intense. I was becoming a parent and making movies about becoming a parent. That was how I expressed it. Now I'm ready to make movies about being a lover. (Italians are also obsessed with sex.)