Back to selection
NOTES FROM TRIBECA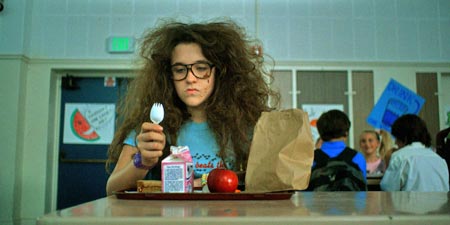 With Tribeca wrapping up this weekend I thought this would be the right time to give some of my highlights from what I saw this year. Sadly, I didn't get out to as many movies as I would have liked (but Howard Feinstein did, and he writes about some of them in his preview and at the half way point) but here's some notes from my vantage point.
Best Performance
Melissa Leo in The Space Between. Leo plays a grumpy airline stewardess who after her flight is grounded on 9/11 has to watch over one of her passengers, a Pakistani-American boy. But when she learns that his father works at the World Trade Center she decides to take him back to New York.
Leo portrays the character of Montine with aching despair as we learn the deep-seeded demons that have driven her away from most of the people who love her (and into the bottle). It's a tour-de-force performance that rivals that of her Oscar nominated role in Frozen River. (Leo received a special jury mention when the fest awards were announced.)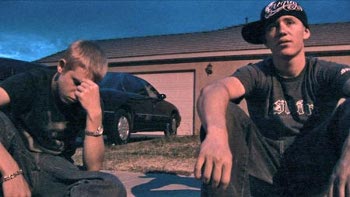 Documentary To Watch Out For
Tyler Measom and Jennilyn Merten's Sons of Perdition takes a look inside the polygamist community in Arizona, specifically three boys who escape and their journey to find a life in a "new world." Followers of the Fundamentalist Church of Jesus Christ of Latter Day Saints have been practicing polygamy since the 1800s. But as we quickly learn, many of the children living in this bubble are not happy. Now the small Arizona town where the the followers live, including their "prophet" Warren Jeffs (who's currently incarcerated), has become a way station for teens who have run away from the brainwashed life they were born into and the real world in front of them.
Following the teens for two years, Measom and Merten use a verite style to show how these boys survive away from "the Crick" (the polygamist community). They drink, do drugs, watch TV, search for jobs, learn who the president is, and some of them begin attending school. We also see how the boys try to get their siblings to join them. However, it's obvious that when a female wants to leave there's more of an urgency from the father to get her back than if it were a male. Females in the community are a prized possession. Once they are at a developed age they are used as chips to increase the lifestyle of the father and the future husband. The girls who have escaped talk about this in shocking detail.
Using tapes of Jeffs' teaching as a creepy voice over at times, the film has incredible access into the lives of these teens. Though at a point the film turns a lot of its focus on if one of the subject's sisters can successfully run away from the community, by the end the directors tie up all loose ends. At the least, the doc should find a TV deal.
Primed For Cult Status
This film has divided many critics and I have to admit walking out I questioned what it was that I liked about it, but actor J.B. Ghuman, Jr's feature directorial debut Spork (pictured above) is a funny, foul-mouthed tale that if it finds a life on the festival circuit (I think it would be popular at LGBT fests) could build a cult following in the years to come. Part Napoleon Dynamite, part Mean Girls, the film is set in a junior high school  in the late 90s and follows a frizzy-haired hermaphrodite (Savannah Stehlin) whose nickname around the halls is "Spork" (combining a spoon and fork). Being bullied by the popular girls she decides to get some payback by signing up for the school dance contest which leads to a entertaining ending.
But Ghuman explores issues of race, class and sexuality that impressed me and he also has a creative visual style (soundtrack isn't bad either). Also going for the film is its timeliness to the recent school bullying incidents that has found a lot of news coverage. (Spork won Best Feature in the Tribeca Film Festival Virtual category.)
Best Place To Catch Up With Friends
It's funny, but the best way to reconnect with friends and colleagues in New York is sitting in a theater, and we all had a lot of time to do that Tuesday night. Attending The Killer Inside Me screening, the start was delayed over a half hour as we waited for director Michael Winterbottom and the stars of the film who were running late and had to still go through all the red carpet fun. Though there were some grumblings during the wait, most of us used the time to make post-screening plans.