Back to selection
Shooting in Africa with A Most Wanted Man Producer Andrea Calderwood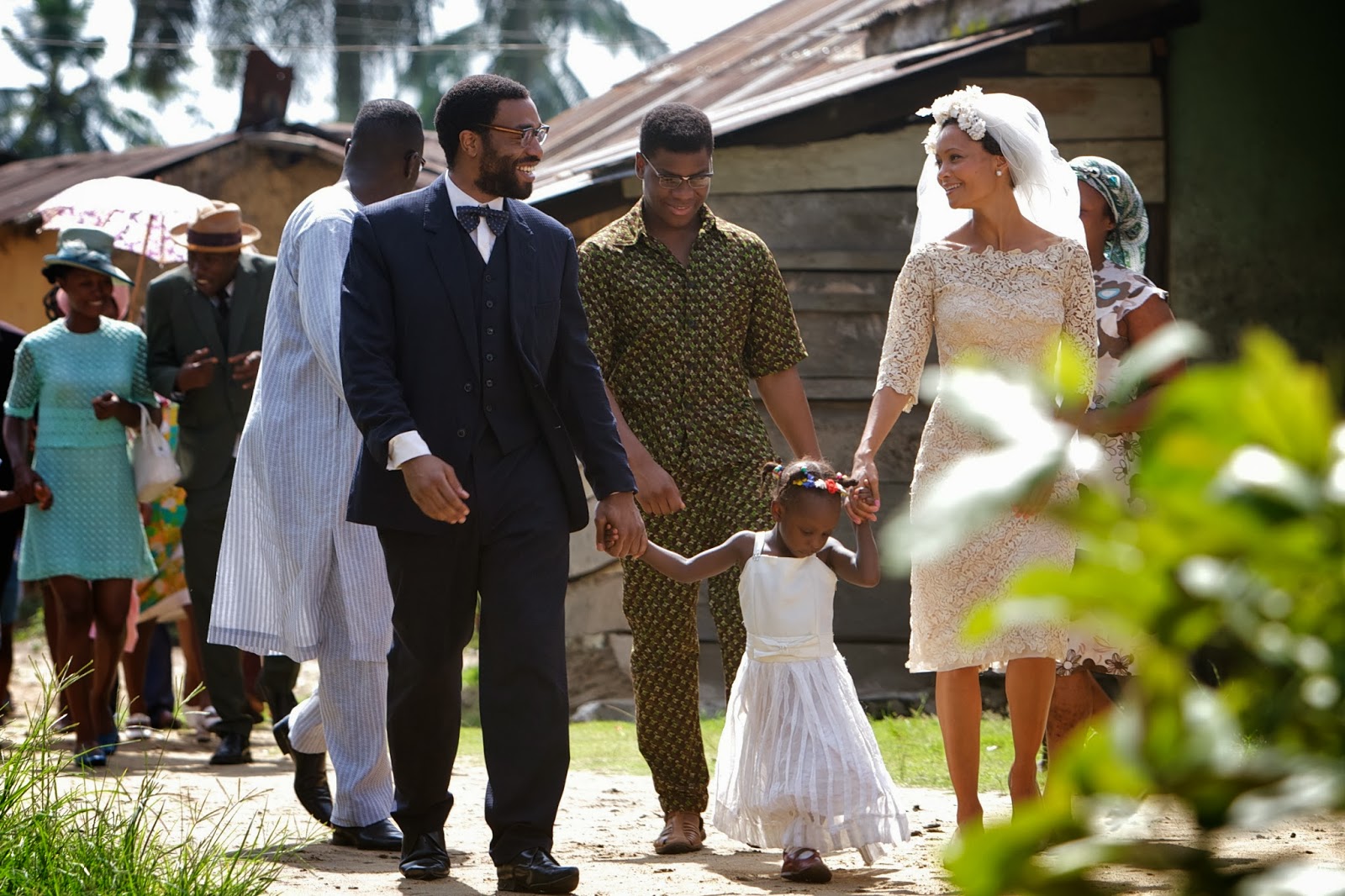 Half of a Yellow Sun
I recently met Andrea Calderwood at the Trinidad + Tobago Film Festival where she was in town to support Half of a Yellow Sun, helmed by Nigerian director Biyi Bandele. Originally from Scotland, the London-based Calderwood has long been a formidable presence in the U.K. film world, a BAFTA-award winner for Kevin MacDonald's The Last King of Scotland, who even made Scottish news herself last year when The Herald named her to its list of the top 50 most influential women in the country. This year she's busy as always. Our Kind of Traitor, an adaptation of the John le Carré novel starring Ewan McGregor is in pre-pro, and Alan Rickman's A Little Chaos with Kate Winslet is in post. (Anton Corbijn's A Most Wanted Man with Robin Wright, Willem Dafoe and Philip Seymour Hoffman just had its U.S. premiere at Sundance.) Yet Calderwood graciously found time in her hectic schedule to speak exclusively with Filmmaker about her most recent Africa-set projects, and to shed light on the specific subject of shooting on the continent, something she knows as well as any Anglo producer around.
Filmmaker: Which African nations have you filmed in? Do you have an opinion as to which country or countries are easier or more difficult to navigate? Why?
Calderwood: Ghana, Uganda, Namibia, South Africa, Mozambique, Kenya, Nigeria.
South Africa is clearly easiest because it has the infrastructure, crews and equipment, as well as tax rebates and other financial incentives. It has a well-established film and TV production service sector, as well as a thriving commercials business, great technical crews and access to equipment houses. It has a wide range of physical locations. However, it does not double as easily as some might think for other African countries. As a production company, we chose to shoot The Constant Gardener and The Last King of Scotland in Kenya and Uganda, respectively, as South Africa did not represent either country with any authenticity. We did successfully recreate Kuwait and Iraq in South Africa, Namibia and Mozambique for Generation Kill, but that was very much about aspects of landscape, as well as production values for combat sequences. Where it became more difficult was when we had to try and represent the Iraqi population. Namibia and Mozambique also worked well because we could work there from a production base in South Africa.
Kenya also works well for us because we have a great production partner there, Blue Sky Films, with whom we have collaborated since The Constant Gardener. They are extremely skillful at facilitating all scales of production, from three to 30 million. Also because Kenya has a tourist culture, as well as being the center for the African NGO/international development industry, flights, hotels, restaurants, visas and customs, etc. – all the infrastructure of travel – is more manageable, which helps with bringing in international crews and accommodating their needs.
Uganda was also extremely welcoming for us. Despite having less of a tourist or international business infrastructure at the time we shot [The Last King of Scotland] there in 2005, the Ugandan government was extremely supportive in facilitating the film, as were the Ugandan people who worked with us, who were keen to see the story of Idi Amin told.
Nigeria was a challenge, because although there are about 3000 Nollywood films made annually, they are, as described by Nigerians, mainly on a "home video" scale. We therefore had to bring in all the feature-scale equipment from outside Nigeria. Customs and visa/travel infrastructure are a challenge, and proved to be very expensive – as much of Nigeria's international business is in oil and gas so prices tend to be high. However, what made our film possible was the enthusiastic backing of the private sector in Nigeria. Sixty percent of our financing came from Nigerian private investors. Shareman Media, our producing partners who raised that financing, and the financial arrangements with a Nigerian government fund, were the driving forces behind the film being able to be made on the scale it was. We also received crucial support from many individuals in the private sector who helped us overcome the logistical challenges as they came up, with their advice and support. Half of a Yellow Sun was shot in Calabar, Cross River State, which has a purpose-built sound stage, which we were the first production to use, and we had great support from the governor and former governor there.
I only shot briefly in Ghana, on another production in 2005, so couldn't claim to have a good overview of production there.
Filmmaker: Can you discuss some of the greatest challenges a filmmaker might face when shooting in Africa, as opposed to in Europe or in the States?
Calderwood: The greatest challenge is the attitude of Europeans and Americans to shooting in Africa. I have often said that the hardest part of filming in Africa is getting there – persuading people to back you for the film in the first place, then persuading cast and crew to come. A lot of cast and crew deselect themselves, because of a range of fears and misconceptions about Africa, and often plain ignorance about the country they are being asked to come and work in. On the other hand there are also great people who embrace it enthusiastically. International cast and crew can often be pleasantly surprised when they get there, and can often build strong bonds with the place, and return again and again. South African technical crews are the most inventive and resourceful I have ever worked with. We could not have shot Half of a Yellow Sun, for example, without them. And when international crews work with them they often ask them on to other non-African productions. Other crew members in Nigeria, Kenya and Uganda have also been asked to continue to work on other international productions after our productions there. It's just a matter of creating the opportunity.
It's not to say there are no physical challenges – we had an outbreak of typhoid and malaria on Half of a Yellow Sun – but they are manageable with prevention and treatment and following the recommended precautions. So although they sound scary and are, of course, a huge and serious problem for large sections of the population in Africa, they are not necessarily dangerous for well-nourished film crews.
Logistics and travel infrastructure can also be a problem, but they can again be managed by taking advice and planning ahead – though not always as possible as you'd ideally like on independently financed films, of course.
Internet and mobile communication is getting better all the time, but again, expectations have to be managed when shooting in remote locations.
In the end, most cast and crews I have worked with on shoots in the various African countries I have worked in say that the quality of the experience of working with the people, and the texture of the different countries onscreen, has far outweighed the practical challenges of working there.
Filmmaker: How do you deal with the (sometimes questionable) government entities in these countries?
Calderwood: I'd say all of our government entities are questionable, whether in Africa or anywhere else! As with filming anywhere in the world, each country has a different system for permission and support for filming. What's important is taking advice and having communication upfront. In Uganda, as a smaller country, the system is quite centralized through the president's office, and we were advised that it was best to seek presidential approval before beginning our production. President Museveni was extremely supportive, as he recognized the historical value of the story of Idi Amin being told, as well as wanting to encourage international business in Uganda. Other countries, like South Africa and Kenya, have well-established government agencies for film, as well as well-established production service companies who are used to handling permissions and advising international film productions. Nigeria does have a film commission, but there have been few full-scale international productions shot there. Nigeria has a federal system, so the official entities that are most relevant are the state governors and their offices. Cross River State has built the film studio and is actively encouraging film production, as is Lagos State, which also has a film office. Nigeria is a very entrepreneurial country, so often it is individuals from the private sector who can be most supportive, and they are also used to negotiating government regulations.
It's important not to let your own preconceptions get in the way. More than once I've seen incoming productions – and I've done it myself – thinking they know best about how to go about a certain challenge, only to find that the local advice would have saved time, money and frustration. On the other hand, good filmmaking practice works anywhere, so the trick is to find a way to meld experienced filmmaking knowledge with good local knowledge.
Filmmaker: What pieces must fall into place before you'll take on an Africa-set project?
Calderwood: What comes first for me is a story that I'm interested in telling, with a scale and drama that I believe a wide audience will want to see. I guess the reason I've made several films set in Africa is that there are many big stories to be told there.
As with any production anywhere, having the finance in place before you start is crucial – but even more crucial in the African context, because resources and equipment are not necessarily available at short notice, so planning ahead is required. Having said that, I have, of course, gone into production where the finance is still being finalized, for the usual reasons, but that has just made things even more challenging!
What's crucial is to be backed by financiers who understand the practical challenges that you might be facing, and will work with you on that basis – i.e., not delaying financing for petty procedural reasons, when that might be the difference between being able to access a charter flight for equipment, or not.
Also, filming permissions and an understanding of logistics all have to be set up in advance – as it's not always possible to pick up the phone and have things agreed on, or shipped, overnight. Also, in some African cultures it's positively rude to demand things in a hurry without the proper protocols being observed, so taking advice about how best to deal with local processes and respecting them is the best way to get things done.
Filmmaker: You tend to work with international, star-studded casts. How do you convince actors of Forest Whitaker's caliber to work in perhaps less than ideal, on-the-ground situations?
Calderwood: I like to work with the best talent I can! I think what draws such high quality actors to these roles is that they can be unusually challenging and complex characters, in bold and significant situations. From the beginning, Forest saw a way to play Idi Amin from the inside, as a contradictory human being, which is what led to his work being honored with an Oscar for the quality of his portrayal. Thandie Newton, Chiwetel Ejiofor and Anika Noni Rose were all drawn to the strength of the characters in Half of a Yellow Sun – privileged people making surprising decisions in their lives, and dealing with the sudden privations of war. All of these actors have had to deal with not having the kind of backup and facilities they were used to – some of which were not much fun at the time. But all of them have said that the experience they had working in places where the story was set – and being able to work alongside great actors who had direct experience of the story being told, like Stephen Rwangyezi in Uganda, or Onyeka Onwenu in Nigeria – have added to the quality of the work, which shows onscreen.