Back to selection
The Top 10 Scenes of 2013 (From One Woman's Perspective)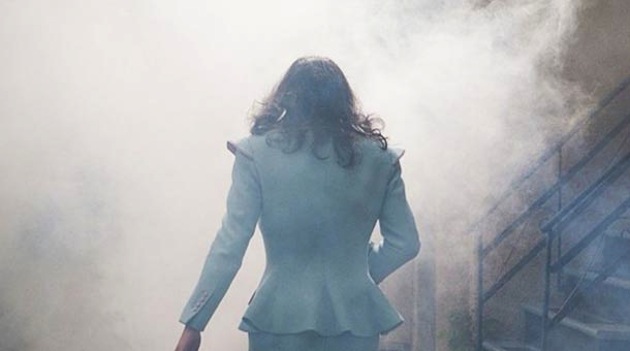 Laurence Anyways
Tis the season of the Top 10 list. In what I figured was an out-of-the-box alternative, I decided to compile not necessarily my favorite films of the year, but the scenes that have resonated with me most. Then, Nicholas Rombes had to go and prove that the "great minds" adage is alive and well. Perhaps fortuitously, our lists have nothing in common. Though Upstream Color would likely crack my phantom Top 10, there is no one individual moment from the film that begged my memory for recognition. The same can be said for Inside Llewyn Davis, Bastards, Viola, Like Someone In Love, The Selfish Giant and other fantastic 2013 films that burn brightly in my mind as comprehensive works. And, as you may have guessed, I'm not necessarily as sweet on some of the following films as I am on the aforementioned. (I seem to be the only person alive who prefers the contained relentlessness of McQueen's earlier features to the sprawl of 12 Years a Slave.)  Another caveat worth noting: I only considered films that were distributed this year, otherwise, you can bet I'd find some way to make a case for the final ten minutes of Stranger By The Lake.
The Act of Killing (Director's Cut), Anwar the Victim
For such an arresting, convention-shattering film, a redemptive revelation for primary antagonist Anwar Congo seemed a moot inclusion. But Joshua Oppenheimer, magician that he is, gets it in without moral compromise. When Anwar, a wire round his neck, finally assumes the inverted role of victim, he breaks down. A more traditional filmmaker would take this moment to wrap things up in a nice, archetypal bow, but Oppenheimer diverges from the norm with two counteractions. From behind the camera, he plainly informs Anwar that what he is feeling is not remotely comparable to the pain of his victims, since it is just an act. He then follows the scene with a near-fantastical rendering, set against a waterfall, in which Anwar imagines his victims thanking him for sending them to heaven. In effect, Oppenheimer captures an emotional payoff that remains true to Anwar's character: momentarily lucid, but deluded just the same.
At Berkeley, Opening Classroom Debate
About half of my fellow audience members emptied out over the course of this four-hour film when I saw it at the IFC Center back in November. While I remain puzzled by consumers who have little regard for what they're buying into, Wiseman is free to take as long as he likes when he's capturing exchanges of this caliber. A 20-minute sequence that sets the stage for the documentarian's portrait of the campus and conference rooms that comprise America's most revered public institution, this classroom debate is a fascinating look inside a generational perspective on the dissolution of the middle class and modern education reform. Juggling this racially and socioeconomically charged topic, Wiseman's unobtrusive editing and cinematography engage the viewer's subjectivity.
Before Midnight, "You Are The Mayor of Crazytown"
Only the Before trio could pull off this climactic scenario with such effortless aplomb. Chock full of non sequiturs, explicit and implicit jabs and the sort of loving reprieves that only the longest and deepest relationships can inspire, Hawke and Delpy exercise decade's worth of tension in this extended sparring session. The dialogue and execution are so pitch-perfect, you may be surprised to realize this scene is half an hour long.
Blue Is The Warmest Color, The Café Scene
The patriarchal problems in Blue's framework may unravel with each viewing, but I have trouble picking apart any fragment of the two leading performances. In a film that's a veritable collage of emotional wreckage, it's the café scene in particular that sucks the air out of my lungs. Every sentence of dialogue drips with intention (Adèle) and deflection (Emma). If you need any evidence as to how this film was mismarketed as a "love story," look no further. Sublimely incompatible, Adèle and Emma's entire relationship is predicated on sexual chemistry, a card Adèle tries to play one last time to heart-breaking effect. Exarchopoulos and Seydoux have a chokehold on their respective characters and gift for symbiotic acting as encapsulated in this unsettling attempt at closure.
Computer Chess, Papageorge Strikes Out
Andrew Bujalski is a pusher. It wasn't enough to make an ingeniously original period piece that confronted our current conflation with technology with the utmost charm (Her who?), he had to allow for some technical prowess as well. As Papageorge breaks free from the monochromatic confines of the conference to his mother's house, Bujalski plunges us into an unexpected Technicolor trance. What this format shift represents is certainly up for discussion, but it is also one that is equally enjoyable at face value – in large part due to Bujalski's assurance in the idiosyncratic.
Frances Ha, "What I Want in a Relationship"
The Greta Gerwig "brand" of acting — replete with naturalistic ticks, lurches in dialogue, and unabashed physicality – may not be for everyone, but chances are, if you like it, you like it a lot. It'd be hard to imagine Frances Ha realizing its devastation and charms without the presence of its lead actress, and this scene is no exception. A poignant, if clichéd, remark about locking eyes with the person you love across a room is just another opportunity for Gerwig to finger the pulse of humanity with her individualistic slant.
Laurence Anyways, "You Have Crossed The Borders of My Life"
"Precocious" and "Xavier Dolan" go together like bread and butter. Though not the greatest admirer of his overwrought first two features, Dolan won me over with Laurence Anyways, a film that grounds his panache in a challenging and deeply felt love story. Like Blue Is The Warmest Color, its decade- long span is ripe with emotionally fraught and spectacular moments — with due thanks to Melvil Poupaud and the stunning Suzanne Clément — but my favorite is perhaps relatively understated. Ultimately estranged from Clément's Fred due to her transgenderism, Poupaud's Laurence, never to be deterred, begins stalking around her world in secret. Or so she thinks. At home, parsing through papers, classical music reverberating in her headphones, Laurence sits in oblivious repose as her live in-girlfriend Charlotte enters the door with the mail. What happens next propels Laurence and Fred's inevitable romance into its final act and the finest section of the film.
Museum Hours, The Bruegel Room
The meditative, documentarian approach that defines this Jem Cohen foray into fiction is at once quietly engaging and utterly unforgettable. Practically every sequence is breathtaking in its patience and formality, though the historian-guided tour through the Kunsthistorisches' Bruegel room makes for a nice microcosm of the film. Drawing the iPhone-addled tourists towards The Conversation of St. Paul, the historian asks her audience to identify the painting's centerpiece. Countering their citations of the eponymous St. Paul and the horses' asses, she points toward a little boy in a tin hat, beneath a tree. "There's no reason we all have to share my opinion," she says. "And perhaps we leave it at that." The same could be said for Museum Hours — which entertains its protagonists as much as Vienna and the very act of perception — and for multi-faceted art everywhere.
See You Next Tuesday, Pregnancy Poop; Soft In The Head, Shabbos
Admittedly, the disclaimer about every member of this list being a 2013 release was a bit of a stretch. I felt compelled to make an exception for my two favorite, truly independent films of the year, which, as luck would have it, make a cracking double bill. An equally dynamic duo, See You Next Tuesday's Eleanore Pienta and editor Sofi Marshall (under Drew Tobia's skillful direction) dupe the viewer into dreading a birthing scene after an elongated, viscerally painful subway ride. The actual end result, cathartic as it may be, is not quite as heavy. Pienta's facial expressions, however – which deceptively scream "contractions" — are very much worth their weight in gold. Like See You Next Tuesday, Soft In The Head centers on a categorically difficult woman, played by Sheila Etxeberría, who, after being unceremoniously dumped by her boyfriend, drunkenly elbows her way into a Shabbos dinner. Silver introduces his characters through head-on collisions and the resulting scene is a hilarious, kinetic study in attractive repulsion. Carl Kranz's love-struck, puppy-dog gaze as he watches Etxeberría cough up globs of kale (?) says it all.
12 Years a Slave, Solomon in a Noose  
A quarter of the way into the most ecstatically hyped film of the year, I was wondering when Steve McQueen was going to show his face. My answer came in the form of an exquisite, unflinching, wide-angle long take of plantation slaves going about their daily duties while Solomon Northup is strung up in a tree. After betraying his newfound servitude and lashing Paul Dano, Chiwetel Ejiofor's Northup is left to dance in the mud, pointing his toes to ensure that his noose does not become taut. Few know how and when to use long takes like McQueen, who almost always achieves maximum devastation when he fixes Sean Bobbitt's lens and forces us to truly take in what's transpiring on screen. The cinematography demonstrates how commonplace and lonesome these torturous acts were, as it seems ages before a woman is bold enough to offer Northup's parched lips a sip of water.