Back to selection
The Year in Gear: Goodbye 2013, Here Comes 2014K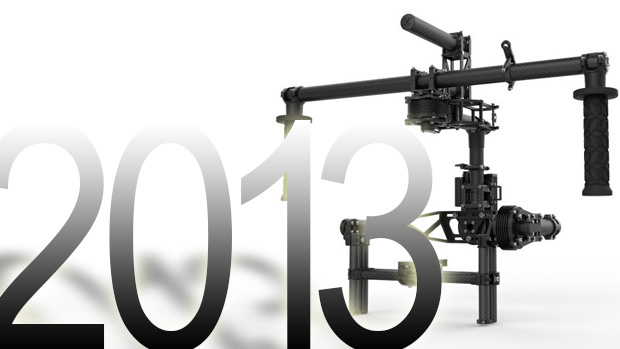 It is perhaps indicative of how low-key this year was that when I first scribbled out a list of things that were "big" in 2013 I discovered that half of them were on last year's list! In many respects 2013 proved to be a year of tentative advances and waiting, rather than one of incredible new tools to play with.
Which is not to say that some interesting products weren't announced and delivered. Sony shipped the F5 & F55, as well as the 4K upgrade for the NEX-FS700, and at the other end of the spectrum Blackmagic shipped its $1,000 HD Pocket Camera. ARRI announced a somewhat cheaper HD camera they said will be for documentary shooters, and hinted at one day doing 4K, while Canon shipped the EOS-1D C 4K DSLR and updated firmware for its cinema cameras. But when we look back on 2013, it's probable we'll think of it as the year of digital stabilizers and drones rather than 4K cameras.
Digitally Stabilized Gimbals (also referred to as Brushless Motor Stabilizers)
In April Vincent Laforet started hinting about a new piece of gear he'd been using that would be a "game changer." He said it would be as big, if not bigger, than the Canon 5D Mark II. That was quite a claim, and the announcement of the MoVI gimbal created quite a stir. These gimbals had actually been in existence for some time, but the MoVI and Laforet's promotion seemed to really capture the imagination. Almost nine months later there are now several competitors, including some very low-cost Chinese offerings, and you can even find instructions on how to build your own.
With their smaller size, these gimbals make it possible to create moves that are difficult or impossible with the larger, traditional Steadicam-type stabilizers. And if you have the remote control options, they can give a DP much greater control when shooting. These gimbals are also simpler to begin using than traditional stabilizers, though that doesn't mean that the units don't require some learning in order to get a good picture; they can suffer from noticeable up-and-down motions when the operator is walking, and with large cameras operators may still want to use a vest for support on long shoots.
One other impact of these new stabilizers: they seem to be bringing down the prices of the traditional gimbals.
While these gimbals produce impressive shots, like any special effect, it can be overdone, and it remains to be seen if we'll look back and remember the digital gimbal as being as big a game changer as the arrival of the 5D Mark II.
The Year of The Drone / Quadcopters & Hexcopters
Another technology that caught our attention this year was the camera drone. These range in size and price from small units that carry GoPros up to Hexacopters that can boost a DSLR or even a RED into the air. At the low end, DJI has done a lot to promote shooting using GoPros in the air, and the company has dropped the price on the original Phantom Quadcopter to under $500. They are now offering a new version with an HD camera attached.
And then Amazon announced they were developing drone delivery, so maybe your next camera will be delivered by drone?
Individuals wanting to use a drone for business still faces major uncertainties because the FAA doesn't allow anyone to use drones for commercial purposes. They fined one person $10,000 for shooting video with a glider.
That case is being appealed, and in the meantime the FAA has announced that they are conducting investigations into possibly changing their policy.
4K
2013 wasn't so much the year of 4K, as the year of "do we need 4K?" Or, to put it another way, "Will 4K actually take off?" For most of the year I was a skeptic, but now I'm starting to think that 2014 will be the year of 4K.
Sony shipped their high-end 4K cameras (F5, et al) early in the year, but just a few weeks ago began shipping the FDR-AX1, a $4,500 4K camcorder. That's still expensive for a camcorder, but it would not be surprising to see a smaller and cheaper 4K camera sometime in 2014. Sony wants consumers to buy those 4K displays, and they'll need a 4K camera to go with it. Why is this significant? If consumers are buying 4K cameras, professionals are quickly going to be pressured into moving into 4K just to keep up.
Meanwhile, 4K TVs and monitors are dropping in price. Dell will have a 28" UltraHD monitor that will be priced under $1,000 in "early 2014."
Netflix says they will start streaming in 4K in 2014.
Apple has shipped the new Mac Pro, which, with its two GPU cards, seems engineered for editing 4K video. They also shipped an upgrade to Final Cut Pro X that improves its handling of 4K footage. (Final Cut Pro X isn't the first or only NLE to support 4K, with most of the major players also now supporting 4K.)
And any day, Blackmagic should start shipping its Blackmagic Production Camera 4K, which was announced at NAB. Blackmagic has had some problems developing this camera — as they did with their original camera — but they now say development is almost done, and sample footage is starting to appear.
And soon we'll have the NAB 2014 announcements.
Hardware and software is being updated, prices are falling, but it's not all peaches and cream. The jump to 4K does have at least one measurable downside; the sensitivity of both the Sony FDR-AX1 and the Blackmagic Production Camera 4K is lower than that of the comparable HD models (which shouldn't be a surprise given the increased number of pixels on the sensors).
Other Cameras
I was going to include small action cameras like the GoPro on this list, but then I realized they were on last year's list. GoPro did update their cameras, but the latest models are still not true 4K (they support only 15 fps), even if one was used to shoot a short part of The Hobbit.
Already mentioned was the Blackmagic Pocket Camera, but this was also the year that the Digital Bolex camera was funded through Kickstarter. They too started shipping the cameras in December. RED also announced a new sensor, Dragon, and reports are now starting to appear from users. Both developments have created a lot of excitement in different circles, but it's too soon to tell what impact they will have on the market.
The Death of Shallow Depth of Field?
Finally, like all arts, filmmaking is subject to changing tastes and fashions. Since the arrival of the 5D Mark II, shallow depth of field seems to have become the definition of "high-quality" video. This year I started hearing some push backs against it; at two different events I heard cinematographers talk about their distaste for the overuse of shallow depth of field. With many people embracing cameras with smaller sensors (the Blackmagic Pocket, the Digital Bolex) perhaps 2014 will be the year we'll kick the "Shallow DoF" habit!
Correction: The original post had an incorrect price for the FDR-AX1.