Back to selection
Interview with Rich Hill Director Tracy Droz Tragos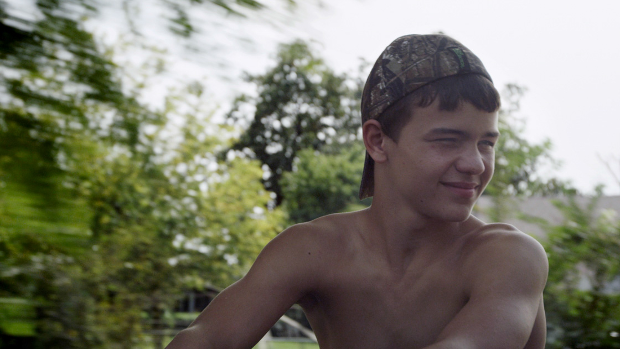 Rich Hill
Filmmaker: Why this movie?  Why did you decide to do it?
Tragos: I made my first documentary Be Good, Smile Pretty after discovering a picture of my father the day he was killed in Vietnam. The film was well received and won the Emmy Award for Best Documentary in 2004. It was difficult to find another film project with such a deep connection – and then came motherhood. I wanted to give my daughters a different childhood than I had had – with a mom who was fully present. That was my choice then – but sometimes I wonder if I wouldn't have been healthier for all of us if I'd made a different choice – to continue making films. It's a hard, hard balance. Motherhood is deeply rewarding; but it can also be very isolating and frustrating. I didn't live in a community with a lot of child-care supports. I longed to engage on another level – and use a different part of my brain.
When my second daughter started nursery school, I knew it was time for me to go back to filmmaking. I began developing several projects – but it wasn't until my first cousin Andrew and I hatched a plan to collaborate that a project really took off.
Rich Hill is where my father grew up. As a child, I spent every summer and winter break there. Like many other struggling rural towns across America, the conditions have become increasingly bleak. Rich Hill has a sizable jobless population, starving local businesses and many vulnerable families. Yet, despite the grief that Andrew and I felt around its current circumstances, it was still a place of belonging and connection for us. We wanted to understand what it was really like to live in this mined-out coal town. 
We filmed everything. Then, we rode on the school bus, and went home with kids. We were invited inside, welcomed by families who were eager to share their stories, but also surprised because no one had ever before taken such interest. We witnessed up close their challenging and often dire conditions and their deep bonds with each other. 
The children were still young enough to have optimism; the adults' expectations were, for the most part, much lower. Everyone was in survival mode. And no matter what the age, they yearned for self-worth. With so few resources, they got by on little more than instinct and familial love. As a mother, I couldn't turn away. This would be more than a personal story about a particular place – this would be about families in towns across America, who were isolated and, in large part, ignored. We had found our film. I also found that as a mother, I had an empathy with our subjects – both kids and parents. I was a better filmmaker because I was a mother – more experienced, more challenged, more understanding. And I think that shows in the access and conversations we were able to have with all our subjects.
Filmmaker: How much of your crew was female?  Was hiring women a consideration for you?
Tragos: Well, if you include me, 50% was!
We had a very small crew. For the most part, it was Andrew and me – but when we did hire additional production crew, our sound recordist and assistant camera. We reached out to two folks Andrew had worked with in the past. They both were men.
Because of where we were shooting – in Missouri  – Andrew had most of the "Missouri" film connections and it made sense to defer to him on that.
When it came time to hire an editor, I was very interested in women – and tried to hire many of them!  The timing never worked out. But I was always interested in working with another woman.  Ultimately, we ended up with Jim Hession – who was the best choice for our film. He was trying to break out of the co-editor/assistant editor role, and he was very persistent. 
When we worked with our assistant editor, Jessie Dorfman, at the Sundance Edit & Story Lab, she talked about how hard it is to break out of the co-editor/assistant editor role. I told her to stay in the conversation – be persistent – as Jim had been.
Looking back at my own career, I see how I might have missed out on jobs or opportunities because I wasn't more brash about staying on the radar and in the conversation. I'm at a place in my career now, however, that I am no longer bashful. And when I'm looking to hire, I hope to encourage other women filmmakers and crew members to be the same. 
Filmmaker: How did you go about raising funding for it?
Tragos: Raising funds was not easy, no matter what your gender. It takes persistence. Taking rejection and coming back a second and third time. Ultimately, I saw rejection as the start of a conversation – and, in the end, I think that worked very well for us. Some organizations that turned us down initially, came back around the second time, or became Kickstarter donors and friends. 
It all started, however, with green-lighting myself and a conversation with my family about how much debt we could carry to invest in this film, and, in large part, my return to filmmaking.
The challenge was that I had taken a lengthy hiatus for motherhood, and had been off the filmmaking track. My contacts were "cold." So it felt like I was starting all over again. The first sizable grant funding came from Sundance, after we'd been in production a year and were really feeling the squeeze. I was in the carpool line of my oldest daughter's elementary school when we got the call from Rahdi. I felt like the weight of the world had been lifted from my shoulders. Once Sundance funding came in, that opened a lot of doors, and I think other funding organizations took us more seriously. More and more, I'm learning not to be bashful about asking. You have to be willing to put yourself out there and ask for what you need. Traditionally, I think men are bolder about "the ask," about their own credentials, self-promotion – all of it!
Ultimately, I feel we were quite successful with our fundraising, receiving the amazing support of the Sundance Institute, the MacArthur Foundation, IDA's Pare Lortenz Fund, Cinereach, Pacific Pioneer, and Sundance's Catalyst Weekend. We now have two amazing EP's on our film, Mike Zack and Bob Compton, who each gave sizable donations to the project through our fiscal sponsor, IDA. Support is out there – it's just getting yourself in front of the right people and being able to seize the opportunities when you are there.
Filmmaker: Do you think a male director might have handled the making of this film differently? How did being a female filmmaker effect how this film got made do you think?
Tragos: In large part, I think my gender allowed for our access.  The moms or grandmas were the key to our getting in the front door. There was a trust with the families in part because I could swap stories about raising kids, and show pictures of my family. For the most part, fellow moms have camaraderie – we know how hard it is, and are much less judgmental with each other about the pitfalls and frustrations. I also think our conversations went in a different direction because of my gender – and also the fact that I was a parent. And because of my "mom status," the kids had a certain respect for me. 
But the key here was collaboration – because there was also a male director present – my first cousin, Andrew, behind the camera. It was a really great combination to have us both working together. While Andrew was often silent behind the camera, he had a gentle way, and the kids felt comfortable giving him a lot of grief about any number of things. He was never an intimidating presence. I feel like both Andrew and I were invaluable to this film – as a team. We really both brought so much to the filmmaking process, and each from such different perspective.
Filmmaker: In what ways do you think being a female filmmaker has helped or impeded your trajectory in the film industry?
Tragos: Wow. Honestly?  I think it's tough. The whole bearing-children side of things put a solid pause on my trajectory after my first film. I have lived in fear of that "sophomore slump." In many ways, re-entry has been like starting all over again. At the same time, the break from filmmaking and life experience as a mother has made me a better filmmaker for sure – but it hasn't been the best for that "up, up, up" trajectory.  I suppose every trajectory takes a different shape. 
At the same time, I am really comforted about the attention that women filmmakers – or the lack of them – are getting. Women and men in power are trying to change things. As long as the pressure stays on the industry, and women continue to support other women, with organizations like Gamechanger and so many others, I have a lot of hope for all of our trajectories – even if we take time off for motherhood!
Filmmaker: Of the big blockbuster movies out there, which do you wish you had directed?
Tragos: That's an interesting question. I am a huge admirer of films that depict war as honestly and harshly as it deserves: The Deer Hunter, The Hurt Locker, To Hell & Back, The Fog of War. And as a total guilty pleasure, I would love to have directed the Katie Perry documentary, Part of Me – my daughters would have really liked that, too.
Filmmaker: What's next?
Tragos: I have a few projects "in development." Bottom line, I'd love to make more films. What interests me on a fundamental level is up-close humanity – intimate story-telling that gives a glimpse of the world from a very particular place. There are many subjects and issues close to my heart that I feel need to be elevated to make the world a better place – it's just the question of timing and what will fall together with enough momentum to be the project that takes the lead next.
Filmmaker: Considering this will be released AT Sundance: A) What do you hope to gain from being at the festival?  and B) Who would be your dream person to meet while there?
Tragos: I'm still processing the notion that we are going to premiere Rich Hill at Sundance. I haven't fully accepted that I'm not in some kind of fever dream.
By being at the festival, I hope that we will find an amazing distributor that will help us bring Rich Hill into the world so that it can be seen by ordinary folks, including by families like those in our film. I hope our subjects will be seen as heroes for sharing their stories. At its heart, our film is an invitation to empathy, to share a connection with those who might otherwise be avoided and dismissed. Out of that place of connectedness and shared humanity, we hope audiences will question how we justify denying resources and social capital to vulnerable families, who are, at the most fundamental level, so much like our own.
My dream person to meet would be – oh heck – Katie Perry. My daughters would think I was so much cooler than I am. And, more seriously, Mr. Redford for putting this Sundance business together in the first place. He has created an amazing organization that truly supports, inspires and gives opportunity to filmmakers.