Back to selection
At Rotterdam, Cinema's Components Stretched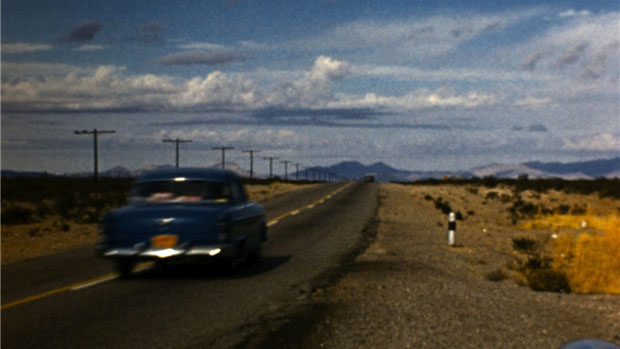 No More Road Trips?
The International Film Festival Rotterdam (IFFR) prides itself on being devoutly non-mainstream and an unabashed patron of independent cinema. Now, "independent" doesn't necessarily mean "good" (something the Rotterdam programmers would do well to realize). However, it does let one explore work that exists on the fringes of conventional formats, be it artistically or technically. As it happens, I saw two films at the festival — within 12 hours of each other — that challenged the norms of a movie and its components. The resulting juxtaposition left me quite intrigued by the experiments undertaken, and whether there was some method to the madness here.
An American archivist who founded one of the most respected motion picture archives in the world, Rick Prelinger specializes in home movies. From a historical collection of more than 9,000 of them, he created a road trip from New York to Los Angeles. The resulting compilation is No More Road Trips? I liked it, despite its choppy editing and defiantly leisurely pace. The documentary uses road trips to explore the experiences that are tangential to them, but equally integral. These could be eating at a diner together or drinking water wherever available. It also serves as nifty walk down memory lane for America while traversing along its various physical lanes.
This should not distract us from the unique thing about Road Trips: its appeal to audiences to be active while watching. It begins with a message stating, "Please make your own soundtrack." To state the obvious: this sounded like a fascinating idea, especially for a documentary like this. The sheer notion of depicting a road trip spanning America's coasts means including locations most stateside viewers can relate to. The exclusive reliance on home videos can be seen as a ploy to remove all remaining barriers between the audience and what's on screen: this is something you would shoot, Prelinger might be saying. However, going so far as to urge audiences to talk during the movie?
Quoting IFFR's official website, "For Prelinger, viewing films should be like watching sport together: the live response of the audience is essential to make the film performance complete." I applaud Prelinger's theory, and can see how in an ideal scenario it would play out as a bonding exercise, novel cinematic experience and add to the text of the film. Yet, real life is no utopia; the amount of logistical complications to the execution of Presinger's appeal are unavoidable. My viewing of Road Trips did have a soundtrack, and it comprised three things: (i) the music from the lobby of the theater, (ii) the auditorium's exit door opening and closing as disenchanted audiences left, and (iii) the undulating snores of the person behind me. I cannot fathom any theatrical viewing option that does not include at least one of these three irritants, and imagine there's scope for plenty more.
Ironically, the easiest way to fulfill Prelinger's base aim of making film viewing more interactive and communal would be to watch Road Trips at home…with people you already know. Talk about a well-intentioned plan utterly backfiring.
The second film in this couple is Raymond Red's puzzle, Kamera Obskura, amusingly described by the festival catalog as "a Filipino variation on The Artist." The movie opens with a press conference featuring real-life Filipino film archivists, who announce the discovery of an old silent film that was "way ahead of its time." The silent film is missing credits and a title, though; its origins and identity are thus shrouded in mystery. It starts playing out midway through the press conference and we are swept along for the ride.
In its own way, Kamera urges its audience to be as active as Road Trips. By calling attention to the silent film as a "discovered work of art," it explicitly precludes us from escaping into proceedings. After all, the context of the press conference highlights the silent's tag as a work of fiction. By placing us as if we were attending the event, it ensures that our primary purpose while watching the silent will be not to lose ourselves in it but instead to examine. This goes against the prevalent desire of cinema to be immersive and / or escapist.
Kamera takes this lost-and-found gimmick very seriously, even carrying it through till the end credits. However, it stays just that: a gimmick. The believability of the press conference — a prerequisite for the impact of the silent — is shattered when one notices how conveniently the archivists' statements are exposition dumps. The political and social allegories in the silent are so on-the-nose and easily discernible that the archivists praising it for being revolutionary just overburdens the enterprise. The one thing Kamera does share with The Artist is how both are unlike any genuine silent films of their eras. Red seems to have never seen a silent, actually, for his compositions and cuts are jarringly modern. He doesn't understand intertitles either, as almost each one contains five full lines of dialogue. The last hurrah in Kamera is supposed to be the culmination of this movie-within-a-movie Matryoshka ball, but it just comes off as a lame stunt, killing whatever bemused goodwill Kamera had engendered by then.
Neither Road Trips nor Kamera are home runs. The former is a decent watch and extremely well intentioned, but it tragically backfires in its main intention. The latter has tricks galore, but after a while, it just gets obnoxious. And yet, I'm glad I saw both. I do not think either gimmick merits instant dismissal. In fact, given how much of a misfire both are, it makes me all the more eager to see someone step in, attempt the same challenge and knock it out of the park.
As long as the person behind me just stops snoring.