Back to selection
The Changing Face of Scheduling: Boyhood, 52 Tuesdays, The Turning and Highway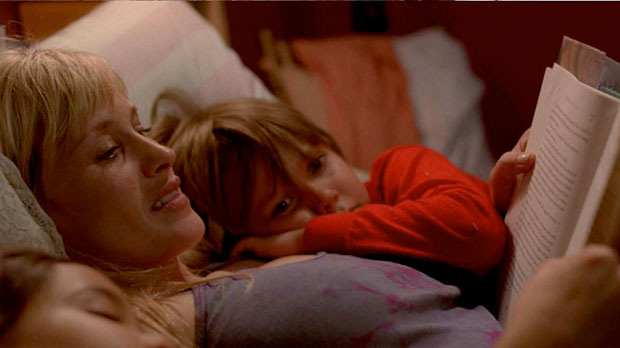 Boyhood
Four films that played at the Berlin Film Festival highlighted how directors are using modern technology to completely change the way in which productions are being put together and scheduled.
Both 52 Tuesdays and Boyhood were shot intermittently over a long period of time. The Turning had 17 different shoots running concurrently throughout Australia, while the Bollywood film Highway decided where to travel to next and shoot scenes on a day-by-day basis.
What marks these productions out from any number of other low-budget independent films is that their directors believed a non-traditional production schedule would result in a better end-product. Rather than a lack of finance or cast and crew availability, their decision was a voluntary one based on aesthetics and innovation.
While it's safe to say that digital technology has largely enabled this paradigm shift in scheduling, it's not in itself the only reason. Richard Linklater, the director of Boyhood, shot on 35mm believing this to be the best way to safeguard against technological changes that would inevitably occur during 12 years it would take him to shoot the film.
Nonetheless, these four inimitable movies do seem to signal a change in the landscape of production scheduling. Filmmakers, especially producers, have to adapt their call sheets and financial schedules to match the fact that digital technology has now reached the stage, both in quality and cost, where directors can explore many different options and ways to make a film.
The Turning is an adaptation of a book of short stories by Australian writer Tim Winton. While watching a concert, director Robert Connolly came up with the idea of turning the collection into a film and using 17 different directors, one helming each segment. "I was inspired by seeing the best young bands in Australia come and perform their favorite Paul Kelly song in their own style," says Connolly. "It was an amazing celebration of the composer."
Connolly himself directed the segment 'Aquifer,' critically acclaimed Aboriginal director Warwick Thornton adapted the opening short 'Big World,' The Snowtown Murders director Justin Kurzel lensed 'Boner McPharlin's Moll,' while 'Long, Clear View' sees 24-year-old actress Mia Wasikowska venture behind the camera for the first time.
While we have seen similar ideas executed in portmanteau collections many times before, this film is marking itself out with a pioneering release strategy. Depending on where in the world you see the film, the experience may be very different.
The version of the film shown in Berlin comes in at the three-hour mark and the shorts appear in the order that author Winton published the stories. But Connolly says that the order and the number of films shown together can be adapted. Nothing is set in stone.
"We wanted to do something different with the projection of the film," says Connolly. "In Australia when we opened the film, we had only one showing per day. There was an interval in the middle and we gave out a programme. That was fantastic. By contrast, in a couple of weeks the White Night Festival takes place in Melbourne and all the films are being split into single shorts and shown in 17 different installations around the city. So you wander around the city and depending on where you are, you can see a different film and the order that they are seen, or how many of the films are consumed, depends entirely on the audience."
In addition to this, Connolly says that some countries will release versions around 100 minutes in length and choose different segments to include in these versions, depending on the local taste of the distributor. While this could be seen as just taking advantage of digital distribution, and no longer having to strike new prints, the production and scheduling ensured that this felt like a very different shoot for the film crew, right down to the actors. The impressive cast includes Rose Byrne, Cate Blanchett and Hugo Weaving.
Weaving appears in the story 'Commission,' directed by 300 star David Wenham, and he came to this straight after having played six parts in the Andy and Lana Wachowski's Cloud Atlas. Weaving says, "It's quite an exciting period. The way in which we make films, the way in which we structure stories and express, it feels like we are in a period of the film industry where those possibilities are being extended more. It's great."
The Matrix star believes that the societal change brought about by the Internet has been the precursor to the expansion of the horizons of filmmaking. "Any great change in society brings about a change everywhere in society, especially in the way we consume information. The possibilities of growth are everywhere. It changes the way we express stories."
There were two films that arrived in Berlin on the back of strong openings in Sundance that had elongated production schedules, the first of which was Linklater's much admired and talked-about adolescent tale, Boyhood. Set in Texas and shot over 12 years, it tells the story of a boy's journey to adulthood, showing his life from the age of six to 18.
The other is Australian Sophie Hyde's remarkable 52 Tuesdays, which details a family trying to cope with separation and sexual awakening. Mother Jane wants to pursue a longstanding dream to become a man named James. She decides it's best that when going through this process she limits the time she sees her daughter Billie to once a week. At the same time, Billie is trying to establish her own sexual identity. Mother and daughter meet on Tuesdays and the film was only shot on Tuesdays. After every shoot, the filmmakers would write the script for the next week of shooting.
The gender themes and the long shoot will surely see 52 Tuesdays compared to Tarnation, a film Hyde says she loves. She says that the most difficult part came in the edit when they realized the need to reference time, ingeniously achieved by adding archive footage. "You want those little things that remind you about that. But it's not a film made in a traditional way; part of its beauty is the strange, wonderful way we made it. You want an audience to embrace that, whatever that is, the spirit of exploitation or experimentation."
At the press conference in Berlin, Linklater said he also adapted and changed the script in the gaps between shoots. "I had the architecture of the whole piece in mind. We didn't film every year. Sometimes it was 18 months, sometimes it was nine months, but roughly once a year. So, it was great to have that time to think about it."
The Dazed and Confused director also says that the production became harder because of the gaps. "Usually, you prep a movie and then you shoot the movie. Well, every year, we had to prep for weeks like it was a big movie, and yet we were just shooting for three days or so. So you have to cast, you have to deal with locations, you've got to get permits, all that stuff. We did all that 12 times instead of once. So ultimately we spent about two years in pre-production and two years in post-production for this movie. I'd say I averaged several months a year on it."
A loose script seems to be a factor that joins Boyhood and 52 Tuesdays to the Bollywood film Highway. India is probably the film culture that has changed the most since the arrival of digital filmmaking. Highway's director Imtiaz Ali says, "What I have also done is that I didn't make the script or the plan of shooting very rigid. I used to go on set sometimes not knowing the dialogue and very often not knowing where we would shoot a particular scene. But we all knew emotionally where we had to reach in a particular scene. It used to make me feel a bit insecure the night [before], but I think this was a good way of getting the experience of journey into the film."
Ali wanted to make a film where he "had this policy we would not go back, only forward. This meant, for example, if the road was very beautiful at a particular point but we were not shooting or the take was messed up, we were not going to go back to the same bit of road to get the shot."
This did mean some compromises were made: "I kept the shot selection very easy. There are no intercuts when normally I would put them in. We would look at a bend in a road and try to figure out if after the bend it would be a good shot and roll the camera before the turn."
But the problem that arises with all these films is that they become very difficult to budget. Such productions require a flexible financier, which is why most of the films shot in this style remain independent. Even Ali, known for big Bollywood films such as RockStar, knew that he would have to take risks to achieve his vision. When I asked how he budgeted the film, he replied, "That's the problem. I had a ballpark figure for the budget, but that's the reason why I decided to produce it: it's always easier to do this kind of thing when only you, your money and your neck is on the block."
Nonetheless, as more of these non-traditional shoots get completed, financiers and producers will adapt to meet these changing demands of filmmakers.