Back to selection
A Taste of Cannes in the Yucatán: The Riviera Maya Film Festival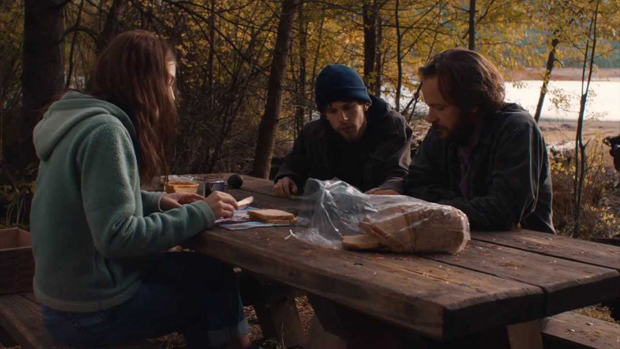 Kelly Reichardt's Night Moves
For a beach bum cinephile it doesn't get much better than the Riviera Maya Film Festival. Only in its third year, Riviera Maya mixes the accessibility of AFI Fest – surprisingly, it's free and open to all – with a bit of the sensational cachet of Cannes. (Right down to a brazenly coordinated, multi-store jewelry heist in Cancun that resulted in the car carrying Peter Sarsgaard and Maggie Gyllenhaal getting stopped en route to the opening night screening of Kelly Reichardt's Night Moves. Now that's entertainment!)
I didn't catch Reichardt's edge-of-your-seat eco-thriller until the last day of the fest, but I did arrive in time to see Richard Shepard's Dom Hemingway. Jude Law plays a feral safecracker freshly released from prison and angling to collect his refusing-to-rat due from an Eastern-European mobster played by Mexican homeboy Demian Bichir, whose onscreen appearance occasioned a loud round of applause. The film gets off to a rocking start with a dynamite score by Rolfe Kent. As the titular lead, Law turns in a Shakespearean performance that seems to channel Tom Hardy in Bronson (a film I'd have preferred to revisit over closing night's Hardy-in-a-car vehicle – no pun intended – Locke). Giles Nuttgen's cinematography serves the script through meticulous composition and framing, nearly becoming a character in its third-person omniscience.
It's initially a delightful screwball comedy with a throwback feel, enhanced by Richard E. Grant's performance as Dom's oddball cohort Dickie and scenes that echo classics from A Clockwork Orange to Strangers on a Train. Unfortunately, Shepard's flick peaks way too soon, packing all that cheesy fun into the first half hour. An incident causes Dom to lose everything and turn inward, heading to reconnect with his estranged daughter, an abrupt tonal shift causing the film to run out of steam with nowhere left to go. By the time Dom longingly gazes from afar at his grown offspring singing in a nightclub (which would register as creepy if the film wasn't already so ridiculously off-track cutesy), Dom Hemingway has transformed into a cliché-ridden series of witty lines and easy setups, like Dom's having to open a safe in ten minutes or else lose his dick. (Really?)
Yet I would have happily sat through a double dose of Dom Hemingway in the context of RMFF, where it screened at Único Beach at Puerto Moreles. Netflix may allow for the comfort and convenience of one's own home, but it doesn't provide pillows and mats on the sand under the glorious stars. Indeed, throughout the fest I often found myself wondering if the Mexican general public fully grasped the cinematic gems being offered gratis within easy reach. This is why I (and many of my colleagues) have long predicted event-centric, experiential screenings to be the future of theatrical exhibition. Lars von Trier's two-part Nymphomaniac screened at the local Cinemex, a no-frills corporate chain with comfortable seating, as well as the art-house type venue at Plaza Pelícanos (which also housed the welcoming P&I area stocked with free food and drinks). Volume II also screened at Papaya Playa in Tulum — half of the second part at least, as the beach screening was literally a washout due to rain. von Trier's current opus echoes Breaking the Waves, especially in that its director is still interested in sex only in so much as it relates to sin; more shocking was the fact that there weren't lines around the block to see it.
Then again, it probably wasn't the average moviegoer's fault if they didn't know what they were missing. Trying to develop a cinema culture among the telenovela-raised youth of Mexico – as the RMFF team attests is part of its mission – might feel like a Fitzcarraldo-worthy struggle, but the climb would be a lot smoother with a few easy fixes. Start with the program handbook itself, which contained important information like title, director, country of origin, running time, et al. but neglected to include any synopses. (Without any explanatory information, even this hardcore film geek nearly forgot she wanted to see Jafar Panahi's Closed Curtain.) In this day and age when texting is the equivalent of breathing (pre-screening warnings be damned) a mobile phone app is essential for any fest. And how can a cinema culture be developed with one event per year? A year-round cinema series would not only serve to build buzz for the fest but would get folks used to leaving their homes to sit in the dark with strangers for something other than the latest Hollywood sequel.
Other logistical kinks that need to be ironed out: more shuttles to the various venues, screenings that start on time (though I did appreciate that there was only a single ad – for Jose Cuervo – and the RMFF trailer before every flick), a Plan B for outdoor events in case of rain (portable tents anyone?) and more hands on deck. (One enthusiastic but overworked 20-year-old volunteer wrangling international press is just not enough.) Once those are solved, RMFF has bombshell potential. The fest's secret weapon is that it's run wholly by savvy cinephiles, including internationally-attuned veteran producer/programmer Michel Lipkes, who also programs the Cineteca Nacional and curated a Film Society of Lincoln Center retrospective of fellow Mexican filmmaker Roberto Gavaldón back in 2008. Though the venues are spread out (perhaps too much so: Riviera Maya's Tulum is forty-five minutes from the Playa del Carmen home base), the program is refreshingly contained and manageable. Glitzy gala screenings were supplemented with smart sidebars including Plataforma Mexicana (a competition for new Mexican films), Planetario (films broaching global topics), Gran Público (populist world cinema such as Richard Ayoade's The Double), Panorama Autoral (art-house world cinema like Jia Zhangke's A Touch of Sin) and RivieraLAB Presenta (former works in progress from the fest's RivieraLAB that have been completed).
Then again, RMFF might have too much of a good thing going. Disclosure: guests (such as international journos) were treated to hotel accommodations the likes of which I've never experienced on the fest circuit before. Indeed, it was almost hard to pull myself away from the sun and sand to those afternoon screenings, especially since Hotel Sandos Playacar is an all-inclusive resort with an adults-only section. That also meant it wasn't necessary to subsist on sponsor-provided popcorn and protein bars, as actual meals and cervezas were offered free around the clock; one less thing for the film-focused scribe to have to think about.
While I thoroughly enjoyed my stay and then some, I often wondered if RMFF really needed all those bells and whistles to garner international cred, especially when strong programming speaks louder than the not-so-sensational celebs. "Who is Camilla Belle and what is she doing here?" I inquired more than once, and I'm still not quite sure why the Spanish-speaking actress was flown in for closing night to present an award, especially considering she wasn't in any of the films and isn't Mexican. Hosting random "names" seemed like wasteful spending that could have been put to use elsewhere, like on technology. (Indeed, a Skype Q&A with Demian Bichir would have made much better sense.) Why not simplify, tighten the ship and do more with less? With such a lean and powerful lineup, the fest as a whole could easily reflect this. Even so, I predict once RMFF's newbie enthusiasm is tempered it'll attract more under the radar arthouse gems to please glamour geeks and cinema snobs alike.
Alas, I'm not talking about closing night's Locke, which seems to be director Steven Knight's audition for a BMW commercial. Many gala attendees didn't bother to stay for the film. Lucky them: while the setup is undoubtedly intriguing – Tom Hardy's titular character spends the entire running time confined to a moving car as his life unravels via Bluetooth – its execution is visually grating, Leaving Las Vegas-style slick. It's an action film minus the physical action. One can't help but wish Hardy had reteamed instead with his Bronson director Nicolas Winding Refn, a guy who proved that he can do existential action with Drive.
Locke seems better suited to a theater piece, preferably one with a moving set design. Oddly, Knight (the scribe behind Dirty Pretty Things and Eastern Promises) is surprisingly tone deaf when it comes to believable dialogue. The disembodied voices of family and colleagues speak to Locke in clunky one-note clichés. Tom Hardy's palpable charisma is a double-edged sword: on the one hand, he could read a driver's manual onscreen for 90 minutes and be riveting. On the other, he's such a physical actor that he's not really right for the role, especially since Locke is a regular, working class Joe and Tom Hardy is, well – Tom Hardy! An older, seasoned veteran character thesp, mild-mannered and unobtrusive, could more easily disappear into the skin of a suffering and conflicted family man. (Too bad Stellan Skarsgård was busy with Nymphomaniac.) In the end Knight's film is just too conceptual, a gimmicky game of "What else can we throw at Locke?," culminating in a cheesy finale worthy of Oprah's network. It's the equivalent of watching an Indy 500 driver reduced to steering a go-kart.
While RMFF may have gone out with a whimper it certainly began with a bang with Kelly Reichardt's Night Moves. Peter Sarsgaard seems, quite admirably, seems to have taken on what would have been the Larry Fessenden role in the director's earlier films. The other top stars are Jesse Eisenberg and Dakota Fanning, the latter nearly resembling the young Kate Winslet in certain scenes. Right from a dynamite opening that sets up a series of visual questions, Reichardt's latest genre flick with an arthouse twist reels us in and never loosens its hold. We might not always be sure as to what's going on, but Eisenberg's tightly coiled character is so intriguing we'll happily indulge Reichardt's patient pacing. This in turn allows us to understand (if not like) the misplaced and naïve motives of the three main Earth Liberation Front-type characters plotting to destroy a dam. Through Reichardt's lens, moral ambiguity is exhilarating.
Reichardt takes a Wiseman-esque approach to narrative, fetishizing work and process: the shoveling of fertilizer, the dismantling of boat seats, the slowness of farm work. (She also has a similarly wry sense of humor: the activists' film screening scene is hilarious in its hippie granola accuracy.) Her preference for shooting faces reacting to an explosion rather than the mayhem itself does much more than just keep a budget low. With sound design and soundtrack as crucial as the painterly camerawork and short story-tight script (penned with longtime collaborator Jonathan Raymond) Reichardt could give a master class in creating a complete film, equal parts style and substance: a fitting tribute to the Riviera Maya Film Festival itself.