Back to selection
"This Is The Guy": Steve James, Roger Ebert and Life Itself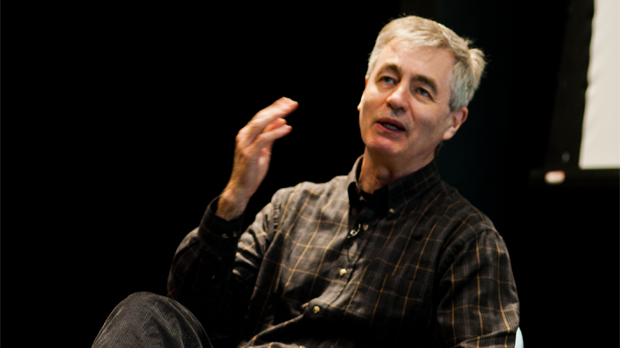 Steve James (Photo by Ramya Jegatheesan)
"Who the fuck are you?"
Fueled on booze, Flamo was raging. Someone had told the cops he had stashed guns in his house, and so his mum and brother were handcuffed and led away. Craving revenge but thinking better, Flamo phoned Cobe (pronounced KOH-bay), someone he met years earlier in the county jail who was now a violence interruptor, counseling young gangbangers like Flamo to chill out and stop drawing blood in Chicago's crime-ravaged South Side. When Cobe arrived, Flamo was stunned to find some white man filming him. Luckily, Cobe knew how to vouch for the white man to the youth he counseled, including Flamo.
"Have you seen Hoop Dreams?" Cobe would ask.  Hoop Dreams was the landmark 1994 documentary tracking two black kids from Chicago's inner city struggling to make it in pro basketball.
"Yeah, yeah," the kids would answer.
Cobe would then turn to the white dude with the camera. "This is the guy."
The guy was Steve James. James related this off-camera anecdote to the Toronto chapter of DOC (the Documentary Organization of Canada) this past weekend at a special conversation. He touched upon many topics, but race and access were the recurring subjects.
"This holds especially true for The Interruptors," said James. "A lot of it is how your subjects act around you […] the level of comfort they convey with you in the neighborhoods then dictates how people react to us."
It surprised James that the trusting relationships he built with his subjects created a sort of protective bubble when the interruptors confronted folks like Flamo. "They read the situation," he said. "They know that person is comfortable with me. They're not acting weird. All it takes is, We're doing this little film…" That access let James capture the raw drama that energizes The Interruptors.
He faced an unexpected challenge when he returned to his hometown of Hampton, Virginia to film 2010's No Crossover: The Trial of Allen Iverson for ESPN. James wanted to explore how Iverson's conviction from taking part in a 1993 race riot that took place at a bowling alley divided Hampton.
The first slaves arrived in Hampton 400 years ago. James' mother served as a nurse in a high school when it integrated after other nurses refused. James' status as homeboy won the trust of all his interview subjects except a crucial one: teacher Joyce Hobson, who was a civil rights worker and rallied the town's blacks to defend Iverson. "It became clear to me that it wasn't because I was white that she didn't trust that I would tell the story right," explained James. "It was because I was white and I was from there."
James reckons if he had been from New York or Toronto that would have been fine, but being the hometown boy he was tainted. He managed to persuade Hobson to at least explain on camera why she didn't want to be in James' film. Their exchange is in the film: "Okay, all right," Hobson answered, nodding as she contemplated his words. Then James replied, "I'm trying to understand it as a white guy who grew up here, and I'm trying to understand what it was like [growing up black in Hampton] for you which I do think one can do, because if we can't then there's no hope."
Hobson went on to champion No Crossover and today shows it to her classes. She didn't accept James as readily as Sheila Agee, the mother of one of the aspiring basketball pros in Hoop Dreams. In a key moment in that film, on her son Arthur's eighteenth birthday, Sheila turns to the camera to lament: "Do you all wonder sometime how I am living? How my children survive, and how they're living? It's enough to really make people want to go out there and just lash out and hurt somebody."
Roger Ebert, whom James paraphrased, once observed about this scene: "What comes through there is that we as filmmakers are outsiders, but she has taken us into her confidence."
Ironically, James wound up documenting the life and death of Ebert in Life Itself, based on the film critic's memoirs of the same name. James told the DOC audience that Ebert asked his wife Chaz not to censor any footage (including some grueling cancer treatments). The director added added that he saw this film as a collaboration, telling the critic "I welcome your input and Chaz's as long as you understand that I don't necessarily have to take it." Ebert liked hearing that.
Life Itself, which premiered at Sundance and will be released this summer, is essential viewing for anyone who watches movies. Ebert's intelligence and passion for films shines through every frame of James' documentary. Life Itself is also about a stubborn, intelligent and charismatic character who battled alcohol and cancer with dignity. The last third of the film unapologetically captures Ebert's long decline which is tough to watch at times.
Ebert's love-hate relationship with fellow Chicago critic Gene Siskel lies at the core of the film and provides Life Itself with moments that will make viewers laugh and cringe at the same time. The two hosts of Sneak Previews/At The Movies initially genuinely hated each other but grew to develop mutual respect. It sounds like a cliche but it's true that Siskel and Ebert were brothers, and Siskel's passing in Life Itself is heartbreaking.
By crafting such a candid portrait, Steve James pays tribute to Roger Ebert as well as films themselves.