Back to selection
"A real sense of intimacy": Anthony Chen on Ilo Ilo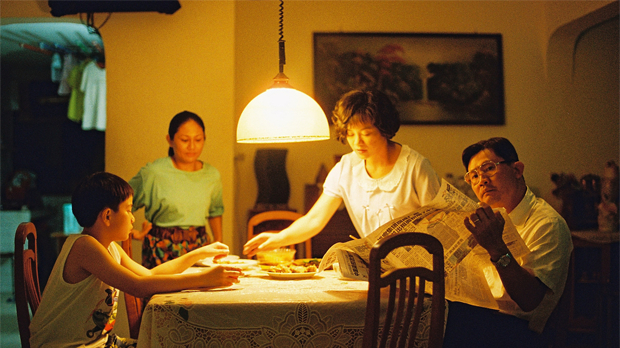 Ilo Ilo
Anthony Chen has been promoting Ilo Ilo for 10 months and isn't finished yet: after the UK release in May, a year's worth of constant interviews and promotional travel may finally be over. Launched at Cannes, Ilo Ilo garnered the Camera d'Or for best first film; a little over three months later, it opened at home in Singapore and became the country's highest-grossing film of the year.
That's an unusual feat for an emotionally harsh family drama in the arthouse vein. "In Singapore we make about ten films a year," Chen explained over Skype. "Nine out of ten are usually slapstick comedies or horror. Very local, very specific, very colloquial comedies that really just play domestically. There hasn't been an arthouse film of this kind that has done well at the box office." Good going for a film that opens with pubescent protagonist Jiale (Koh Jia Ler) rubbing his arms against the harsh metal blinds of his school, wounding himself with the intent of framing the principal for abusing him.
Jiale is a troubled, unhelpful handful for pregnant working mother Hwee Leng (Yeo Yann Yann) and just-fired salesman dad Teck (Chan Tianwen). With the worst disciplinary record in his school, all Jiale wants to do is crunch lottery results and find a repeatable winning number. To help around the house, Hwee Leng hires Filipina maid Teresa (Angeli Bayani); Jiale's initially cruel to her but they grow close. Any latent impulse towards bathetic nostalgia is quashed by the constant abrasiveness and time period (Singapore in 1997, in the grip of an economic depression). Jiale's a wild child who behaves impetuously and selfishly throughout, his parents are frequently at worn-down odds, and their exploitation of their domestic helper is highlighted by routine condescension, intrusiveness and unfounded suspicion. For his birthday, Jiale gets baby chickens, which are slaughtered for dinner when they grow: a detail from Chen's own childhood, which he describes as "brutal."
"What I wanted to capture was a real sense of authenticity of growing up in Singapore in the '90s," Chen explained. "I wanted to capture the color, the palette, the textures, the spaces." Drawing upon his memories and childhood photos for reference, Chen was exacting in his search for period-appropriate settings. "The flat had the exact same layout as the one in which I grew up in Singapore: where the balcony was, how the bedrooms are, where the toilet is. It was the exact same layout built during the same period in the early '80s," he marveled. "Even the window grilles were completely similar."
Half of the $500,000 budget came from the Singapore Film Commission. The rest came from small private equity investments and Chen's film school, Ngee An Polytechnic, which he entered when he was 17. That early entrance is consistent with Chen's life: he first grew interested in film when he was four and his parents took him to The Last Emperor. "Why my parents would take me to see that film when I was four years old I have no idea," Chen recalled. "It's a three-hour film, but I reckon they thought the film was about a child emperor and it was good for children. I'm pretty sure they were wrong but it left a very deep impression on me." Growing up, he'd stay up late and watch "films that were playing at very odd hours when the ratings were very low." Those, he later found out, were Zhang Yimou's early films (Red Sorghum, The Story Of Qiu Ju); from there he grew interested in early Ang Lee, François Truffaut and the Taiwanese New Wave masters (Edward Yang, Hou Hsiao-hsien).
Chen has the urban gloominess and grandeur of his Taiwanese predecessors, contextualizing the apartment balcony with a 180 pan to the above-ground train line running right past it. His detail-oriented approach to production design is emblematic of his control throughout, including some nifty unexpected match cuts that briskly provide new narrative information, like one from the passed-out father's sleeping face illuminated by passing car lights to the revelation of his post-salesman day job as a business' car entrance checkpoint guard. The meticulous organization and period design always leads back to the home and domestic memories. "It's what I call 'domestic intimacy,'" Chen explains. "It's the type of intimacy you only feel and see at home with your family, with your mother and father, with your brothers and sisters. We go into very private spaces: them having a shower, them peeing. I wanted to create a real sense of intimacy of how we experience domestic life."
Ilo Ilo opens today at New York City's Cinema Village and Lincoln Center.