Back to selection
For Holy Week, Philippines Censor Board Makes Sure Buses Show "Wholesome" Movies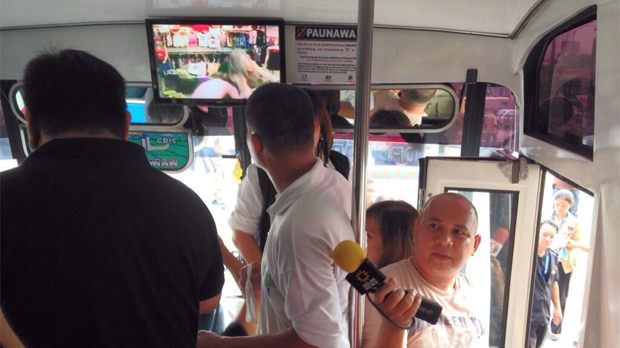 A bus inspection being conducted Monday (from the MTRCB's Twitter feed)
In the Philippines, Holy Week (the period between the last day of Lent and Easter Sunday) is a big deal, as you'd expect from the third largest Catholic country in the world. Part of Holy Week involves a mass exodus from capital Manila to smaller villages as residents go to be with their families, creating major logistical headaches on the traffic front.
As part of gearing-up efforts, inspections of the bus stations began yesterday. 594 buses were granted special permits to drive outside of their normal routes, part of a larger array of regulatory measures. Separately, the country's censor board — the Movie and Television Review and Classification Board (MTRCB) — decided to conduct surprise inspections to make sure buses were only showing films rated G or PG, per recent regulations.
In May 2011, after receiving multiple passenger complaints about violent/sexual material being shown on buses, the MTRCB signed an agreement with the Land Transportation Franchising and Regulatory Board (LTFRB) to regulate buses that showed offensive films. The Philippines' ratings aren't the same as American ratings, obviously: strikingly, a "PG" film requires those under 13 to be required under an adult, and both G and PG films are permitted to "contain occasional, as well as natural nudity; provided that there is no sexual or demeaning context to it."
On Monday the MTRCB demonstrated its commitment to making extra sure only "wholesome" films were being shown during Holy Week. Surprise inspections turned up three buses showing movies that weren't rated. (The MTRCB posted plenty of photos, like the one above, on their Twitter to get their efforts out there.) The unlucky violators — bus drivers, operators and conductors alike — will later be summoned for punishments ranging from a possible 5,000 peso fine (about $112) or jail time ranging from three months to a year.
Those efforts are in line with the MTRCB's thorough efforts, which go way beyond the MPAA's regulatory and lobbying priorities. Among other recent initiatives, in October 2012 the body issued a new rule mandating that theaters "shall display on a movable three-foot standee on the theater lobby the film classification and its rating advisory." The body also has warned projectionists to document the copies of each movie they show: if they show a version different from the one approved by the board, they could be legally liable.