Back to selection
Tribeca Film Festival XIII #1: Street Dreams
Time Is Illmatic
No one gets confused anymore that going to the Tribeca Film Festival can mean being on the Upper West Side to watch a rapper perform. What's to be confused about? The festival outgrew Tribeca. In the "Tribeca" of the mind — at least for those living outside New York — the Triangle Beneath Canal is synonymous with the festival started by Robert DeNiro and Jane Rosenthal in the wake of 9/11. But festival venues aren't down there: global brands don't trade in symbolism unless it makes economic sense. Why shouldn't the Big Ten have twelve teams? Nobody cares. Certainly not James Dolan, who just acquired half the festival for a lot of money and whose Madison Square Garden Company owns the Beacon Theatre, where Opening Night was held. Let's hope he's a better steward of the Tribeca franchise than he's been of the Knicks.
The festival slate has shrunk over the years as programmers have come and gone. Even if the organizers want to sell it as a young festival, most observers aren't buying it, although Tribeca's troubled infancy is getting harder to remember. Forgettable clunkers stocked with recognizable names are a thing of the past. Unfortunately, so are the stalwart sliver of feature-length experimental programming and some of the wilder retrospective choices; I can't imagine the festival's current incarnation screening Curtis Harrington's Night Tide or Haile Gerima's Harvest: 3000 Years. Relative to its direct competitors and under regimes past and present, Tribeca's been a pretty tasteful festival for a while in terms of quality and breadth of programming (certainly better than most have given it credit for). That's important with more movies competing for fewer places than ever in the cultural conversation as mini-majors cut their slates and companies peddling in bare-bones aggregation deals and VOD releases don't have any money to spend and tell you up front to expect the back end to be paltry. The idea of the festival being a market is more of a smile and wink, but the idea of it being a significant institution in the city's and country's film culture is perhaps more alive than ever.
Much to their credit, Genna Terranova, Frédéric Boyer and Geoff Gilmore (ably assisted by folks like Cara Cusamano and Jon Gartenberg) are putting together programs rivaling any festivals that reasonably fall within Tribeca's tier. To be more direct: are Sundance's movies any better now than Tribeca's? The argument might have been silly in years past, but only a half dozen films into this year's program, I'd say it's a toss up. But again, who really cares? Filmmakers will still take Sundance over Tribeca, even though there are no reliable metrics about how market prospects for the average Sundance title differ from the average Tribeca title. A few hype-conjuring mini-major sales at Sundance notwithstanding, many of that festival's films are unlikely to be playing at a theater near you anytime soon.
Among the 87 features and 58 shorts in the program, this year's Tribeca Film Festival spotlights grim and challenging movies from Columbia and Brooklyn about drug traffickers, an impossibly funny vampire film largely set in Bushwick, a gentle and wise dramedy about an undistinguished, middle-aged white man in the south that would have played at the Sundance of yesteryear, and one stylish, heady potboiler — a true throwback indelibly of this time and moment — about boxing, corruption and honor. The idea that magic will strike and any of these movies will get out into the world in the way works of their caliber would have 10 or 20 years ago just seems like an illusion. I hope I'm wrong; I know I'm not.
…
Bob and Jane were briefly and memorably on hand at The Beacon, some 90 blocks north of the neighborhood the festival's origins call home. The Opening Night crowd was full of O.G. East Coast rap fans; this is another way of saying it was browner than usual. Looking sharp as a tack in a big luminous grey suit, De Niro apparently needed no introduction in this milieu (or perhaps any) as he ambled onto stage to receive a big ovation after his longtime wing lady had begun her remarks. After the film, when Nas came on to perform, it was hard not to catch the pot smoke drifting through the Beacon's cavernous space. No staid United 93 screening, no lousy Ed Burns picture in sight: the Tribeca Film Festival was having fun again.
For a second consecutive year the festival opened with a music doc followed by a performance. Time Is Illmatic, directed by a man who I can only assume calls himself One9 with a straight face, is a humble and weirdly involving doc, transcending the shoddy confines of music hagiography largely due to its genuinely candid subjects. Nas' humility and his brother Jabari's humor feel genuine and the movie doesn't overstay its welcome; everyone will go home happy.
I was too young to listen to Nasir Jones' Illmatic when it came out 20 years last Friday. At ten, I didn't know the first thing about the projects and crack, let alone a thousand other mundane details about the lives and deaths of colored folks in the inner cities, and my mother didn't want me to. Like most middle-class black enclaves, mine was never too estranged from dense sectors of poverty down the street or around the corner, the dysfunction that comes with such conditions having ensnared a brother or a cousin, a nephew or an uncle of the more fortunate. You have to go out and learn about these things on your own in the world if you're not raised in it, and I wasn't. Rap music is no replacement for experience.
A childhood closeup of Nasir Jones — superimposed over a shot of his neighborhood looking weary and knowing, no older than nine or ten — is Illmatic's cover. Even with such a tender countenance, in his eyes you can see the experience of hard streets had reached him. I must have stared at that cover on a thousand teenage afternoons. It immediately let you know that the sensibility you were about to encounter was vastly different than the West Coast stories of urban hell that Death Row Records had begun releasing a few years earlier to massive popularity. Time has been less kind to them; none of the work which emerged from the Suge Knight stable, be it from Snoop, Dr. Dre, Warren G or Nate Dogg, has stood the test of time the way Illmatic has.
The seminal first album by an ex-dope peddler and high school dropout, Illmatic is the product of a complicated man; upon reflection it seems impossible it emerged from the mouth of a 21-year-old with a ninth-grade education. World-traveling session musician father Olu Dara Jones — who comes across as reasonable and contrite in contemporary interviews — left Nas, his brother and their struggling mother to fend for themselves. Their decaying Robert Moses-era Queens project suffered as the crack epidemic, a punitive drug war and the legacy of racist housing policies made such places into nearly unlivable, broadly stereotyped hellholes. Olu Dara encouraged Nas to drop out of school to pursue music, and this seemingly irresponsible parenting advice given by an often absent father to a son coming of age with difficulty in overcrowded, poorly funded schools is imbued with the complexity and ambiguity it deserves.
Despite a home full of books and an attentive mom, Nasir and Jabari drifted to the streets. These boys experienced murder firsthand: Jabari was shot along with one of his best friends and lived to tell the tale. The Jones brothers' confidante Ill Will wasn't so lucky, dying in the sort of senseless and all-too-understandable violence plaguing places like the Queensbridge Housing Projects. As a teenager Nas tried his hand at dope dealing but ultimately followed his father into music, where he blossomed into one of the most most iconic rappers of his era.
Time Is Illmatic doesn't break any new ground explaining this, but it cleverly contextualizes the situation of blacks in the ghettos. Archival footage, photos, obligatory interviews and half-staged visits back to the old neighborhood put a human face on the toll of poor urban planning and a discriminatory G.I. Bill. The movie not only sniffs around in the rubble, it remembers root causes, and somehow the familiar parts don't seem as worn out as they easily could have been. Visits with other collaborators, especially A Tribe Called Quest's Q-Tip, credibly contextualize themes packed within songs like "New York State of Mind," "Memory Lane," "The World Is Yours" and "Represent" while paying worthy homage to the remarkably catchy and unusual sounds DJ Premier, Large Professor, L.E.S. and others created on an album that has lost none of its formal ingenuity and acerbic, angry wit. The movie ends by saying (without quite meaning to) that even if its author never quite made anything as compelling as his debut, Illmatic will live forever.
Time is Illmatic is the smallest movie to open a major film festival in a long time. I mean that as a compliment to the filmmakers, the subjects and the people who put the festival on. Of course, the concert afterwards — in which the 40-year old performed the entire album to a legitimately rapturous audience while interspersing plenty of heartfelt thanks to and humorous stories about his many collaborators and family members in the audience — was the reason it seemed like such a hot ticket out on the street. See Nas perform Illmatic? Sheeit. Hustlers who I'm unlikely ever to see again at the Tribeca Film Festival were trying to make a buck or just find a way to get in, huddled out on Broadway as a flock of uninterested film journalists who'd never listened to Illmatic mused openly about scoring a quick few hundred dollars from the other sidewalk dwellers.
Unless you care about this man or his music, it might seem like a stretch to say that a thoughtfully contextualized yet hardly ambitious portrait of Nasir Jones — a poor but not uncultured kid who became a rich and thoughtful rap star — is worth your time. But something in his story resonates far beyond the familiarity and unlikeliness of his rise to glory, just as something about the brilliance of his debut album extends beyond verbal dexterity and good taste in DJs. As much good art has done, Illmatic — hardly a commercial success upon its release — lives on by burrowing itself into the consciousness of a generation of listeners. If it has to reach new audiences on the back of garish '90s nostalgia in our era of instability and inequality, so be it. It's a genuinely searching and tortured vision of American life we'd be better to off considering more than once in a while, regardless of the circumstances.
…
Keith Miller's Brooklyn projects-set gang drama Five Star and Josef Wladyka's Columbian coke smuggling thriller Manos Sucias premiered the following night. Both are about Black and Latino men and the women that love them, all trapped in lives of quiet desperation. Untenable moral choices are the only feasible alternative to utter destitution, leading inevitably to criminal enterprises. Each film has a narrative hinging on a seasoned drug operator breaking a young man into the trade and that younger man's loss of innocence, but as experiences they couldn't be more different.
Executive produced by Spike Lee, Wladyka's picture is an impressively shot, often pulse-pounding affair about two Black Columbian brothers from the drug trade-ravaged region of Beunaventura who are charged with transporting a torpedo stashed with coke for some Latin Columbians whose savagery and racism are never far from the surface. Miller's follow-up to his generously received debut Welcome to Pine Hill is more languid, shot with a roving handheld no-frills aesthetic and non-professional actors.
[Caution: spoilers follow.]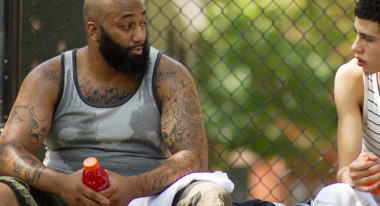 Like Welcome to Pine Hill before it, Five Star means well and has more than a few things going for it. The performers in both films are giving it their all and the liberals behind the camera really want to reach out and talk about the way some colored folks are forced to live in Brooklyn. The "Tarkovsky on a budget" aesthetic of Welcome to Pine Hill felt as imposed and artificial as Lance Hammer and DP Lol Crawley's similar "Dardennes go to Mississippi" vibe in 2008's overhyped and now largely forgotten Ballast, but the faux-vérité of Five Star seems about right. Miller has learned to light black people and the story is certainly one worth telling. John (John Diaz) is a skinny Latino teenager with braces from the Walt Whitman Houses in Fort Greene whose father was recently struck down by a stray bullet. The son is taken under the wing of his father's partner James (an effective James Grant), a part-time bouncer at a Fort Greene bar who initiates his fallen comrade's son into the life of a dope courier while trying to maintain the relatively stable life of a family man with a pregnant wife and four kids.
But something is rotten in Denmark. Diaz's character, who comes across as a shallow and not particularly likable young man, doesn't seem especially grief-stricken. This might be understandable as his father was apparently (despite the nice things everyone has to say about him) a street hustler who wasn't around much. Yet it feels like a flaw in Diaz's performance, his character's conception, or both. It doesn't seem plausible that John would be so outwardly ho-hum about his father's death, only to then be so strongly motivated by an unspoken desire to avenge it that when a gun appears early in the second act, one already knows what ghost he'll chase with it. John and his mother have a creeping sense that his father's death wasn't an accident, but given that the son seems like such a fragile bird in an unforgiving ecosystem of dope peddling in front of bodegas on Ocean Avenue and along the edge of Fort Greene Park, his ambitions to discover who and why don't emerge organically from the movie's architecture. Five Star is social realism one minute, revenge thriller the next.
That shift is hinted at when John goes to a Brooklyn beach (which is really quite far from where he lives, non-Brooklynites) for late-night target practice. In the undercooked finale John (ta-da!) figures out his new mentor was either responsible for or at least aware of his father's murder and the reasons for it (the movie doesn't quite make clear which it is). It's unfortunate that potentially more salient narrative accoutrements — John's relationship with his stern but clueless mother, his shot at first love — take a back seat to this contrived situation. It seems even more damning that John's' shot at a violent, relatively private resolution hinges on a unlikely occurrence: a more experienced member of James' organization — angry over some nonsense corner shit talk involving a member of his crew — accuses the teenager of stealing dope. The film's editorial grammar or lack of applicable footage makes unclear what actually transpired; the filmmakers are seeming uninterested in clarifying this central plot point. That the picture climaxes with the two leads on the same beach (halfway across town again) for a midnight reckoning is more than a bit heartbreaking in its carelessness. Five Star takes this grim and interesting situation and introduces thriller elements that strain credibility, neither thoroughly exploring the psychology of its half-baked male lead nor meeting the demands of the genre it's half trying to live within. Where are Juice and New Jersey Drive when you need them?
…
In Manos Sucias, Jacobo (Cristian Advincula) has dreams of going to Bogotá to start over. He has little but a battered fish boat and memories of a dead kid who was caught in a deadly crossfire between the paramilitary forces ruling much of rural Columbia. Everyone reminds Jacobo that their are no black people in Bogotá, so how will he make anything of himself there? One more score.
Jacobo gets his naive younger brother/fellow father Delio (Jarlin Martinez) involved in a scheme trafficking several million dollars of cocaine stuffed in a torpedo carried in a fishing boat up the coast of Columbia (something Jacobo's done before, but never on this scale). The siblings are couriers for mean-spirited non-black Columbian gangsters who can't have a campfire discussion of Pelé's merits as a soccer player without making it racial (he's referred to as the "King of the Gorillas"); hard times all around. The next morning, the lead courier proves himself not just racist but deranged; he murders a black child, no older than ten or 11, who dared sit on the beached torpedo. The brothers in turn murder him in their Sweetback moment, turning on a racist authority they witness doing an injustice they can no longer bear.
They continue shipping the dope, with close calls including a stop by paramilitary troops. The dope gets stolen by an enterprising young coconut salesmen younger than both brothers who's caring for an ailing grandma. The pair track down the boy and threaten him. He only wants one kilo to get his grandma the medicine and care she needs. Poor thing: he ends up exchanging such ambitions for his life, and the compensation for these stragglers at the end doesn't much seem worth the cost to their souls.
Manos Sucias is a grim tale that happens to be a handsome movie. Despite being shot at sea, Wladyka's DP and co-writer Alan Blanco displays remarkably poised framing choices, color control and an intangible feel for genuine moments of dread, terror and sadness. Its leads — actors from a major drama school in Columbia — feel utterly authentic. The movie suggests that the Columbian drug trade's most brutal days might be behind it, but for the often impoverished rural communities full of young men desperate for a piece of the action, the ravages remain.