Back to selection
DJ /Rupture Releases a Mixtape Tied to Harvard Friend Joshua Oppenheimer's The Act Of Killing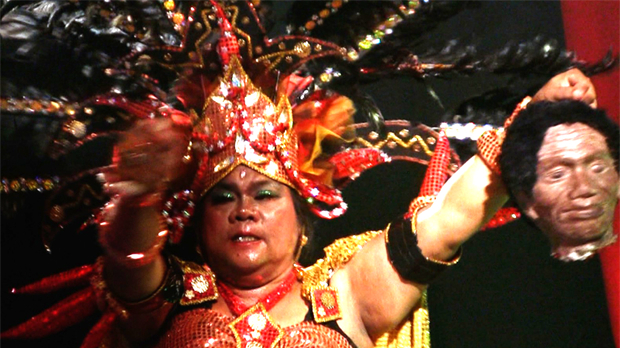 The Act Of Killing
Yesterday Pitchfork Media posted a downloadable mixtape created as a "musical response" to Joshua Oppenheimer's The Act Of Killing by the rightly well-regarded DJ /Rupture. Stage Boundary Songs is a terrific 53 minutes and 50 seconds of (largely) Indonesian music old and new interspersed with poetry by Wiji Thukul, a poet believed to have been "disappeared" by the Suharto regime in 1998.
Last December, Rupture (aka Jace Clayton) wrote a brief blog post cheering on Killing, noting that acclaim for the film was "particularly delightful" because "Josh and I went to college together, and for a year or two we collaborated on wild art & activism projects." Some traces of their past collaborations at Harvard survive online in a 1997 journal, Cellar Door, that doesn't appear to have lasted long. The cover photo — a baby buggy in the desert — was taken by Oppenheimer, and the contents include Clayton's "Guide to Life After Rock." There, Clayton endorses post-rock as "a prescription for making 'rock' sound interesting in the wake of deadbeat cliché-bands like Oasis" (disgusted italics his) and recommends that people listen to more bhangra.
A sprinkling of information about Rupture's activist days at Harvard can be found in this 2002 Harvard Crimson profile, but there's way more detail in this 1997 profile from the same publication about Oppenheimer's fiery activism. Well worth reading in full, it's got startling anecdotes like how Oppenheimer "infiltrated a neo-Nazi group by pretending he was an alien abductee" as well as this outstanding nugget:
In London, Oppenheimer infiltrated a group dedicated to using prayer and electroshock therapy to turn gay men straight. Posing as the group's security coordinator, he managed to help sabotage a conference by releasing locusts and flies in the church which hosted the event.